Meghan Markle Talks How COVID-19 Pandemic Has 'Disproportionately Affected' Women At Vax Live
KEY POINTS
Meghan Markle made a virtual speech for Global Citizen's "Vax Live: The Concert to Reunite the World," which aired Saturday
She discussed how women, especially women of color, were disproportionately affected by the pandemic
She said recovery from the pandemic should prioritize the "health, safety and success of everyone"
Meghan Markle spoke up for the women "disproportionately affected" by the coronavirus pandemic and its related shutdowns in her virtual speech for the Vax Live concert.
The Duke and Duchess of Sussex served as campaign chairs for the anti-poverty advocacy group Global Citizen's "Vax Live: The Concert to Reunite the World," which aimed to promote global, equitable access to COVID-19 vaccines and increase public confidence in the shots. The heavily pregnant royal was not able to join husband Prince Harry on stage during the concert, but Markle made a virtual speech.
"We've gathered tonight because the road ahead is getting brighter. But it's going to take every one of us to find our way forward," Markle was quoted by People as saying. "As campaign chairs of Vax Live, my husband and I believe it's critical that our recovery prioritizes the health, safety and success of everyone, particularly women who have been disproportionately affected by this pandemic."
According to Markle, women, especially women of color, saw "a generation of economic gain wiped out," with nearly five and a half million in the U.S. alone losing their jobs over the past year. She also noted in her speech that 47 million more women around the world are expected to "slip into extreme poverty."
With a daughter along the way, Markle said they are thinking of all the girls and women around the globe who need support moving forward.
"My husband and I are thrilled to soon be welcoming a daughter. It's a feeling of joy we share with millions of other families around the world. When we think of her, we think of all the young women and girls around the globe who must be given the ability and the support to lead us forward," the duchess said.
"Their future leadership depends on the decisions we make and the actions we take now to set them up, and set all of us up, for a successful, equitable, compassionate tomorrow. We want to make sure that as we recover, we recover stronger. That as we rebuild, we rebuild together. Thank you."
In the video, Markle looked radiant in a red shirt dress with a pink poppy flower pattern as she recorded her speech outdoors in a garden, possibly at their Montecito, California, home.
The concert, which was filmed last Sunday in Los Angeles, aimed to increase donations and sharing of vaccine doses to priority populations around the world. It was hosted by Selena Gomez.
Aside from Gomez and the couple, Vax Live also featured appearances from President Joe Biden, first lady Dr. Jill Biden, Vice President Kamala Harris, Jennifer Lopez, Ben Affleck, Chrissy Teigen, David Letterman, Gayle King and Jimmy Kimmel, among many others.
Meanwhile, Prince Harry and Markle's firstborn, Archie, turned 2 years old Thursday. Several members of the royal family, including Queen Elizabeth II, Prince William, Kate Middleton, Prince Charles and Camilla Parker Bowles sent birthday tributes to Archie on social media.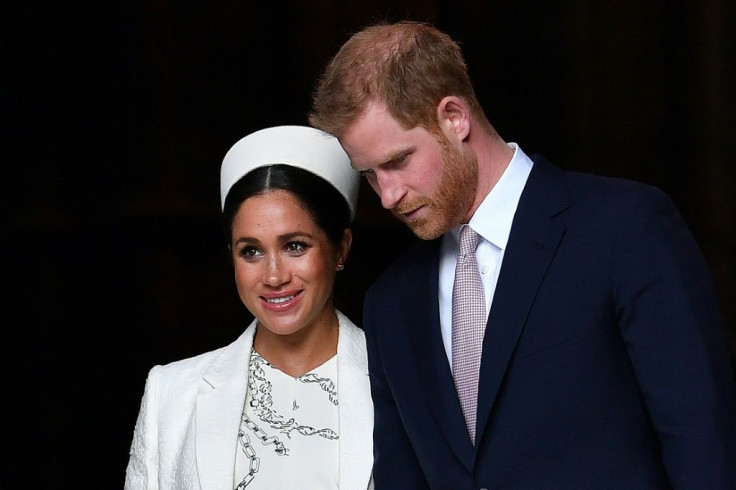 © Copyright IBTimes 2023. All rights reserved.