Mexico Sends Riot Police After Protesters Set Fire To State Government Buildings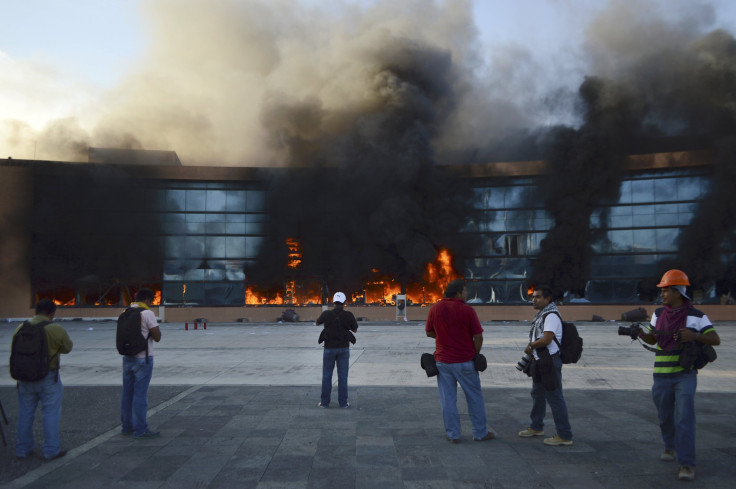 Mexico state officials are bracing for more chaos after protests raged Monday in the state of Guerrero over the disappearances of 43 students last month. Hundreds of protesters overtook state government buildings Monday, torched part of the complex and demanded the resignation of Guerrero state Gov. Ángel Aguirre.
Around 600 protesters, including students, teachers and some relatives of the disappeared, began blocking entrances to several buildings comprising the state's main government complex on Monday morning. Although riot police appeared later in the day and some tense standoffs emerged, the police eventually retreated. By late afternoon, after most government employees managed to leave the building, protesters began smashing windows, ransacking offices and setting fire to vehicles and parts of the buildings.
Firefighters managed to extinguish the flames, and no injuries were reported from Monday's chaos. State interior secretary Jesús Martínez Garnelo responded to the protests during a news conference, saying the government condemned the acts and that more riot police would be sent in on Tuesday to safeguard public buildings. Gov. Aguirre did not appear at the conference but said in an interview with Mexico's Radio Fórmula Monday night that he would "continue coordinating with the federal government to punish whoever needs to be punished" in connection to the student disappearances.
The outbreak of fury comes as Mexico continues to investigate the whereabouts of 43 students from a teachers' college who disappeared in September following a shootout by police forces in the city of Iguala in Guerrero state. Prosecutors have arrested at least 22 Iguala police officers in connection to the disappearances and accused them of conspiring with the Guerreros Unidos gang. Meanwhile, the city mayor and his wife have both fled town.
Last week, several mass graves were discovered on the outskirts of Iguala, and officials are conducting DNA tests to see whether any of the bodies found match those of the disappeared students.
Widespread anger over corruption and the disappearances resulted in mass protests last week, with thousands of Mexicans turning out to show their frustration with the violence and lack of accountability. Teachers' union leader Ramos Reyes told Agence France-Presse that protesters would return to overtake more public buildings in Guerrero on Tuesday unless Gov. Aguirre revealed more information about the missing students.
© Copyright IBTimes 2023. All rights reserved.
FOLLOW MORE IBT NEWS ON THE BELOW CHANNELS