Michelle Obama Delivers Rousing, Personal Tribute To Her Husband At Democratic National Convention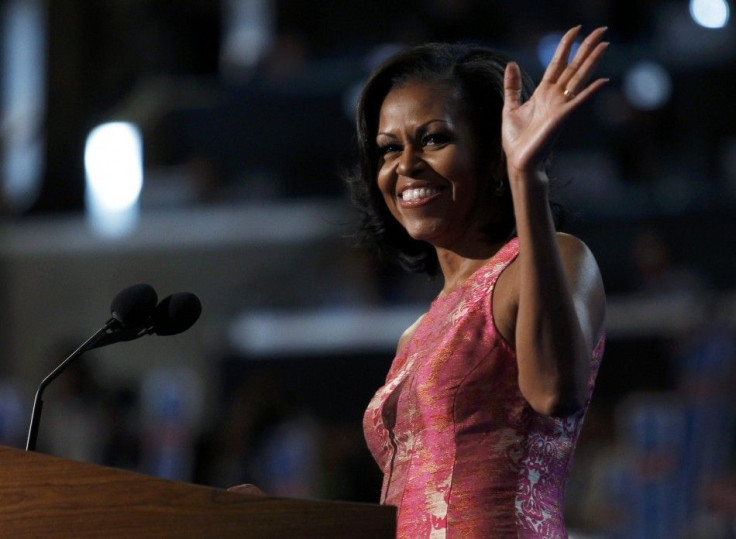 Michelle Obama closed out the first day of the 2012 Democratic National Convention with a rousing speech that paid personal tribute to her husband but also seemed built to coalesce support among Democrats at the start of the three-day gathering.
The first lady's speech came just a week after Ann Romney, wife of Mitt Romney, President Barack Obama's Republican challenger in this year's election, gave what may have been the best speech at the Republican National Convention in Tampa, Fla.
Ann Romney delivered a performance that placed the pressure squarely on Michelle Obama's shoulders, but as a seasoned political wife and Ivy-educated lawyer she was ready to accept the challenge.
Romney's speech discussed in detail the personal lives of her and her husband, describing their first date, the period of their lives when they ate tuna and pasta to save money, and the tireless work ethic she believes he has, and how she believes that would translate to a successful Romney presidency.
Obama's speech was similar in that there were personal moments interspersed, and she talked about her husband's unique qualities, and why deserves to remain leader of the free world.
But as the incumbent first lady, she was reintroducing her husband to the voting public for the thousandth time, rather than hoping to make a good first or second impression on voters, as Romney did deftly.
It gave Michelle Obama some more latitude, in that she didn't have to dwell extensively on kitschy tales of her husband's youth, or explain what an Obama presidency would be like. Both of those tales have been told again and again. And a video that wrapped just a few moments before Michelle Obama emerged after being introduced by a mother of military children allowed Michelle and Barack to speak directly to attendees about their devotion to their children and their marriage.
Though Michelle Obama certainly played up the personal throughout her speech, she was able to go into more detail about some other topics which Ann Romney did not have the opportunity to delve into as deeply.
After emerging on the stage to raucous applause and the song "At Last" by Stevie Wonder, the first lady could do nothing but laugh to herself, thank the crowd, and eventually begin her speech.
She began her remarks with a tribute to the nation, citing stories of American greatness, from the sacrifices of working military parents, Wounded Warriors and first responders who go toward disaster in order to help people:
"In everywhere I've gone and everyone I've met ... I have seen the very best of the American spirit," she said, adding later. "Every day the people I meet inspire me."
She got quickly into her and Barack's personal stories, emphasizing the aspects of their characters and backgrounds that eventually came together to make the case for Barack Obama remaining president for the next four years.
"He was the guy whose proudest possession was a coffee table he found in a dumpster," she said. "But when Barack started talking about his family, that's when I knew ... that I had found a kindred spirit."
Obama went on to tell the stories of her and Barack's parents, and the lessons they learned from them: the value of hard work, the idea that you need to earn a living, honesty, integrity and more:
"They didn't care that others had so much more than they did, in fact they admired it," she said, adding, "How hard you work matters more than how much you make ... we learned about honesty and integrity, that the truth matters, that you don't take shortcuts or play by a different set of rules."
It was hard to see for a moment why exactly she was talking for so long about such abstract concepts, but she brought it together in a testament to her husband's fitness for office:
"I have seen that being president doesn't change who you are. No, it reveals who you are. You see, I've gotten to see up close and personal what being president is like," she said. "At the end of the day when it comes time to make [a] decision as president, all you have to guide you is your values ... and the life experiences that make you who you are."
She then went through a litany of issues -- the Lily Ledbetter Act for women's pay equity, health care reform, the auto industry bailout, reproductive rights -- and explained her belief that his upbringing, character and values are what made him a champion of these issues.
"In the end for Barack these issues aren't political, they're personal because Barack knows what it means when a family struggles," she went on. "Barack understands the American dream because he's lived it. And he wants everyone in this country to have that opportunity, no matter who we are."
The undertone of the remarks was one of digging against Romney on some level, though it seemed to be more genuine than political. It came out just in the comparison to the stiff, stilted tales of the Romney family.
"For Barack it's not about how much money you make, it's about the difference you make in people's lives," she said, garnering thunderous applause -- in a tacit dig at her husband's fabulously wealthy opponent.
At more than one point she was drowned out by the cheers of the crowd -- "Four More Years," a fan hooting, "We Love You Michelle" -- in stark contrast to the comparatively staid crowd even during Mitt Romney's speech last week at the RNC.
And when she finally stepped off the stage with tears in her eyes and a choked-up throat after a lengthy address, the applause seemed like it would never end, suggesting that the DNC had gotten off to a pretty strong start for the Dems.
Michelle, 48, married Barack Obama in October 1992 - their first date, famously, was a trip to see the movie "Do The Right Thing" by Spike Lee.
When they first married, Michelle Robinson was the one who had the more impressive professional life, working as a top lawyer after having graduated from Princeton University and Harvard Law School.
After they were wed, Barack Obama followed a steady rise, first serving as an Illinois state senator from 1997 to 2008, then reaching the U.S. Senate in 2005, where he served until 2008, when he was elected into office as the 44th president of the United States of America. And of course they have two daughters, Sasha and Malia.
Michelle Obama is not just a pretty face in her current role, however, as she has taken active roles in a number of issues, such as helping military families, and most visibly her ongoing crusade against childhood obesity. She has traveled the country in hopes of getting kids to exercise under her "Let's Move" program, worked with Beyonce to push exercise, ensures that the White House has a vegetable garden on the premises, and recently wrote "American Grown," a cookbook packed with healthy recipes for families to prepare and enjoy.
© Copyright IBTimes 2022. All rights reserved.
FOLLOW MORE IBT NEWS ON THE BELOW CHANNELS