Michelle Obama's Trip to Africa: The Latest Photos
U.S. First Lady Michelle Obama urged young Africans to fight for women's rights and battle the stigma of AIDS on Wednesday. Using her husband Barack Obama's yes, we can campaign slogan, she hoped to motivate youth across South Africa.
This is Michelle Obama's second solo trip abroad as the first lady to promote issues such as education, health, and wellness. On her five-day tour, she is accompanied by her daughters Sasha and Malia, and her mother Marian Robinson among others.
The trip began in Pretoria and Michelle Obama spent all day today around Johannesburg.
Her speech to a group of young women and men at Regina Mundi Church, which played a role in South Africa's anti-apartheid movement, touched on much harder topics like race, discrimination, democracy, and development. Citing leaders of the anti-apartheid movement in South Africa and leaders of the civil rights movement in the United States, she said, It is because of them that we are able to gather here today. It is because of them that I stand before you as First Lady of the United States of America.
Obama added, That is the legacy of the independence generation, the freedom generation. And all of you - the young people of this continent - you are the heirs of that blood, sweat, sacrifice and love.
Obama appeared much moved as the audience stood and sang an impromptu serenade while she approached the podium. Choking back tears, she thanked the crowd.
In addition to the speech at Regina Mundi Church today, Mrs. Obama visited a community service project at Vhuthilo Community Center in Soweto Township and placed a wreath at the Hector Pietersen Memorial, also in Soweto.
On Thursday, she heads to Cape Town to visit Robben Island Prison, where Nelson Mandela and other apartheid leaders were once imprisoned.
Here's a look at the latest photos out of South Africa: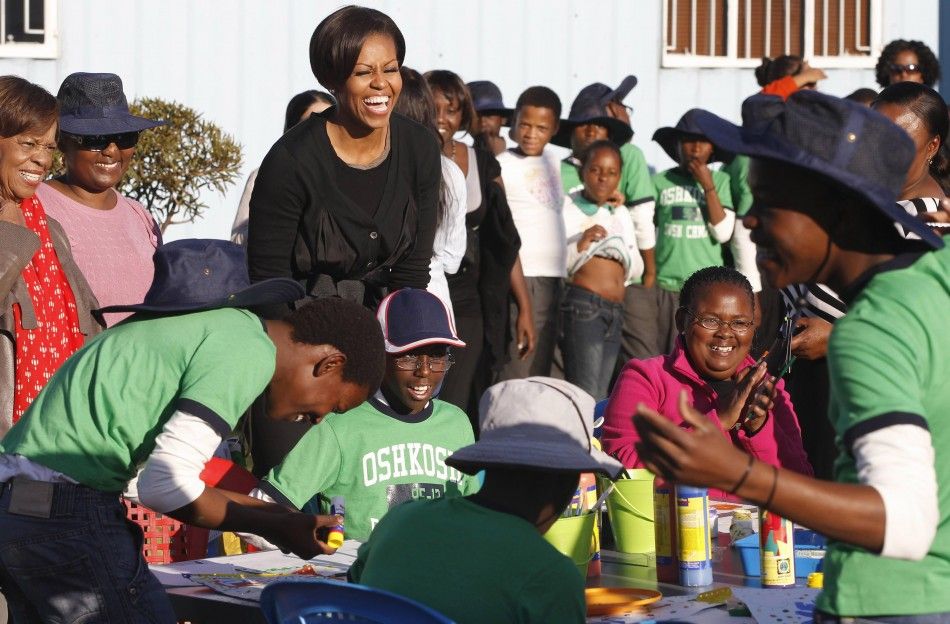 © Copyright IBTimes 2023. All rights reserved.