Microsoft Announces Launch Date For Xbox One Game Pass Subscription Program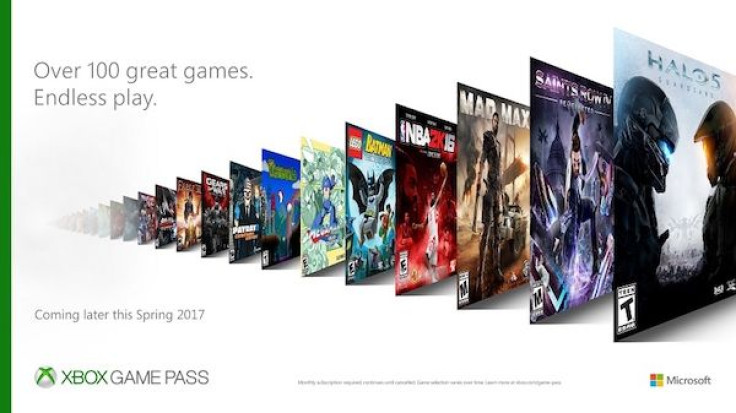 Xbox One owners will soon get a new way to play a lot more Xbox games without needing to spring for a new bookshelf or extra disc space. Microsoft confirmed Wednesday its Xbox Game Pass subscription program will launch June 1.
When players subscribe to Game Pass, they'll be able to download and play a rotating monthly catalog of Xbox One and Xbox 360 titles. At launch, the catalog will include a mix of older triple-A titles like Halo 5: Guardians and NBA 2K16, along with indie and retro games such as the 1995 platformer Comix Zone and Iron Brigade .
Read: Project Scorpio Release Date: Microsoft To Reveal New Xbox Console At E3 2017
The service will cost $11.99 per month and be available to all Xbox One users, though games with multiplayer options will require an Xbox Live Gold subscription. Major Nelson reported all current Xbox Live Gold members will be able to sign up early for a free 14-day trial to Game Pass starting Wednesday.
Unlike other streaming games services, Game Pass will require gamers to download titles they want to play. Having games take up a larger portion of your Xbox's hard drive is a minor downside, but it also means that users won't have to worry about streaming or connectivity hiccups while playing if they have a poor internet connection.
In addition, Microsoft also offers additional benefits to Game Pass users. If you want to own a full copy of any game in the monthly catalog, Microsoft will offer a 20 percent discount on the title, along with an additional 10 percent discount on any downloadable content. The service will launch in 31 countries, including Hong Kong, Australia and Hungary.
On paper, Game Pass isn't necessarily as dense as competitors like Sony's PlayStation Now. The PlayStation cloud streaming game service fully launched in 2015 and features an extensive catalog of first-party and third-party PlayStation 3 games like Red Dead Redemption and God of War. But with its $19.99 base monthly price or $44.99 three-month package, PlayStation Now is notably pricier than Game Pass.
Read: Xbox Live Games With Gold June 2017: Here's June's Free Games With Gold
For Microsoft, the alternative games program is also a decent way to get extra value out of its deeper game catalog. With its blend of Xbox One and legacy titles, the service has the potential to be a Netflix-like option for more casual Xbox One owners who don't necessarily buy games right at launch. The service also works alongside Microsoft's other benefits programs for Xbox Live Gold subscribers like Games With Gold, which provides a handful of new games for free every month.
The update also comes as Microsoft preps for additional Xbox updates this year. At E3 2017 next month, Microsoft will reveal details about its upcoming Project Scorpio Xbox One refresh. The new console will feature specifications including 4K support and improved graphics performance.
© Copyright IBTimes 2023. All rights reserved.
FOLLOW MORE IBT NEWS ON THE BELOW CHANNELS