Microsoft Beats Apple In Satisfaction Levels Among Tablet Users, JD Power Ratings Say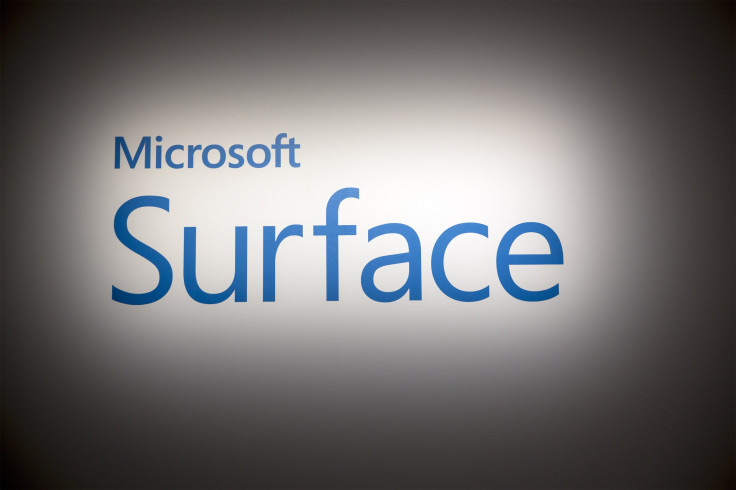 Microsoft has officially beaten Apple in terms of satisfaction among iPad users. In a recent study conducted by J.D. Power, Microsoft Surface tablet users were more satisfied compared to Apple iPad or tablets manufactured by LG, Acer, Samsung, Asus or Amazon.
The report, 2017 U.S. Tablet Satisfaction Study, released Thursday noted that with an overall satisfaction score of 855 on a 1,000-point scale, Microsoft topped the list mostly for its design, styling and features.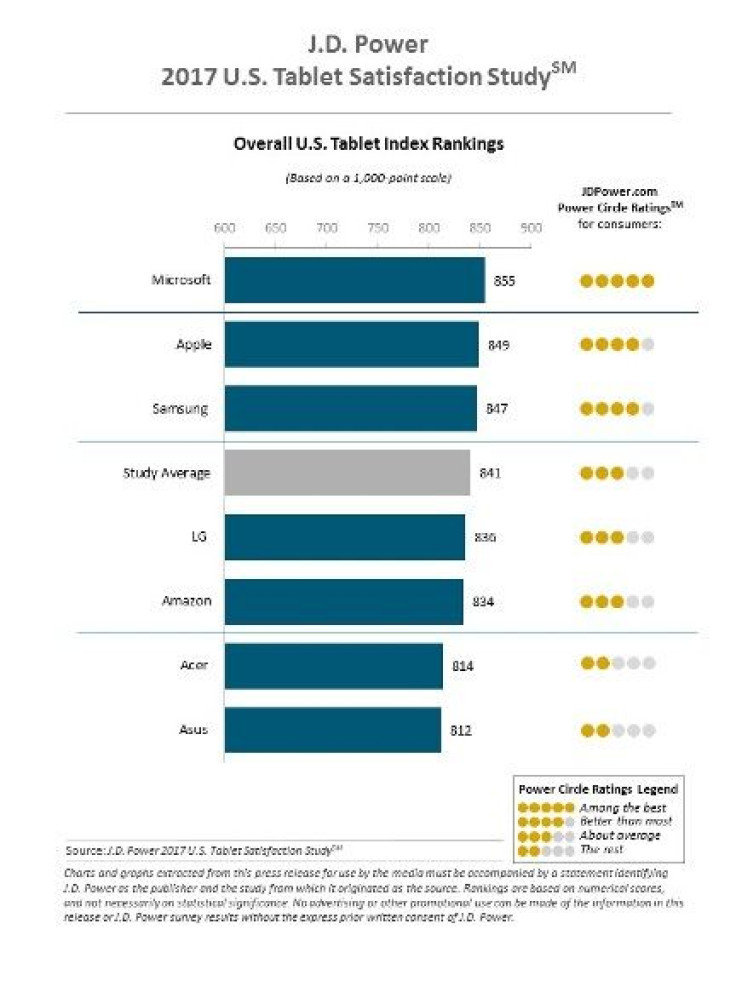 "The Microsoft Surface platform has expanded what tablets can do, and it sets the bar for customer satisfaction," Jeff Conklin, vice president of service industries at J.D. Power, said in the report. "These tablet devices are just as capable as many laptops, yet they can still function as standard tablets. This versatility is central to their appeal and success."
According to the report, Microsoft was a clear winner in largely three areas — internet connectivity, preinstalled applications and preloaded applications.
"Customers using Microsoft tablets are more likely to be early adopters of technology. More than half (51 percent) of Microsoft customers say they 'somewhat agree' or 'strongly agree' that they are among the first of their friends and colleagues to try new technology products. This is relevant because early adopters tend to have higher overall satisfaction," the report said.
Here are some of the key findings of the study:
Rising levels of satisfaction
When compared with the 2016 U.S. Tablet Satisfaction Study—Volume 2, the overall customer satisfaction with tablet devices has seen an increase of 21 index points, bringing the number to 841.
The selection process
A cheaper price tag and past experience both had 22 percent vote, making them the most common reasons to select tablets among users. Product and company reputation stood at 19 percent.
Size of the device
The most preferred screen size among users was 11.8 inches. Customers using devices with a screen size exceeding 10 inches was at 869 and the ones using 8-10 inches scored 850.
Data plans
Thirty-two percent users have a data plan that they use with their tablet. The satisfaction level of these users is 863 compared to 834 among users without a data plan.
© Copyright IBTimes 2023. All rights reserved.