Microsoft Pledges Continued Support For Minecraft On Android, iOS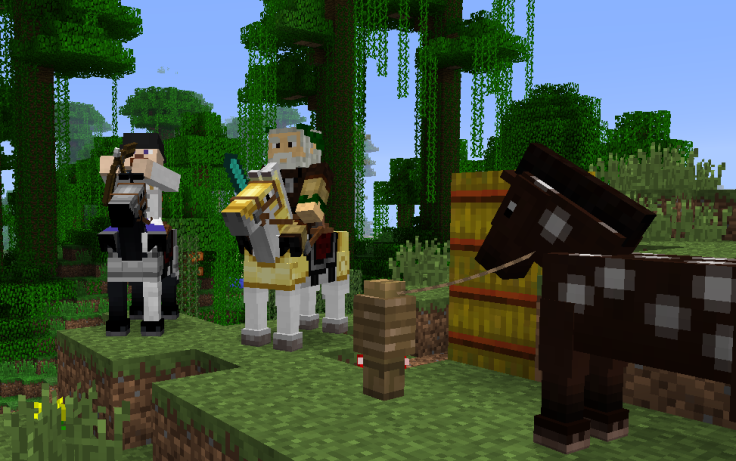 In a sign that CEO Satya Nadella wants to reemphasize Microsoft's software roots, the company on Monday confirmed that it has agreed to acquire Swedish mobile game developer Mojang for $2.5 billion. Mojang makes Minecraft, an addictive, world-building platform that counts more than 100 million users.
"Minecraft is more than a great game franchise—it is an open world platform, driven by a vibrant community we care deeply about, and rich with new opportunities for that community and for Microsoft," said Nadella, in a statement.
In Minecraft, players use pick axes. hammers and other tools to populate a virtual world with houses, roads, offices and other structures. They can use creatures spawned in-game, such as cows, pigs, and chickens, for food and materials, while fending off foes like skeletons, spiders, and zombies that randomly appear.
Gameplay follows a clock that compresses a single day into 20 real-world minutes. Minecraft was developed by Swedish programmer Markus "Notch" Persson and first released for the PC in alpha in 2009.
Beyond tots and their parents, Minecraft has caught on with a growing list of celebrities, including Jack Black, Deadmau5, Mila Kunis, and English comedian Johnathan Ross.
The game could be a much needed "killer app" for Windows Phone, which trails far behind rival mobile platforms Apple iOS and Google Android in the smartphone market—despite Redmond's $7.2 billion acquisition of Nokia's handset business earlier this year.
Android's share of the U.S mobile subscriber market, as of April, stood at 52.5 percent, according to the latest figures from market watcher Comscore. Apple's share was 41.4 percent, while Microsoft checked in with a paltry 3.3 percent share.
Microsoft pledged to maintain Minecraft on all its current platforms, including Windows PCs, iOS and Android devices, and on the Sony PlayStation and its own Xbox gaming console.
The company did not elaborate on its plans, including whether—or, more likely, when—it will release a version for Windows Phone. Analysts believe such a move is all but certain.
In a research note to clients, Nomura Group's Rick Sherlund said he viewed the deal as an attempt by Microsoft "to better address mobile on a cross-platform basis."
In other words, Microsoft can use Minecraft to boost its own phone sales, while also getting a piece of the action on sales to Android and iOS users. The massive installed base for Minecraft helps justify the $2.5 billion acquisition price, and Redmond's pledge to break even on the deal by fiscal year 2015.
The agreement is an indication of how Nadella, who replaced Steve Ballmer as Microsoft's CEO in February, plans to make good on his promise, stated in a an email to employees, to position Microsoft for "a mobile-first and cloud-first world."
It's also a sign that Nadella may be looking to deemphasize his predecessor's focus on selling hardware, like the Surface Pro line of tablets, and direct more resources to restoring Microsoft's preeminence in software.
"We have described ourselves as a 'devices and services' company. While the devices and services description was helpful in starting our transformation, we now need to hone in on our unique strategy," Nadella wrote.
"At our core, Microsoft is the productivity and platform company for the mobile-first and cloud-first world," Nadella said.
Microsoft said it expects the deal to close later this year. Investors shrugged off news of the acquisition. Shares of the company were off less than 1 percent, to $46.38, in early trading Monday. Mojang is privately held.
© Copyright IBTimes 2023. All rights reserved.
FOLLOW MORE IBT NEWS ON THE BELOW CHANNELS