'Middle-Earth: Shadow Of War': New Story Expansion, Free Update Explained
A new story expansion for WB Games' action RPG has been released. Entitled "Blade of Galadriel," the new expansion centers on the adventures of new playable character Eltariel. The expansion is also accompanied by a free update that brings new features to the main game.
On Tuesday, WB Games took to its official YouTube channel to showcase the trailer for "Blade of Galadriel." In the description for the promotional clip, the publisher announced that the all-new downloadable content for "Middle-earth: Shadow of War" is already available for download.
The new story expansion will allow players to use the elite Elven warrior Eltariel for the first time. Eltariel is actually labeled by her enemies as the Blade of Galadriel, which explains the title of the story expansion. Eltariel got this title because she's a deadly assassin who works for the Elven Queen, Galadriel.
In the expansion, Eltariel is sent to Mordor to hunt the Nazgûl. "Encounter memorable new Nemesis characters, such as Flint, Tinder and the Slayer of the Dead, while battling the Nazgûl and learning more mysteries of their past," WB Games described Eltariel's mission, suggesting that it won't be an easy one.
"Blade of Galadriel" features new combat abilities, skills and gear. For example, there's Eltariel's dual Elven blades and the Light of Galadriel which players can use during the dangerous adventures. The paid expansion also adds eight unique Legendary Orcs that players can use in the main story campaign. Plus, there's an Eltariel character skin that can be used in the main story campaign as well.
The new story expansion is also accompanied by a free update, v1.11, for "Shadow of Players" that adds a slew of new features and improvements to the base game. Eurogamer has learned that the new update brings enhancements to the Nemesis System and brings new traits and behaviors to Orc Captains.
The free update also expands the features of the main game's Photo Mode. When installed, users will have access to new filters, frames, styles, stickers and adjustable expressions. Elsewhere, the update adds a new player stat page that makes it easier for players to track their progress.
The full patch notes for v1.11 of "Shadow of War" is found below:
Nemesis System Enhancements
– Orc Captains (whether friends or foes) can exhibit new traits and behaviors, adding further depth to combat encounters and player interactions, such as:
Tunnel Rat – Orcs can burrow into the ground and summon Ghûls.
Sniper Shot – Archers can fire from great distances with pinpoint accuracy.
Tremor – Ologs can pound the earth with tremendous force, staggering nearby threats and heavily damaging structures.
Gifts of Treasure – Followers can now bring players the gift of a Treasure Orc, providing even more ways to earn Gems and Mirian.
Photo Mode Upgrades
– New filters, frames and styles, along with adjustable expressions and added stickers, giving players more options for customizing in-game action shots.
Player Skins
– Choose to appear as Talion or Eltariel in the main story campaign.
Training Orders Update
– Players can now upgrade their Orc Followers with Training Orders while in the Garrison, saving time and offering more flexibility in deployment.
Player Stats Page
– New menu for players to track a variety of in-game statistics, including the number and type of enemy kills, dominations and betrayals; fortresses conquered and defended; gear pieces collected and upgraded; and many more.
Field of View Options
– More ways for players to customize the user interface and scale their field of view.
The "Shadow of War" free update is currently being rolled out to Steam, PlayStation 4 and Xbox One platforms.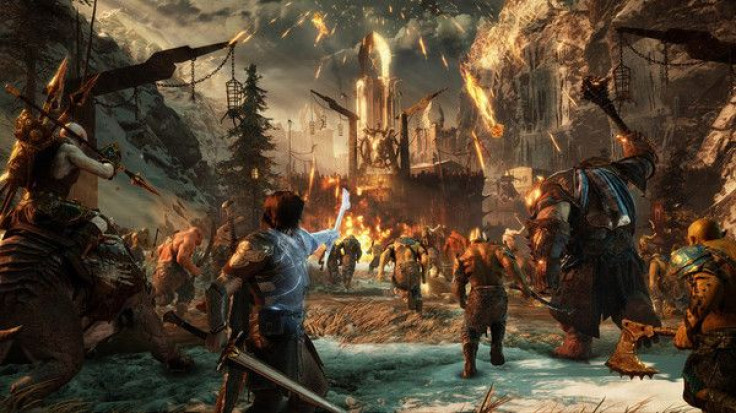 © Copyright IBTimes 2023. All rights reserved.
FOLLOW MORE IBT NEWS ON THE BELOW CHANNELS