Missing Baby Lisa Irwin: Amid Rumors, Attorney Claims Parents Not Involved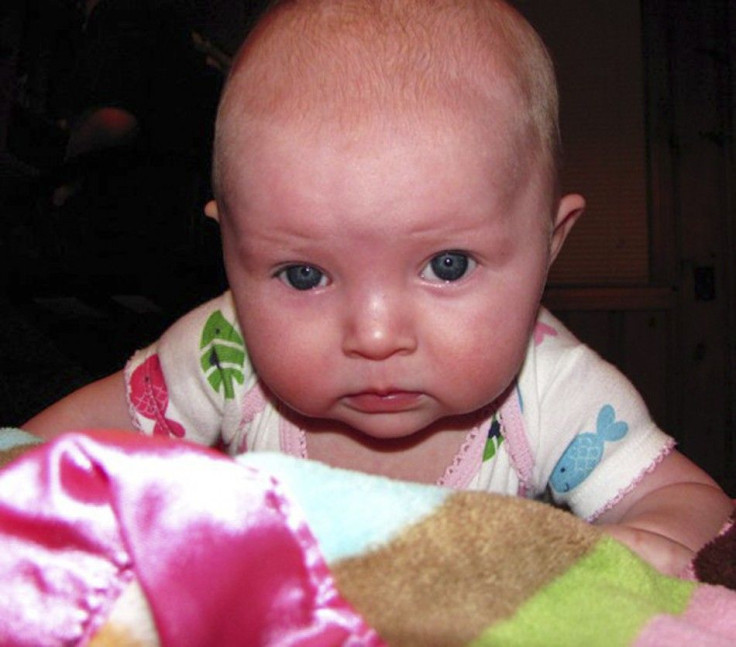 Rumors have surfaced that police are looking at missing baby Lisa Irwin's parents, Jeremy Irwin and Deborah Bradley, as suspects in their one-year-old daughter's disappearance on Oct. 4. The family's attorney, John Picerno, told Fox News Saturday that he believes a phone call from a stolen cell phone the night of Lisa's alleged kidnapping proves her parents' innocence.
Bradley and Irwin claim three cell phones were stolen the night Lisa Irwin went missing. Picerno told Jutice with Judge Jeanine on Fox News that one of the cellphones was used at 11:57 p.m. on Oct. 3 to call a woman the family does not know. Picerno said the FBI told him of the call.
What it tells you is our clients are telling the truth, Picerno said. Although the mysterious caller never reached the woman he was trying to contact, the record of the call remains.
Picerno claims phone records indicate that Lisa's mother's cellphone was used to make a 50 second phone call to Megan Wright, the ex-girlfriend of neighborhood handyman, John Jersey Tanko. Tanko has a criminal record and has been extensively interviewed by police. He is known to do work around the Kansas City neighborhood and was reportedly seen that night by a neighbor near the Bradley-Irwin home.
Wright, however, has denied the reports, claiming she never received a phone call from Bradley's phone. She says the cellphone is shared by seven other people and she did not have the phone in her custody when the alleged call was made.
Picerno also told Fox News on America Live with Megyn Kelly on Friday that someone, perhaps the same caller as earlier that night, tried to access the voice mail and internet of the Bradley's phone at 3:17 and 3:32 a.m. on Oct. 4. The voice mail checks occurred within one-fifth and one-third of a mile from the Bradley-Irwin family home, Reuters reported.
Police have not openly commented on the cell phones.
Picerno had previously reported Friday that police have accused Bradley and Irwin of involvement in Lisa's disappareance, even though he maintains they had nothing to do with it.
Picerno told Fox News Friday that Lisa's parents, particularly Bradley, have been named possible suspects. Picerno said in a statement during a news conference, Oh, they've told them as much...sure, when questioned by a reporter about the matter.
The Kansas Police, however, denied the statement and told Fox News that the couple has not been told that they are suspects. We have no suspects in the case, Kansas City police spokeswoman, Stacey Graves, said in an email to FoxNews.com.
Picerno's suspicion that police see Bradley as a suspect may have caused him to speak out Saturday explaining how the missing cell phone is evidence that exonerates the parents.
Bill Stanton, the private investigator hired by an anonymous donor, agrees with Picerno. He told MSNBC that the available evidence points away from Bradley and Irwin as suspects. He claims police have not explained a plausible scenario in which the family hurt or kidnapped their own child.
Until the body is found, I'm taking this child as alive, Stanton told MSNBC.
Picerno also told MSNBC that the parents have been interviewed for over 30 hours on five different occasions. He said he has refused further interviews of the parents with the police because he does not want the family to be subject to interrogation techniques.
Police, however, claim they are still looking at all possibilities, but would like to interview the parents away from each other.
I'm not saying they're not cooperating, Kansas City Police Capt. Steve Young told Fox News. They have met some of our needs. What I've been talking about specifically is sitting down, separate from each other, to be interviewed by detectives. In regard to that, no, that hasn't happened since the 8th of October.
The case of missing baby Lisa remains a mystery that began when Lisa's father, Irwin, returned home on Oct. 4 after working overtime to find the door open, the lights in his house on, windows tampered with and his daughter missing. Lisa's mother, Bradley, had allegedly put her daughter to sleep around 6:30 p.m. and proceeded to drink five to 10 glasses of wine before passing out around 10:30 p.m. Since Oct. 4, authorities have scoured the surrounding area following all major tips and leads, but they have found no signs of baby Lisa.
Other than the discussion of Lisa's parents as possible suspects, the investigation has hit a standstill, though police maintain they have not closed the case. However, police have stopped searching the areas surrounding baby Lisa's Kansas City home, stating they have run out of places to look, The Washington Post reported. Media attention has also slowly waned with fewer reporters waiting outside the Bradley-Irwin home and requesting interviews.
We are not doing any physical field searching just to do it, Kansas City Police Capt. Steve Young said Thursday reported the Washington Post. If we have another idea, thought or piece of information on where to do that, we will do it before you can blink. But we aren't going to do it just to do it. We're not going to close our eyes and start throwing darts.
Baby Lisa celebrated her first birthday Friday, but there are still no major suspects or leads in the case although over 1,200 tips have been reported and over 900 have been pursued. Snapp maintains that every tip that warrants a search has been and will be followed.
We still investigate every tip we receive, nothing has changed with that, Snapp told Reuters.
Related Article: Missing Baby Lisa Irwin Timeline: What Events Really Happened This Month?
Related Article: Missing Baby Lisa Irwin: What Happened the Night She Disappeared?
© Copyright IBTimes 2023. All rights reserved.