Missy Franklin Passing Up Millions in Endorsements to Remain Amatuer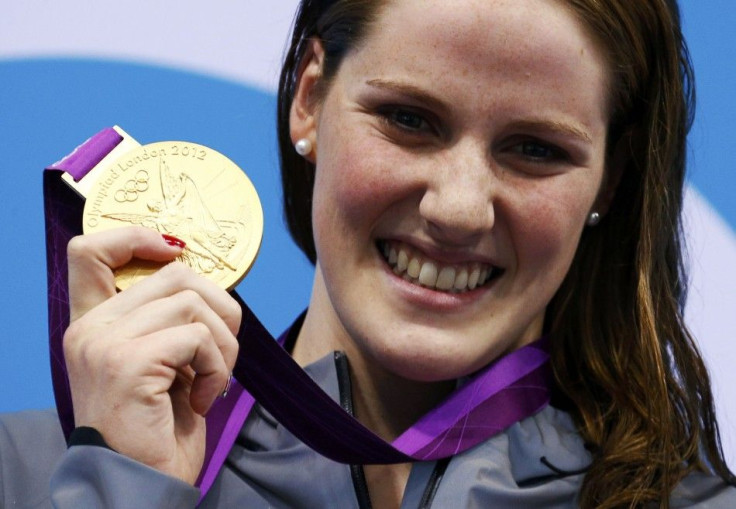 Missy Franklin, America's 17-year-old swimming star, has warmed the hearts of millions around the world with her charismatic personality and strong performance at the Olympics, including a gold medal in the 100-meter backstroke.
Those attributes make her a company's dream endorser, but the talented athlete turned down hundreds of thousands of dollars in winnings and endorsement deals to keep her amateur status.
The rising high school senior loves living a normal lifestyle in Colorado and wants to eventually swim in college, but she has to forgo most earnings to keep those options open. There was some debate over whether she could receive money from the United States Olympics Committee's Operation Gold, which pays Franklin $25,000 for her victory, but a USOC spokesperson told ESPN's Darren Rovell that money wasn't an amateur violation.
It is believed she should also be able to cash in on the $100,000 that USA Swimming gives to all of its swimmers that win gold.
Even with a loophole in the rules for those winnings, Franklin has still passed up hundreds of thousands of dollars to preserve her ability to compete in college. NCAA rules prohibit prospective athletes from accepting money from agents or endorsement deals from companies.
In one instance, she turned down $71,000 for four days of swimming -- a decision her parents admitted they had to sit down and talk with her about. D.A. Franklin, Missy's mother, told the Wall Street Journal that they sat down their talented daughter and explained to her, "You see how hard Mommy has to work to earn that in an entire year?"
"I don't think you quite get it when you're 16," D.A. Franklin told the Journal. "You don't understand what $73,000 or $100,000 really means."
The Franklins will have to bite their tongues even more, post-Olympics, when the endorsement offers start rolling in. On Wednesday, Dick Franklin held an impromptu press conference and told reporters that agents and corporate sponsors have already reached out about representing Missy, but that it'd take "some horrendous amount of corporate money" to sway her from her current plan.
"But if there were to be some horrendous amount of corporate money thrown at her, then you'd have to sit down with her and say, 'Honey, I don't know that you understand what $1 million or $2 million is but that could be your children's education," Franklin told the crowd, as quoted by the Denver Post. "That could be your house when you get married.'
"Then if she goes, 'Yeah, but you know, I still want to swim for my school,' then that's what she's going to do."
Right now Franklin could earn between $15,000 and $250,000 in corporate sponsorship deals, according to Eric Smallwood, a senior vice president at Front Row Market Services. That range could increase depending on how much additional success Franklin, who has already won a gold and bronze medal, has through the remainder of the Olympics. Bob Dorfman, executive director of Baker Street Advertising, estimated to USA Today that Franklin was giving up a "couple million dollars in opportunities at least."
She has emerged as one of America's darlings of the Olympics and risks losing a lot of opportunities, but her young age does allow her to exhibit some patience. Assuming that she stays healthy and continues to compete at a high level, she should still be a major draw for the 2016 Olympics in Rio de Janeiro.
"The best days are probably still ahead of her," said Joe Favorito, a sports marketing expert and lecturer at Columbia University. "The focus on this Olympics is still very much on (Michael) Phelps and (Ryan) Lochte. As long as she stays healthy and competitive, this will be the launching point of her."
Smallwood agrees that if she passes up the small marketing window post-Olympics, which she appears willing to do, that the next opportunity will be in the lead-up to the 2016 Olympics. He expects endorsers to leave her alone for a few years before making a serious run to sign her before the next games.
Dick Franklin, a former executive at Reebok, expects the same.
"The money will be there in four years," he said. "In my experience, most of the corporations will come after her about 18 months, 12 months before the next Olympics. Rio's 2016 so it would be sometime after her sophomore year (of college). I think they'd come after her with a vengeance to sign her up for Rio."
If everything goes as planned Franklin could have her cake and eat it too: She'd be able to compete in college for two years and then reap massive endorsement deals. But in the short-term there is no question that she is passing up hundreds of thousands of dollars that she might never be able to recuperate.
© Copyright IBTimes 2023. All rights reserved.