MLB 2015 Season: World Series Betting Odds And Projected Win Totals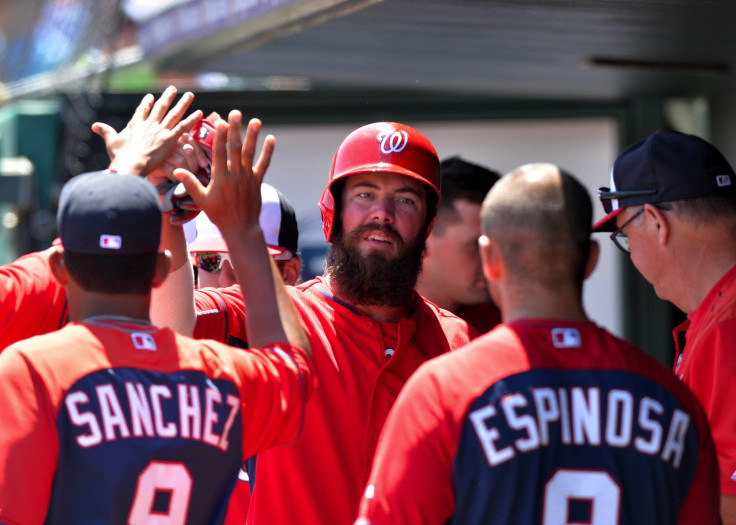 The Washington Nationals have never reached the World Series, but they are the consensus favorite to be the best team in the 2015 MLB season. Las Vegas sportsbooks have given them the best betting odds to win the championship this year.
A year ago, Washington led the National League with 96 wins, though they didn't make it beyond the NLDS. This season, they have baseball's highest projected win total and better World Series odds than any other club. In the offseason, they added Max Scherzer to a rotation that includes five pitchers that all had an ERA of 3.57 or better in 2014.
The Los Angeles Dodgers are considered to be the Nationals' toughest competition, after having a season similar to Washington's last year. LA had the second-best record in the NL, but Cy Young and MVP award winner Clayton Kershaw lost two playoff games as the Dodgers failed to reach the NLCS. With the highest payroll in all of baseball, the Dodgers should be one of the league's best teams in 2015.
The Boston Red Sox have the best World Series odds of any American League team, even though they are coming off a last-place finish and their projected win total has been set at just 85.5 wins. Boston is favored to thrive in what could be a mediocre AL East. The Los Angeles Angels and Seattle Mariners are both projected to win more regular season games but have worse World Series odds.
With the addition of Jon Lester in the offseason and with multiple top prospects waiting in the wings, the Chicago Cubs' World Series odds also don't necessarily reflect their projected win total. Six NL teams have a higher projected win total, but only the Nationals, Dodgers and Cardinals have been given a better chance to win the championship.
The Mets and Yankees' projected win total is the same, but the NL club has slightly better World Series odds. The Yankees haven't had a losing season since 1992, while the Mets last had a winning record in 2008.
The Philadelphia Phillies are considered the least likely team to win the World Series. They had the worst record in the NL East a year ago, and they could trade a few of their best players during the season.
Below are the complete Las Vegas World Series odds and over/under win totals for the 2015 MLB season, via RJ Bell of pregame.com:
Washington Nationals 6-1 (93.5 wins)
Los Angeles Dodgers 8-1 (92.5 wins)
Boston Red Sox 12-1 (85.5 wins)
St. Louis Cardinals 14-1 (88 wins)
Los Angeles Angels 15-1 (88 wins)
Chicago Cubs 16-1 (82 wins)
Seattle Mariners 16-1 (86.5 wins)
Detroit Tigers 18-1 (84.5 wins)
San Diego Padres 20-1 (84.5 wins)
San Francisco Giants 20-1 (83.5 wins)
Oakland Athletics 25-1 (82 wins)
Chicago White Sox 25-1 (81.5 wins)
Baltimore Orioles 25-1 (82.5 wins)
Cleveland Indians 25-1 (84.5 wins)
Pittsburgh Pirates 25-1 (85 wins)
Kansas City Royals 30-1 (80.5 wins)
New York Mets 30-1 (82 wins)
New York Yankees 35-1 (82 wins)
Toronto Blue Jays 35-1 (83 wins)
Miami Marlins 50-1 (81.5 wins)
Cincinnati Reds 60-1 (77.5 wins)
Milwaukee Brewers 70-1 (79 wins)
Texas Rangers 80-1 (75.5 wins)
Tampa Bay Rays 90-1 (79.5 wins)
Atlanta Braves 120-1 (73 wins)
Colorado Rockies 125-1 (72 wins)
Arizona Diamondbacks 125-1 (72.5 wins)
Houston Astros 150-1 (75.5 wins)
Minnesota Twins 250-1 (70.5 wins)
Philadelphia Phillies 500-1 (68 wins)
© Copyright IBTimes 2023. All rights reserved.