Moammar Gadhafi Captured, Reported Dead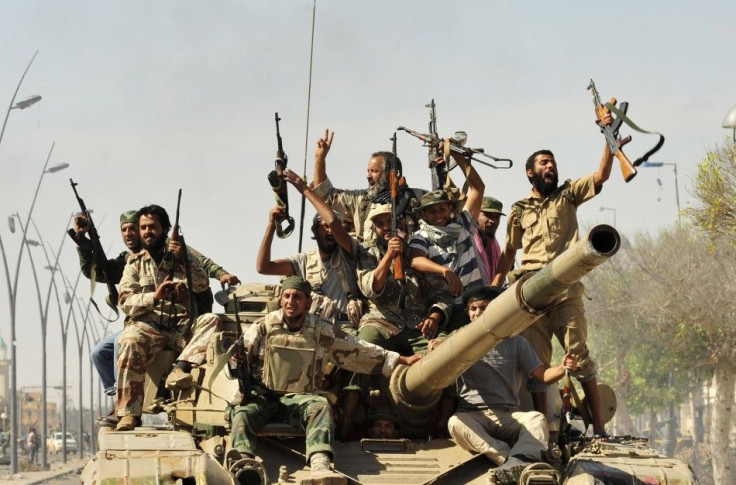 Overthrown Libyan dictator Moammar Gadhafi was captured in the battle of Sirte and died in rebel control, the National Transitional Council said Thursday. The news hasn't been confirmed by independent sources, but if it were true, it would make Sirte the place of Gadhafi's birth and his death.
He's wounded in both legs... He's been taken away by ambulance, the NTC's Abdel Majid Mlegta told Reuters after Gadhafi was found hiding in a hole Thursday morning.
He was also hit in his head, the senior official added. There was a lot of firing against his group and he died.
The NTC, said last week that they would declare victory as soon as Sirte was captured, regardless of whether Gadhafi was found there or anywhere.
"Technically speaking, Sirte is under our control but there are still some pockets of resistance and some Gadhafi fighters are trying to escape," Jalal El-Galal, a spokesman for the NTC, told Bloomberg. "The declaration of liberation won't happen yet."
So far, Reuters and Libyan television are the only news outlets to report on Gadhafi's death, with others are claiming that Gadhafi was captured and is in NTC control. The Agence France-Presse is saying that Gadhafi's injuries are serious.
Pro-Gadhafi fighters put up a harsh fight in Sirte, which will be the last Libyan city to be won by the Council. The fierce resistance led some to believe that Gadhafi and his unaccounted for sons were hidden somewhere in the sea-side town.
Gadhafi's youngest and second youngest sons are both thought to have been killed during the Libyan revolution.
Saif al-Arab Gadhafi was killed in a NATO airstrike in April. He died while in the same building as his father and brother Saif al-Islam, who escaped unharmed. Saif al-Arab lived in Germany and wasn't involved with politics, although Gadhafi gave him a military position until when the revolution broke out. He was also somewhat infamous, and he was arrested in Germany for trying to smuggle an assault rifle to Paris in 2008.
Gadhafi's youngest son Khamis may also be dead. In August, rebels claimed, for the third time, that they had killed Khamis. But, after the two previous occasions when the NTC said that Khamis was dead he appeared on state television shortly thereafter. However, Khamis hasn't been seen since the August report, and the NTC said in September that he was confirmed dead and that rebels had seen his grave near Bani Walid.
Khamis received military training in Russia and Libya, and during the current conflict he was the leader of the 32nd Reinforced Brigade of the Armed People. Also known as the Khamis Brigade, the 32nd is the best trained and best equipped special forces unit in the Libyan Army.
The war in Libya has also illuminated facts about Gadhafi's mysterious daughter Hana, who he claimed died in the 1986 airstrikes on Tripoli. Rebels are now convinced that Hana didn't die, and had been working as a surgeon in Tripoli before the civil war began in February.
© Copyright IBTimes 2023. All rights reserved.