Moammar Gadhafi Dead: Photos Show Ex-Libyan Leader's Last Moments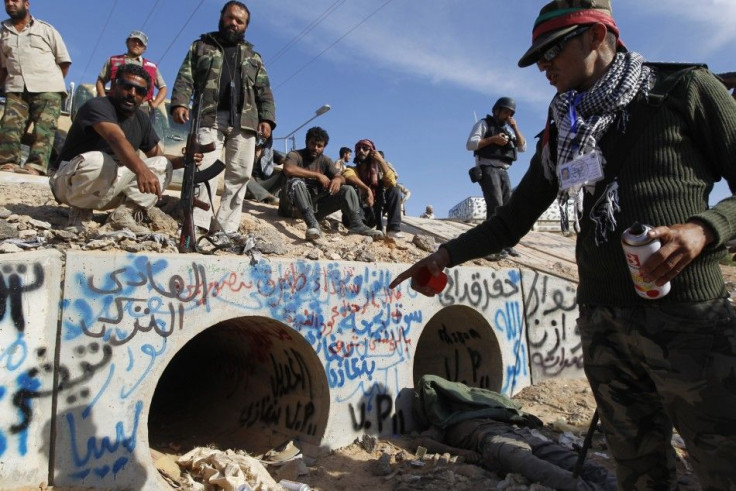 Moammar Gadhafi died in Sirte, the city where he was born.
The former king of African kings was found alive by revolutionary fighter Ahmed Al Shebani on Thursday, according to reports. He was hidden in a pipe beneath the city of Sirte.
He called us rats, but look where we found him, 27-year-old government fighter Ahmed Al Sahati told Reuters.
While surrounded, but still unnoticed, Gadhafi whispered don't shoot to Shebani, the soldier told reporters. National Transitional Council fighters on the ground have various reports about what happened next, but a video (below) indicates that Gadhafi, who was badly injured, was taken alive and then released into the hands of the soldiers, where he died.
Amnesty International is asking the NTC to conduct a thorough investigation into exactly how and when Gadhafi died, and that the findings be made public.
It is essential to conduct a full, independent and impartial inquiry to establish whether Colonel al-Gaddafi was killed during combat or after he was captured, Amnesty said.
Amnesty International called on the NTC to ensure that all those suspected of human rights abuses and war crimes, including Colonel al-Gaddafi's inner circle and family members, are treated humanely and, if captured, given fair trials.
Photos and video, which are graphic in nature, after the jump.
Gadhafi's body was taken to the city of Mistrata. After it was paraded through the streets, the body was taken to a secret location. According to al Jazeera, Gadhafi's body will be taken to a local mosque and buried.
In Sirte, Ahmed Al Shebani was lifted onto his comrades' shoulders as the soldiers celebrated. Shebani was also holding a gold-plated pistol, which he said he found on Gadhafi's person.
While Gadhafi has been killed, the battle of Sirte isn't entirely over. There are still a few loyalists fighters holed up in Sirte, and the NTC has been searching the city for its remaining enemies.
A number of detainees have been taken out of the city in NTC custody, many of them wounded and bloody.
Once Sirte is completely under its control, the National Transitional Council said it will be ready to declare victory. The Libyan Uprising and revolution began in February, at the height of the Arab Spring protests. Peaceful demonstrators in Bengazi were shot dead by Libyan security forces on Gadhafi's orders, prompting a nationwide response.
Sirte will be the last city to fall. Loyalist fighters put up a fierce resistance and controlled a small area in the center of the city for weeks.
© Copyright IBTimes 2023. All rights reserved.