More Trouble For Micron: China Unveils Its First Domestic DRAM Chip
Memory chipmaker Micron (NASDAQ:MU) lost nearly half its market value over the past 12 months as a global glut of DRAM and NAND chips crushed market prices. The decline was exacerbated by sluggish demand from smartphone, PC, and data center customers amid the escalating trade war between the U.S. and China.
Micron is the world's third-largest manufacturer of DRAM and NAND chips. The average price of DRAM chips have already been cut in half since peaking in the third quarter of 2018, and could still log double-digit declines in the third and fourth quarters, according to research group Trendforce. Even the more bullish analysts don't expect DRAM prices to improve until late 2020 -- and that might not occur if the trade war escalates.
To make matters worse, Chinese chipmaker Changxin Memory Technologies, formerly known as Innotron Memory, recently unveiled China's first domestically designed DRAM chip. This move, aimed at countering the Trump administration's threats to cut Chinese companies off from American technologies, could seriously hurt Micron in several ways.
The tip of the iceberg has appeared
Changxin won't immediately challenge Micron and larger rivals Samsung(NASDAQOTH:SSNLF), and SK Hynix in the DRAM market. It plans to initially produce only about 10,000 wafers per month, which is a tiny capacity compared to the global monthly output of about 1.3 million wafers.
But according to Nikkei, Changxin already invested $8 billion in its DRAM operations, and it allocated up to $1.5 billion in capex for the current year. That's much lower than Micron's capex forecast of $9 billion this year, but it's more than twice the amount Nanya Technology, the world's fourth-largest DRAM maker, spent on capex last year.
Unlike its peer Fujian Jinhua Integrated Circuit, which was forced to halt its DRAM efforts after Washington barred its access to U.S. technologies and accused it of stealing trade secrets from Micron, Changxin uses a design based on technology from Qimonda, an affiliate of German chipmaker Infineon, which filed for bankruptcy a decade ago.
The Chinese government and other Chinese tech companies (like the besieged Huawei) could also invest in Changxin and other domestic chipmakers to accelerate the production of domestic memory chips. Doing so could eventually nullify the Trump administration's threats to cut Chinese companies off from American technologies.
Changxin isn't the only chipmaker that could reduce China's dependence on American chipmaker. Yangtze Memory Technologies, a state-backed chipmaker, will start mass-producing NAND chips by the end of the year to challenge Samsung, Micron, Western Digital, and Toshiba.
How the iceberg could sink Micron
Declining DRAM and NAND prices caused Micron's growth to decelerate significantly over the past year.

In the first half of fiscal 2019, Micron generated 66% of its revenue from DRAM chips, 29% from NAND chips, and the remaining 5% from other types of chips. Its total revenue fell 3% annually during that period, and analysts expect its full-year revenue to plunge 23%.
Micron generated 57% of its sales from China in 2018. It also generated 13% of its total revenue from Huawei in the first half of 2019. Micron suspended its shipments of chips to Huawei in late May in response to the Trump administration's decision to blacklist the tech giant from U.S. technologies.
This puts Micron in a painfully precarious position. If the trade war escalates and evolves into a full-blown tech war, more Chinese companies could dump Micron's chips and buy them from Samsung and other non-American chipmakers instead.
Chinese chipmakers would also accelerate their domestic chipmaking efforts, which could eventually lock foreign chipmakers out of the market. That move would also flood the market with cheap chips and eliminate any hopes for a meaningful recovery in DRAM and NAND prices.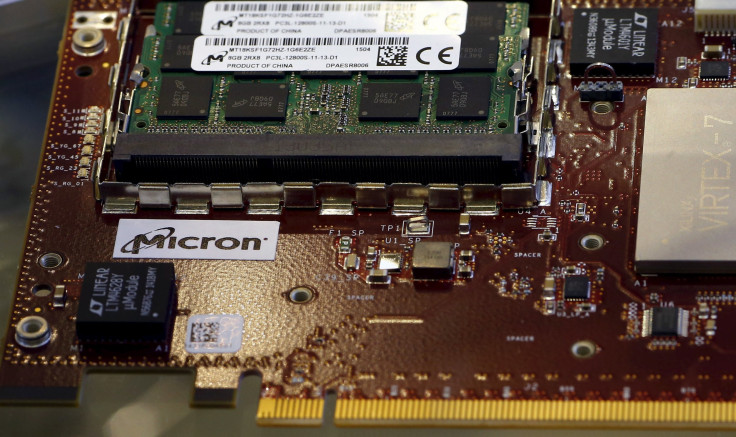 Micron is in massive trouble
Micron generates over half its sales from China, and the trade war now puts tremendous pressure on China to reduce its dependence on foreign chipmakers. China can't ditch Micron overnight, but the appearance of domestically developed DRAM and NAND chips indicates that its days are numbered. If Micron gets locked out of China before DRAM and NAND prices recover, it could face harrowing revenue declines for years to come.
Leo Sun has no position in any of the stocks mentioned. The Motley Fool has no position in any of the stocks mentioned. The Motley Fool has a disclosure policy.
This article originally appeared in The Motley Fool.
FOLLOW MORE IBT NEWS ON THE BELOW CHANNELS