Moscow Enters The Eastern Mediterranean Gas Fields: What's Really Behind Russia's Energy Deal With Syria?
As the United States and Western Europe struggle to find a resolution to the bloody civil war in Syria, Russia has undertaken another geo-strategic gambit in the Eastern Mediterranean by boldly claiming a stake in a huge oil and gas field off Syria's shores. Last week, a Russian state-controlled energy group, Soyuzneftegaz, struck a deal with the Syrian regime for rights to develop and produce oil and gas off Syria's coast.
Under terms of that deal, Soyuzneftegaz will be permitted to perform offshore drilling, development and production activities in Syria's territorial waters. The agreement covers 2,190 square kilometers in the Mediterranean waters, at an initial cost of some $90 million, all assumed by Soyuzneftegaz.
The contract will extend for 25 years.
For decades, the Soviets (and now the Russians) have looked to strengthen their sphere of influence in the Eastern Mediterranean Sea as it is the only body of warm water that its navy could access from the Black Sea. The Eastern Mediterranean's strategic importance is also viewed as an invaluable hedge against NATO's encroachment from the West.
The Cold War is long over, but the ever-ambitious Russia isn't one to miss an opportunity to gain a foothold in the region. With the U.S. withdrawing from Afghanistan and rebalancing its military attention to Asia (in tandem with Washington's inability to materialize its aggressive rhetoric against Syria's Assad after almost three years of bloodshed), Russia wants to exploit what it perceives as a weakened U.S. position in the region.
As Washington has sharpened its focus on the Asia-Pacific region, there is considerable alarm and heightened insecurities among European Union members.
"We're pivoting to Asia, but that means we're pivoting away from someplace else," Nick Burns, former undersecretary of state for political affairs and former U.S. ambassador to NATO, said. "And in my conversations with Europeans, I get the feeling that [they] are pretty upset about it."
Europe may indeed be upset, but Russia is certainly not; for that country, this was its opportune moment to exert its footprint in the Mideast. Moreover, as civil war broke out in Syria, Russia seized and exploited the conflict to reassert its power and importance in the region.
Russia, which supports Assad, continues (with China) to block U.N. resolution after U.N. resolution against the Damascus regime widely believed to have used chemical weapons against its own people.
"Russia's position on Syria has been extremely unhelpful and cynical, no question about it," Burns, now professor of the Practice of Diplomacy and International Politics at Harvard Kennedy School, said in an interview. "They have looked the other way; they have enabled and helped Assad, they haven't wanted to admit that chemical weapons were used and so it's a real problem and it shows the limits of our ability to work with the Russians."
Indeed, Russia has now become part of the problem in ending the three-year Syrian civil war, especially as it continues to provide military hardware to the brutal Assad regime.
Syria is one of the last Arab states that is under Russian patronage, and President Vladimir Putin will do anything he can to maintain Russia's muscle in the region. This is why Russia views the energy resources in the Eastern Mediterranean Sea as key in restoring its relevance -- and therefore influence -- in the region.
In 2010, Houston-based energy company Noble Energy (NYSE: NBL) discovered a huge gas field off of Israel's coast -- the largest natural gas find in the past 10 years. Gazprom and other Russian state-owned energy companies have looked to get a piece of the action. But so far, only Noble, Italy's ENI (NYSE:E), France's Total (NYSE:TOT), and even South Korea's Kogas have been given the rights to explore in the area, known as the Levant Basin.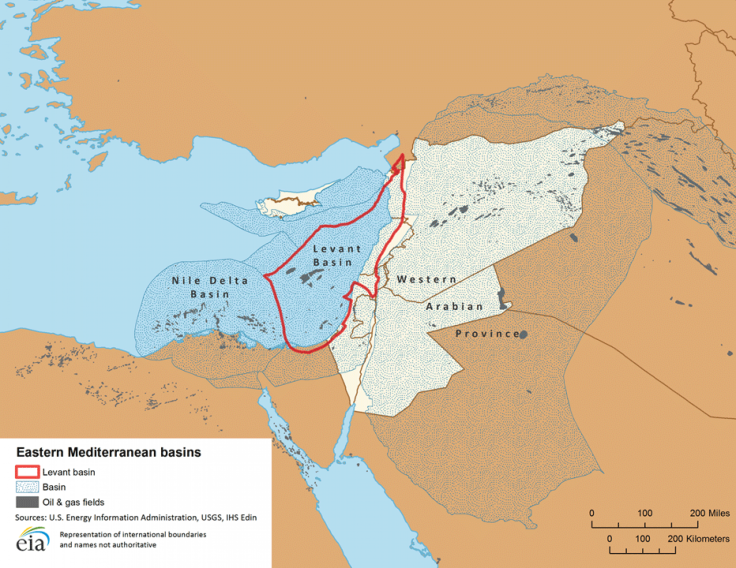 The Basin, which stretches from the coasts of Israel, Lebanon and Syria in the east to Cyprus in the west, has a mean undiscovered oil resource of 1.7 billion barrels of oil and an undiscovered natural gas resource of 122 trillion cubic feet. Both Cyprus and Israel are looking to become regional powerhouses through the export of oil and gas.
Now, Russia's energy deal with Syria is more than just a potentially lucrative investment; it's a political gambit that has far-reaching implications for the region.
But another rising power in the region, Turkey, is also looking to get in on the action. Besides its now-sour relations with Israel, Turkey also does not recognize Cyprus' Exclusive Economic Zone (where exploration is taking place) and has threatened the island nation and Israel with force. (Turkey is the only country on earth that recognizes the so-called Turkish Republic of Northern Cyprus and does not recognize the Greek-Cypriot controlled Republic of Cyprus in the southern part of the island.)
"Israel cannot do whatever it wants in the eastern Mediterranean," Recep Tayyip Erdoğan, the Turkish prime minister, has said. "They will see what our decisions will be on this subject. Our navy attack ships can be there at any moment."
Currently the U.S. State Department is working on a diplomatic solution between the conflicting stakeholders of Cyprus, Turkey and Israel, through an agreement to share the oil and gas production in the Levant, a U.S. official said in an interview. For the State Department, the wealth of hydrocarbons in the Mediterranean are seen as a way for neighbors in the Near East to mend their troubled relations by jointly profiting from energy revenues.
With Russia now entering this Eastern Mediterranean drama, the U.S. State Department's efforts at brokering peace in the region could be significantly complicated in the future.
Separately, aside from geo-political considerations, Russia may also have other motivations for participating in the eastern Mediterranean gas play -- indeed, the deal could highlight Russia's concerns about its own declining natural gas exports to Europe. Back in 2006, Russia, with the flip of a switch, cut natural gas supplies to the Ukraine because Kiev did not want to pay a hike in prices, leaving Europe in the cold.
In response to Russia use of the commodity as a political tool, the U.S. promoted the Southern Corridor strategy, a transit route for gas coming from the Caspian Sea basin to Europe, as a means to diversify Europe's energy (and thereby, largely excluding Moscow). This represents a key U.S. national security policy that is designed to reduce Russia's influence in the area. The strategy first took shape in the 1990s and became increasingly important since.
Still, even with new pipelines traversing the Southern Corridor, the majority of Europe's energy supplies comes from Russian gas companies. And while Russia may be making moves in the Eastern Mediterranean Sea, it still cannot "roll back the history of the last 23 years since the collapse of Communism in [eastern and central] Europe," Burns said. "Russia is not as strong a player as the Soviet Union used to be."
However, Russia will likely play a significant role in Mideast politics (through its proxy in Syria) for at least the next quarter-century -- or at least as along as Assad remains in power.
© Copyright IBTimes 2023. All rights reserved.
FOLLOW MORE IBT NEWS ON THE BELOW CHANNELS