Moscow's Deadliest Storm In 100 Years Kills Over A Dozen, More Than 100 Injured [PHOTOS]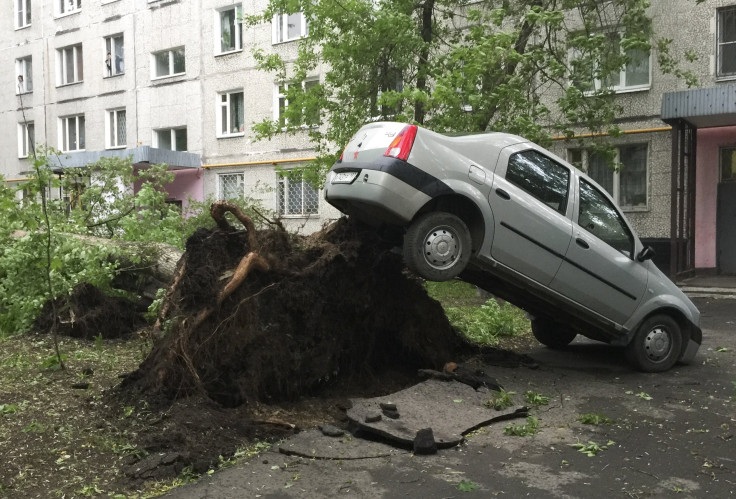 In the deadliest storm in Moscow over 100 years, the city was hit with a severe thunderstorm Monday in which at least 11 people have died, health officials said.
The head of the Moscow Department of Health said more than 100 people have been hospitalized due to the severe storm which hit the Russian capital and its surrounding regions with 80 km per hour gale-force winds Monday, according to reports.
Read: Will There Be More Hurricanes And Storms In 2017?
The hurricane that struck Moscow City on Monday afternoon was unprecedented, Moscow City mayor Sergei Sobyanin told TASS. "I can't remember within my recollection any other such calamity with the number of dead and injured as big as this one," he said.
More than 50 people asked for medical assistance in Moscow, Sputnik International reported Monday.
"Due to a squall wind, more than 50 people, including children, have appealed for immediate medical help," the press service of the Moscow City Health Department said.
Sources in the emergency services had told TASS one person died because of a falling tree in southwest Moscow. In another incident, a bus stop was torn from the pavement by a gush of strong wind and blown towards pedestrians, leaving one person fatally injured.
The city's investigative committee said "hurricane winds" had caused hundreds of trees to fall in various parts of the city, killing five pedestrians. Electrical cables were also damaged as Moscow was lashed with high winds, hail and torrential rain, BBC reported.
Delays on some metro lines had been reported, however, normalcy returned to those services. A tourist, Frank Davis, from Newfoundland, Canada, was stuck in heavy traffic in Moscow as the "dramatic storm" struck. He told the BBC: "The sky darkened noticeably and the winds were extremely strong.... with debris flying around from all directions."
Meanwhile, photos circulating on social media show fallen trees blocking roads.
In a recent press release by the World Meteorological Organization (WMO), in which highest death tolls were reported from tropical cyclones, tornadoes, lightning and hailstorms, the 1970 tropical cyclone that killed 300,000 people in East Pakistan — now Bangladesh — was officially declared the world's all-time deadliest weather event.
"Knowing exactly how bad various types of weather have been in the past is an integral part of preparing for the future," said geographer Randy Cerveny of Arizona State University, who led the committee that made the determinations.
The highest mortality associated with a tornado in which an estimated 1,300 people were killed occurred April 26, 1989 in the Manikganj district, Bangladesh.
The highest mortality (indirect strike) associated with lightning in which 469 people were killed in a lightning-caused oil tank fire occurred Nov. 1994 in Dronka, Egypt.
"Extreme weather causes serious destruction and major loss of life. That is one of the reasons behind the WMO's efforts to improve early warnings of multiple hazards and impact-based forecasting, and to learn lessons gleaned from historical disasters to prevent future ones," said WMO Secretary-General Petteri Taalas. "The human aspect inherent in extreme events should never be lost," he said.
© Copyright IBTimes 2023. All rights reserved.
FOLLOW MORE IBT NEWS ON THE BELOW CHANNELS