Hurricane Season 2017: What Are The Chances?
As summer approaches so does hurricane season for the Atlantic and the East Coast of the United States. Each year storms that form in the tropics and eventually make landfall threaten residents in the Caribbean and along the Gulf Coast and Eastern seaboard.
The hurricane season runs from June 1 to Nov. 30. For 2017, forecasters at the National Oceanic and Atmospheric Administration are predicting that there is a 45 percent chance those areas will see an above normal season, meaning more hurricanes and dangerous storms might be in the offing.
Read: California Has Been Getting Major Rainfall After Years Of Drought, But Why?
The details of this prediction were released Thursday in NOAA's annual Hurricane Prediction report. The forecasters are also predicting a 35 percent chance of a near-normal season and a 20 percent chance of a below-normal season.
The prediction is there is a 70 percent chance there will be 11 to 17 named storms, five to nine of them could be major hurricanes with winds of 74 mph or higher. That prediction would also include two to four major hurricanes with winds of 111 mph or higher. A normal season has numbers slightly lower than this prediction.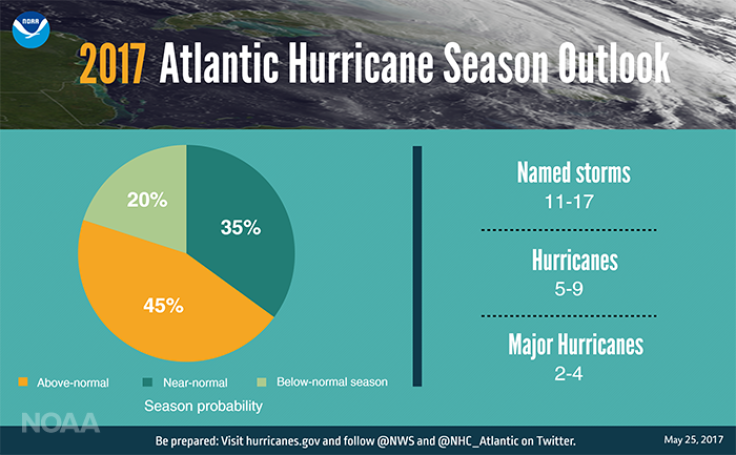 The prediction is rooted in a few factors that raise the chances of hurricane conditions developing. These include a weak El Niño (if there even is one this year), normal or above normal sea surface temperatures and average or weaker than average vertical wind sheer, said Gerry Bell, lead hurricane forecaster with NOAA.
Read: Climate Change Effects: Hurricane Winds Threaten Bird Migration As Global Warming Makes More Storms
When El Niño and vertical winds are more active, they serve as a suppressant for storms. Without them, more storms may form and may grow bigger than they otherwise would. The peak of the season comes as summer concludes, so NOAA will release an updated outlook then as well to keep residents well informed.
What is a hurricane?
A hurricane is a tropical cyclone that forms over tropical or subtropical waters, like those in the Caribbean. That tropical cyclone is a rotating low-pressure weather system. When winds in a system reach 74 mph or more, it's classified as a hurricane. If the wind is slower than that, it's either called a tropical storm or a tropical depression, NOAA said. Hurricanes are ranked on a scale of one to five, with one being the lowest-level threat. The rankings are based on wind speeds. The lower the hurricane ranking, the lower the chance of property damage.
Last year was the most active hurricane season since 2012. Hurricane Matthew last year had devastating effects on Florida and much of the Caribbean and caused the deaths of hundreds.
The National Hurricane Center is constantly monitoring both coasts of the U.S. and has a prediction site you can check that shows the risk of a storm in the next 48 hours. The site also has a host of tips on preparing for such a storm and how to stay safe during one.
© Copyright IBTimes 2023. All rights reserved.
FOLLOW MORE IBT NEWS ON THE BELOW CHANNELS