Mount Rinjani Eruption In Indonesia Leads To Bali Airport Closure, Several Flights Cancelled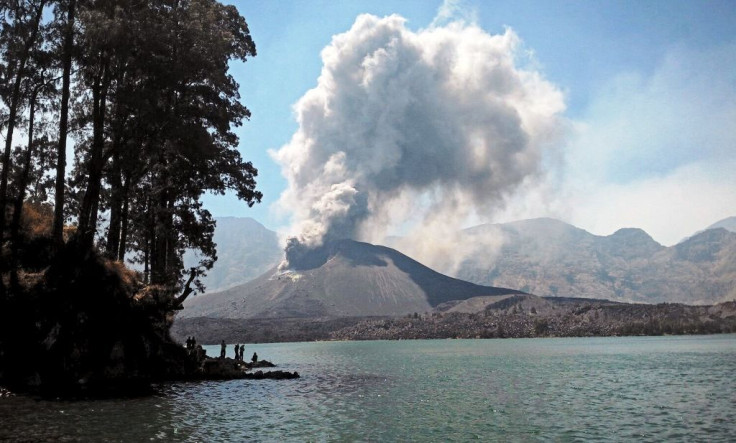 Indonesia has closed the international airport on the popular resort island of Bali until Thursday due to ash drifting from Mount Rinjani, an active volcano on a nearby island, authorities said Wednesday.
Mount Rinjani, which has erupted several times since Tuesday morning, has the potential to erupt again, Indonesia's National Disaster Mitigation Agency (BNPB) said. The temporary closure of the Ngurah Rai International Airport led to the cancellation of 106 flights, of which 59 were international flights, airport official Yulfiadi told Agence France-Presse. The "situation is still under control," Yulfiadi said, according to AFP.
"The airport remains closed until 8.45 am [7:45 EST] tomorrow [Thursday]. The wind has blown the volcanic ash towards Bali in such a way that it covers the sky around the airport, making conditions unsuitable for flying," Yulfiadi told the news agency.
Airlines were directed to avoid routes near the mountain and a decision about the airports' reopening would be taken early Thursday, Transportation Ministry spokesman Julius Barata said, according to the Associated Press.
While Australian carriers Virgin Australia and Jetstar cancelled all their flights Wednesday, AirAsia said 13 of its flights were affected following the closure of the airport.
According to BNPB, volcanic ash from Mount Rinjani, which is one of about 130 active volcanoes in Indonesia, enveloped nearby areas. An airport on Mataram, the capital of West Nusatenggara province in nearby Lombok Island, was also closed.
"The ash was so soft [that] wind directed it to west. Based on imagery of Satellite Terra, the ash distribution covered Lombok strait, Bali, Bali Strait until Banyuwangi [eastern island of Java]. The soft ash rained those areas. The ash rain also occurred in seven villages in north Lombok," BNPB said, in a statement.
In July, thousands of passengers were stranded when five airports in the country were closed after an eruption on Mount Raung, located in the province of East Java.
© Copyright IBTimes 2023. All rights reserved.