Mounting Student Debt Shapes Rough Job Outlook For Young College Graduates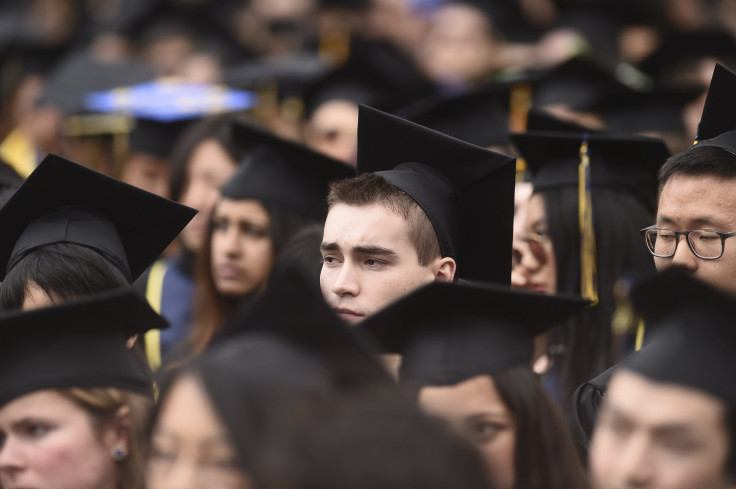 This year's pack of departing college seniors claims a dubious distinction: The class of 2015 is now the most indebted graduating class in history -- though, if past years are any indication, the honor won't last long. Next spring -- barring any unexpected generosity from Washington or college administrations -- the class of 2016 will take over the title.
Graduates this year owe an average of about $35,000 in student loan debt, according to an analysis of government data by Mark Kantrowitz, publisher at Edvisors.com, which covers planning and paying for college. That's up from about $10,000 more than 20 years ago.
The $1.3 trillion cloud of loan debt looms large over American social life. Research suggests it's holding people back from the rituals of home purchase and marriage. But some recent graduates are also finding debt shapes their plunge into an already stormy labor market. It's another stress for young college-educated workers, who, as Friday's jobs report highlights, suffer from an unemployment rate about 30 percent higher than the national average.
Historical American Household Aggregate Debt | StartClass
Cody Hounanian, 24, earned his undergraduate degree from the University of California, Santa Barbara in 2013. A political science major, he owes $30,000 in federal loan debt. Excited by the prospect of quickly paying down that sum, the left-leaning graduate applied for a job at a nearby public relations firm that "astroturfs" [creates the impression of public support by paying people in the public to pretend to be supportive] for corporations and developers. "I can't believe it," he says, looking back. "I was willing to compromise my views."
Hounanian never got the gig. Soon after, he moved to Los Angeles, where he found a job as a manager at Whole Foods and prepared to apply to law school. But eventually, he realized, it made little financial sense: "I couldn't even fathom taking out more loans."
Now, he works part time -- about 20 hours a week -- at a nonprofit that focuses on student debt. "Ideally, I would be doing this type of political work full time, but I can't," says Hounanian, who also works 40-hour weeks at Whole Foods, from 3 p.m. to 11 p.m. at night. His future career? "I'm kinda on pause now."
Clear data on how debt shapes the professional paths of graduates isn't easy to come by. For one thing, it's difficult to separate people with debt from those without it. It's also hard to know the real reason why someone chooses a certain job. But in a recent paper, Jesse Rothstein and Cecilia Rouse seized on major student aid reforms at an anonymous, highly selective university to study the topic. They found that "debt leads graduates to choose higher-salary jobs" and "appears to reduce the probability that students choose low-paid 'public-interest' jobs."
Rouse, a former economic adviser to President Obama, now serves as dean of the Woodrow Wilson School of Public and International Affairs at Princeton University. The school's "no loan" policy replaces loans with grants that students don't need to pay back. Still, Rouse says that today's college students, "whether driven by student loans or scarring from the economic downturn," seem to be "fairly concerned about the income prospects of their careers."
Debt can also influence where recent graduates choose to settle.
Hannah Flake, 23, graduated from the University of North Carolina, Asheville in 2013 with $30,000 in debt. A native of Chapel Hill, she moved to Washington last year -- reluctantly.
"I would have loved to stay in Asheville, and I really tried to, but all of the entry-level jobs I found were in the $20,000 to $30,000 range," says Flake. While she's happy with her current job at an environmental nonprofit, she laments debt's toll on young people who'd prefer to live in medium-sized towns and cities. "I don't think smaller communities are able to offer the salaries that graduates need to pay down debt."
On the other hand, debt recently pushed Melissa Byrne, 36, an organizer, away from Washington. She had to leave the city, one of the nation's most expensive, because of mounting financial pressure, driven in part by $300 monthly loan payments. "I finally had to come to terms with it," says Byrne, who now lives in Philadelphia and soon plans to launch a campaign around reducing student debt. "I was coming to the point where if I hit a bump in the road, I had no safety net."
Byrne isn't optimistic she'll ever be debt-free. "I don't see a path out of it," she says. "I don't see a path for ever not paying them."
© Copyright IBTimes 2022. All rights reserved.
FOLLOW MORE IBT NEWS ON THE BELOW CHANNELS