Mubarak to step down in months, protesters defiant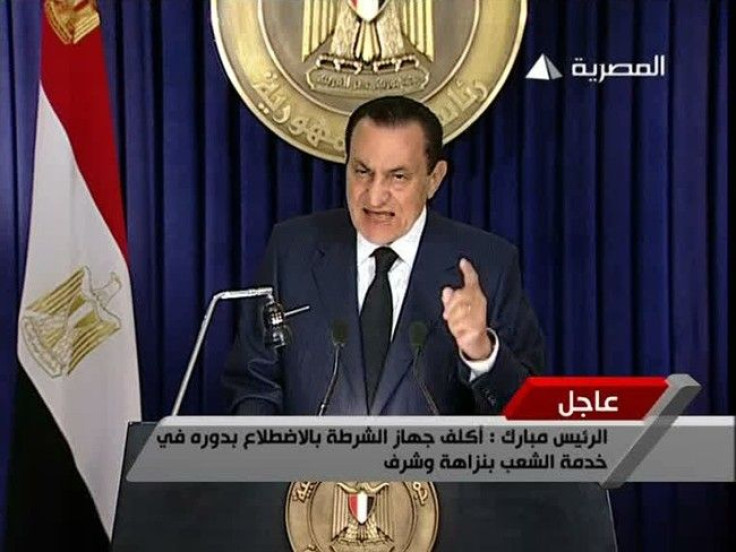 Egyptian President Hosni Mubarak vowed to step down at the next election, would stay on to enact reforms in the next few months, and said authorities would pursue those responsible for destructive acts and looting and violence during the protests.
I was not intent on standing for the next elections because I have spent enough time serving Egypt and am now careful to conclude my work for Egypt by presenting Egypt to the next government in a constitutional way, he said.
Protesters were defiant during and after the speech, according to a report.
Leave, leave leave, down, down, down Hosni Mubarak, protesters were heard as saying after during the speech, according to CNN.
The speech came after eight days of protests which have turned violent at times, with protesters clashing with police. Reports say at least 120 people have died during that time.
He also said that he would ask authorities to pursue those who are corrupt and who have been responsible for all the destructive acts and looting and violence.
He said he would ask police to carry out their role to protect citizens, respect their rights, freedoms and dignities.
In the next few months, the remaining of my current reign I will work to carry out all the necessary measures to transfer power, he said.
Egypt will come out stronger than it used to be before, Mubarak said.
Mubarak said he was proud of all his years of service to Egypt, saying he will die on its land.
U.S. diplomats in Cairo and Washington said President Barack Obama had urged Mubarak not to stand for re-election, according to reports.
Anywhere from hundreds of thousands to 2 million protesters gathered in Cairo's Tahir Square on Tuesday, with many demanding Mubarak's resignation.
As evening came to Cairo, and despite a state-imposed curfew, at least hundreds of thousands of people remained in the square.
Meanwhile, a wide array of opposition groups have begun organizing. They named former UN nuclear weapons inspector Mohamed ElBaradei as their spokesman
ElBaradei spoke with U.S. Ambassador to Cairo Margaret Scobey and said he was ruling out talks with the Egyptian government, according to reports. ElBaradei said Mubarak had to leave.
© Copyright IBTimes 2023. All rights reserved.