Myntra Wants To Be Fashion Assistant To Half A Billion People - On Their Smartphones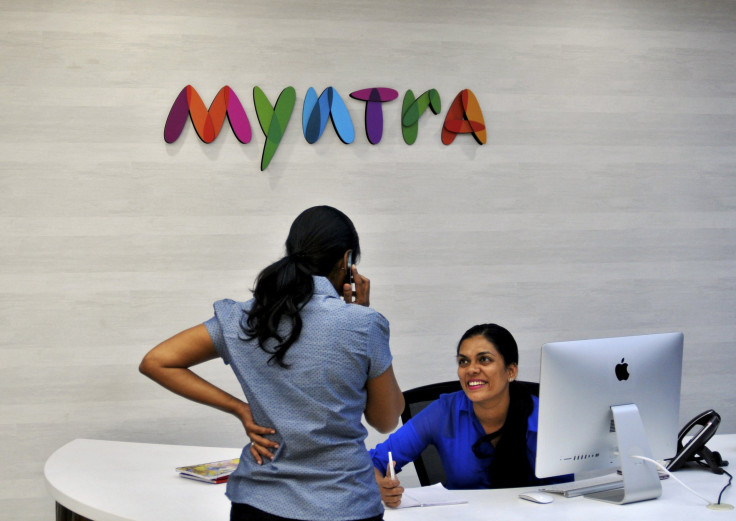 BANGALORE, India -- E-commerce is still a new thing in India, where few people have PCs. But Myntra, a unit of Flipkart Internet Pvt. Ltd., the country's largest online shopping company, is betting hundreds of millions of Indians will buy their clothes and accessories -- for weddings to interviews -- on their smartphones.
To drive its message home, three weeks ago, Myntra scrapped its websites on the PC and the mobile phone too. The only way to access it is the fashion apparel seller's mobile phone app, available for Android, iOS and Windows.
"India is coming online through the mobile device," Shamik Sharma, Myntra's chief technology officer, told International Business Times in an interview. "The growth is all in mobile, it helps us tap into a big audience." The mobile app is little over a year old, but has seen over 10 million downloads. Myntra executives feel that has barely scratched the surface of the opportunity.
They aspire to an entire ecosystem, with services such as stylists on tap, and Uber cab pickups for makeovers, and they are bringing together everything from fashion writers, stylists and advisers to machine learning algorithms to help a customer pick just the right dress for her best friend's wedding or the suit for that critical presentation she has to ace on Monday.
"Nobody provides today a utility to answer all your questions on fashion that is also at once contextual, with the right triggers which allows people to think about fashion," said Prasad Kompalli, Myntra's top strategist as the head of commerce. "And also just pure information at the right time in the right location even. That's what Myntra aims to do, to become part of people's lives and the events in their lives."
Myntra is attempting to capitalize on two concurrent trends on the subcontinent: the rise of a both e-commerce and smartphones. Accel Partners, an investor in Myntra's parent Flipkart, estimates that the value of physical goods bought online in India will rise to $8.5 billion next year, from about $2 billion in 2013. India has close to a billion wireless subscriptions, but only about 150 million smartphone users, the rest accounted for by basic phones. Smartphone sales, however, are rising, accounting for one in three of the 60 million phones sold in from January to March this year.
Uber For Makeovers
To get women shopping, Myntra has tried promotions that tap into the utility of the phone. To celebrate Mother's Day last month, Myntra tied up with cab-hailing service Uber Technologies Inc. and offered makeovers to moms in several Indian cities. People were asked to use Uber's app and try their luck by requesting a cab on an "UberMom view" within the app.
For the lucky ones, free makeovers awaited at preselected Myntra locations with the services of a professional stylist, makeup artist and of course, clothes and accessories from the online fashion retailer. Uber would drop them back home as well.
Today, Myntra's app allows people to ask for the services of one of Myntra's 40 or so stylists, mostly on the phone. Users can post questions for the stylists, have them call back and discuss the best options, Sharma said. A typical query could be, "I've got this top, can you help me pick something that will go well with it," he said.
Sharma and his 350-strong tech team -- which he expects to double in a year -- are working on using machine learning algorithms to take that to the next level on multiple fronts. First, they are working on making being on the app a more social experience.
"If you walked into a physical mall, and you found no one there," it would be like a ghost town, he said. "Similarly, we want to allow people to see what others are checking out. They can make collections, share it with their friends and so on."
Next, "Your mobile phone knows a lot about you, so we can use that knowledge," Sharma said. And Myntra is looking at making a purchase as personal as possible, using image processing, machine learning algorithms and data analytics -- all applied to a customer's historical behavior. "We try to decipher from your purchases, what your tastes are."
All of this creates a powerful urge for a user to revisit the app, boosting the probability that people will buy more and egg each other on to give in to that impulse as well.
Kompalli argues that if Myntra provides the best environment in which people feel they get the best answers to looking good, the rest will take care of itself. And that's the future that the entire company is gearing itself toward.
Private Shoppers
Already, the company has built deep expertise in listening to social conversations and responding to individual consumers' needs. Kompalli has also hired "about a dozen" fashion writers to work on Myntra's rolls. In the future, though, the company will expand the Internet ecosystem, with its app at the heart of it, to get freelance fashion writers to join in as well.
"Our mission has always been about helping people look good. To be a fashion destination," he said. He envisages content as a big piece of the whole, and "style solutioning" where people can ask, call or chat, do question-and-answers like in Quora, and figure out "what to wear, how to pair, what's the appropriate dress for an occasion, for weather, for a body type" and get it all answered -- by professionals.
"We see ourselves as more that kind of a services organization, which is on the net, which is technology driven than being just a store. That's really the direction we're going in." Kompalli said.
To achieve that vision, he is willing to exploit the best ideas from anywhere in the world: If personal transport is getting reimagined by the Ubers of the world, Myntra will partner with them to deliver services like alterations on dresses in under three hours. The Mother's Day pilot could come back in other avatars: "We imagine that you can probably book a stylist-advised shopping experience," Kompalli said.
In the not-too-distant future, Kompalli said Myntra plans to show users of its app not only inventory available at its own warehouse, but also what's available locally. "Whatever helps people look good, we will use that."
© Copyright IBTimes 2023. All rights reserved.