India Tops The World For M-Commerce As Smartphones Drive Net Traffic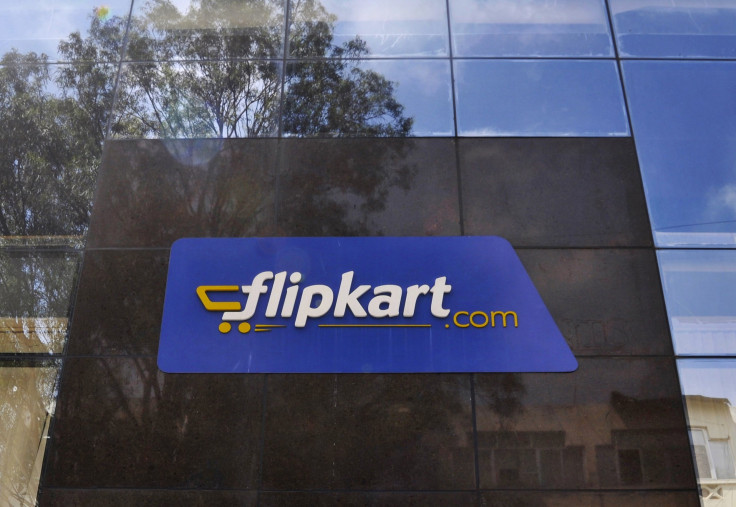 India tops a list of the world's major economies for the greatest share of Internet traffic happening on smartphones and the country's online shopping companies see a greater share of shoppers transacting on smartphones than even China, data collated by technology analyst Mary Meeker in her latest Internet Trends report showed.
Of all the Internet traffic in India, 65 percent was accounted for by access via mobile phones, according to a Statcounter survey, and 41 percent of all Indians who made online purchases did so on their mobile phones in 2014, the report said, citing Morgan Stanley Research. This is more than in any other major economy including China and the U.S.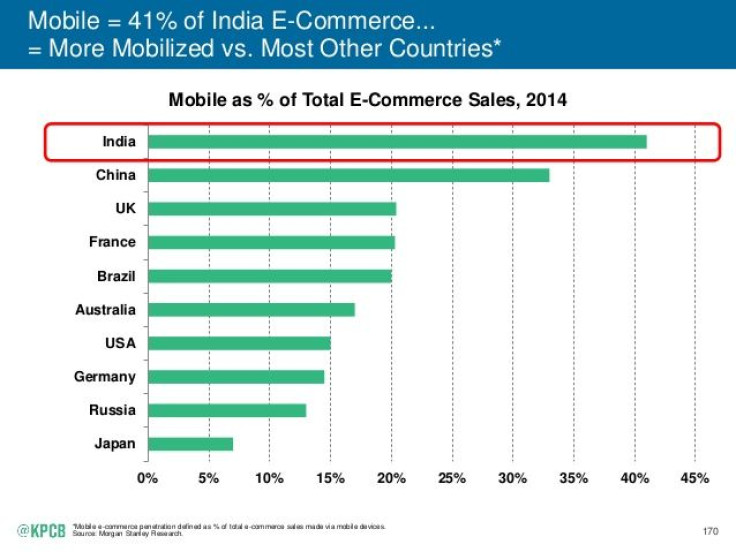 Meeker, an analyst at venture capital firm Kleiner Perkins Caufield Byers, said India "appears to be at an Internet penetration growth inflection point," citing data from World Bank and Hillhouse Capital Management Ltd., a privately held investment management firm.
India's smartphone boom is set to rapidly increase the number of people with Internet access. Various industry estimates expect the number of Indians with Internet access will double to over 500 million by 2020.
In 2014, India added 63 million new Internet users to take the total to 232 million, 37 percent year-on-year growth, according to Meeker's report. This made India the world's third-largest Internet market by users. China and the U.S. are the top two.
That growth has also put India in the top two positions for all the major Internet companies, as a base of monthly active users: India is the second largest base for Facebook Inc. and Linkedin Corp., the largest for messaging app Whatsapp, and the fastest growing user base for Twitter Inc., according to data collected by Meeker in the report.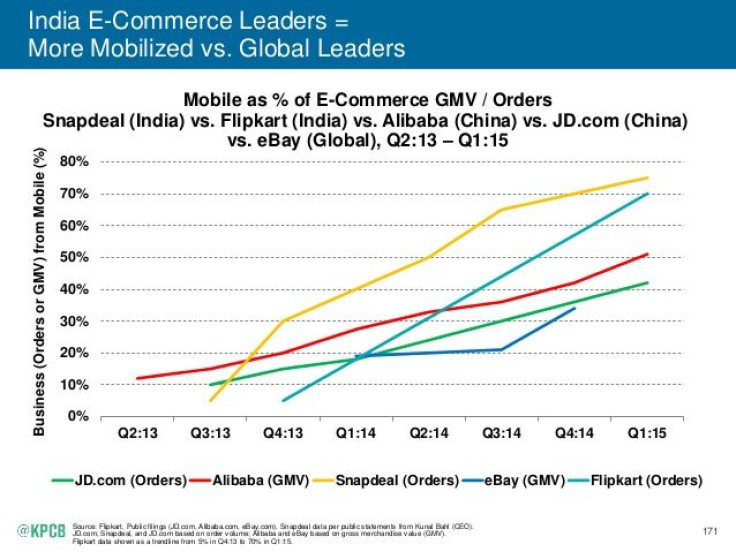 India's online shopping companies Jasper Infotech Pvt. Ltd., with its shopping site snapdeal.com, and Flipkart Internet Pvt. Ltd., with its eponymous online marketplace, have a far greater proportion of customers using mobile phones to make purchases than larger Chinese companies Alibaba Group Holding Ltd., JD.com Inc. and America's eBay Inc. the report said.
Flipkart has already announced its strategy of going mobile only in the near future. Myntra, its fashion unit, is now accessible only via a smartphone app.
© Copyright IBTimes 2023. All rights reserved.
FOLLOW MORE IBT NEWS ON THE BELOW CHANNELS