Uber's India Ambitions In Jeopardy After Another Sexual Assault Charge Against Driver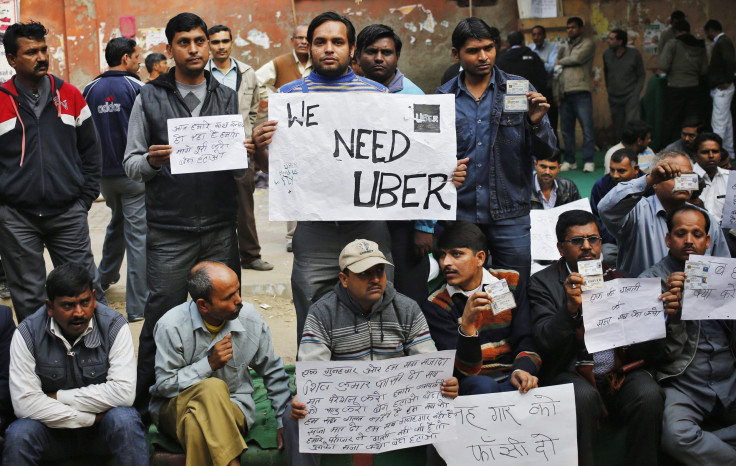 Uber Technologies plans for its top market after the U.S. have run into trouble once more. On Sunday the company named a new head for its Indian unit, but a second allegation of sexual misconduct against a driver threatens to derail its plans in the country. The first, in December, triggered a ban on cab-hailing services in India.
Several local reports carried the allegation made in a Facebook post by a person that his sister was sexually assaulted by an Uber driver on Saturday. She took a cab bound for Gurgaon, near the Indian capital city of New Delhi.
"My sister availed your cab service, last night for Gurgaon & your driver tried to kiss her forcibly," the person said in the post on Sunday. The post included a copy of Uber's acknowledgement of the complaint that the woman passenger registered with the cab-hailing service.
Uber responded to the Facebook post, saying: "Our team immediately reached out to the rider via phone within minutes of receiving the feedback. Multiple members of the Uber team have spoken with the driver to ascertain the sequence of events."
"Uber has a zero-tolerance policy towards inappropriate behaviour and immediate action has already been taken with the driver partner even while the matter is being thoroughly investigated. In order to protect the privacy of parties involved, we will continue to handle this matter directly with the concerned parties," Uber said. "As discussed with the rider on the phone and email, our team is ready to assist further in any way we can," Uber said in its reply.
On Sunday, Uber named Amit Jain, formerly president of Rent.com, as the head of its Indian unit, signaling the importance of the market, dominated by local rival Ola Cabs, to its global growth.
India is Uber's fastest growing market and its largest outside the U.S., but SoftBank Corp.-backed ANI Technologies Pvt. Ltd., which runs Ola Cabs, is moving to consolidate its lead. Earlier this year the Mumbai company bought out Bangalore-based rival TaxiForSure, and since then raised more money to fund its expansion.
India is also a critical market for Uber, which has faced a backlash in several markets from South Korea to Mexico, and has almost been shut out of China, where again, SoftBank-backed local startups KuaiDi Dache and Didi Dache merged to take 95 percent of the cab-hailing market in that country, according to one estimate.
In comparison, India, a still nascent market, provides better scope for Uber to expand operations and grab market share. Further, despite Ola's rapid expansion to more than 100 cities, and plans to add another 200 this year, demand for cab-hailing in India outstrips supply by as much as five to one, according to industry estimates.
As president of Uber India, Jain will be the top boss for the company's "business strategy, operations and growth in a market of global strategic importance for Uber," the California startup, one of the most well-funded ever, said in a statement on Sunday. "Success in India is a global priority for us," Uber CEO Travis Kalanick said in the statement. Jain's experience in building global teams and large scale operations would be critical to the startup's "next phase" of growth in the country, he said.
Uber and its local rivals have had to address concerns over passenger safety after a woman complained she was raped by her Uber driver in December in India's capital New Delhi, which triggered a temporary ban on the services.
Not that sexual assault in the country is confined to ridesharing arrangements. The brutal gang rape of a woman on a bus in Delhi in 2012, in which the victim died as a result of her injuries, put the spotlight on rape in India and led to protests and widespread calls for the government to crack down on what's seen as an endemic problem on the subcontinent. More than 24,000 rape cases were reported across India in 2012, according to the National Crime Records Bureau of India, and many women's advocates in the country say most rapes go unreported.
Uber has introduced various safety measures -- including an in-app panic button in the case of Uber -- but the threat of another ban remains. As recently as last month, India's federal government had sought to block the websites of Uber and other services, but local internet services providers had said there were technical difficulties in implementing this.
Jain faces the task of convincing India's extremely value-conscious middle class that taking a cab ride with Uber is not only safe, but more convenient and cost-effective than personal transport. Both Ola and Uber have tapped into the three-wheeler auto rickshaw services that are very popular in many Indian cities. One can hail rickshaws instead of cabs in India and Ola offers local-language support as well.
© Copyright IBTimes 2023. All rights reserved.