Mysterious Mortality Event Kills 30 Whales In Alaska; NOAA Digs Deep Into The Reason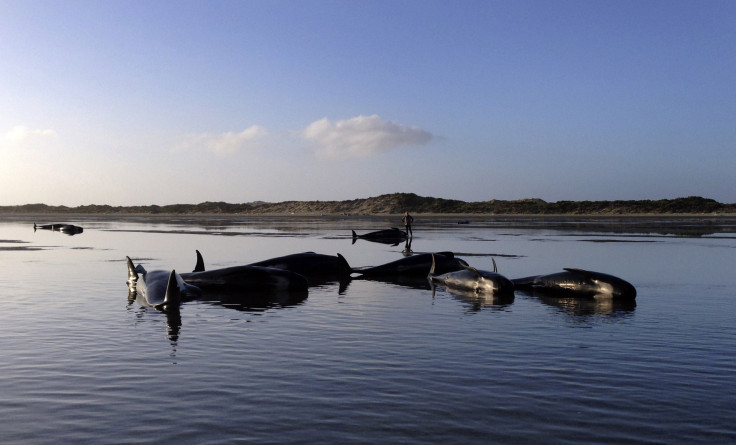 The National Oceanic & Atmospheric Administration (NOAA) has declared the massive killing of 30 whales in the western Gulf of Alaska as an "unusual mortality event." The federal agency recently announced its plans to conduct a vigorous investigation into the reason behind the death of the large whales.
According to NOAA, historically, a threefold increase has taken place in the whale strandings in the western Gulf of Alaska. Although the NOAA Fisheries has declared the mortality event as unusual, Julie Speegle, a NOAA spokeswoman, believes that the harmful toxins released by the algal bloom might be the reason. However, there is no evidence till date linking the two.
The NOAA Fisheries' marine mammal health and stranding response coordinator, Teri Rowles, said that it is tough to investigate into the cause of death of whales partly because of the difficulty in accessing the floating carcasses, which are rarely beached. In addition, Rowles said that bears who feed on the washed-up whale carcasses pose a threat to the safety of the research teams who wish to collect the samples. So far, samples from one whale carcass has been collected by the researchers.
Rowles further said that till the researchers are not able to access the carcasses fully, they might look at the other environmental and historical factors that could have led to the massive killing of the whales. However, such an investigation is limited as compared to what can be concluded if the team has better access to the washed-up carcasses.
Since May 2015, 14 humpback whales, 11 fin whales, one gray whale and four other unidentified marine mammals have been seen washed up on the southern shore of the Alaska peninsula and at the islands of the western Gulf of Alaska, the Christian Science Monitor reported.
© Copyright IBTimes 2022. All rights reserved.
FOLLOW MORE IBT NEWS ON THE BELOW CHANNELS