'Mystery Girl' Star Jennie Garth Talks Rumored Beef With Tiffani Thiessen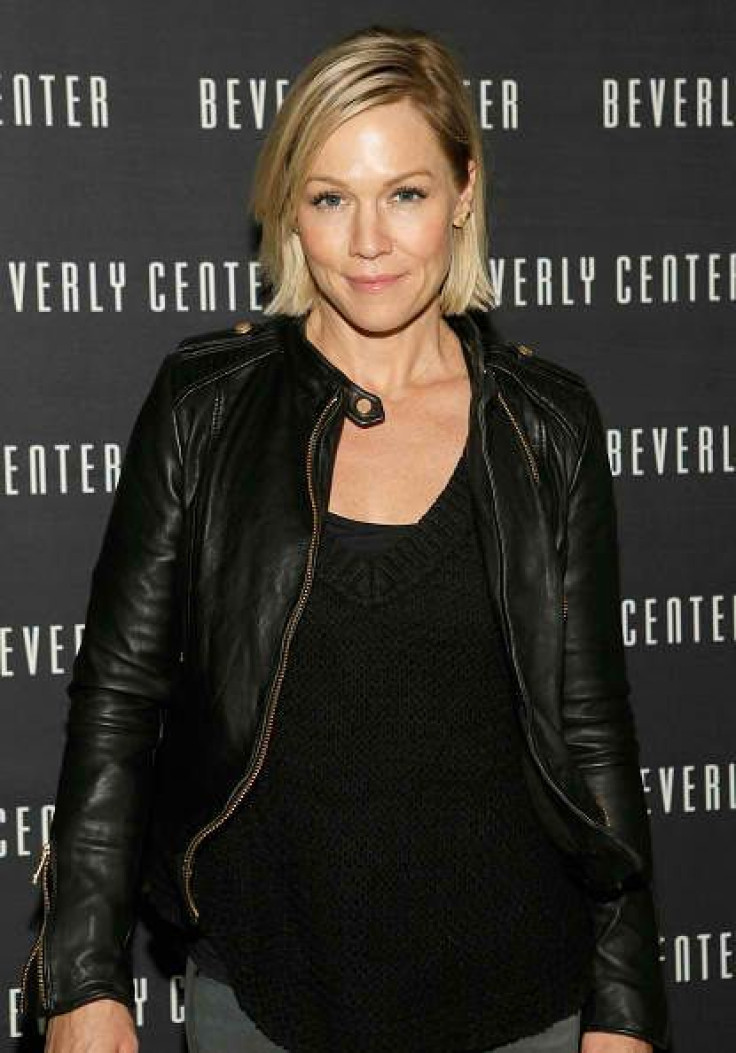 Jennie Garth addressed the alleged beef between her and "Beverly Hills, 90210" co-star Tiffani Thiessen.
In an interview with Us Weekly, Garth denied that there is bad blood between her and the "Saved by the Bell" alum. She explained to the outlet that what had been shown on the "RuPaul's Drag Race" episode, where rumors of their feud had stemmed from, was not what it seemed to be. "Tori and I watched it and we were like, 'What?'" Garth explained. "Because I swear to God I was referring to the queen that was playing the character of Valerie and she had a really fancy name like Doolarey, I couldn't remember it and it looked different than it came across."
According to the actress, Garth recently reunited with Thiessen, and there was no awkwardness between them. "[We] did some small talk and it was great," said the "What I Like About You" star.
READ: Torri Spelling and Jennie Garth gang up on Tiffani Thiessen in "RuPaul's Drag Race"
Garth and Tori Spelling previously made headlines after they allegedly dissed Thiessen when they made a guest appearance on "RuPaul's Drag Race," Fox News reported. In the episode, they apparently criticized a contestant who parodied Thiessen's "90210" character. The issue intensified as Garth refused to mention the "Fastlane" star's name.
"As Ti—, how do you say it?" Garth said. "Just say, 'That which we don't speak of,'" Spelling jumped in. The duo laughed as "The Street" star continued, "Yes, we know her as 'That which we don't speak of.'"
Meanwhile, in an interview with Howard Stern in 2016, Thiessen admitted that when she joined "90210," the girls were not friendly towards, unlike the guys, because she joined the show later than most of them. In addition, her inclusion came after the exit of Shannen Doherty. The girls allegedly shunned her, and whenever they had photoshoot, they wanted her to change her outfit.
Thiessen admitted that she and Garth became close while filming the show. On the other hand, Spelling was hard on her at the beginning, but she eventually mellowed out. Still, their friendship did not go smoothly. For her, they fell out and grew apart after they wrapped up the series. "I was the one who was hurt, let's just say that," Thiessen told Stern.
She also explained that Spelling's split with her first husband, Charlie Shanian, only fueled their rift. She explained that she did not take sides, but she stopped talking to Spelling after she married her second husband. "I was really kind of trying to take care of the person that I thought was done probably wrong," she explained as to why her sympathized more with Shanian.
Thiessen was also closer to Shanian, and not talking with Spelling was not a big deal because they didn't interact much in the first place.
What's your take on Garth, Spelling and Thiessen's beef? Drop a comment below.
© Copyright IBTimes 2023. All rights reserved.