Nancy Pelosi, Steny Hoyer Aim To Keep Leadership Posts Despite 2014 Midterm Losses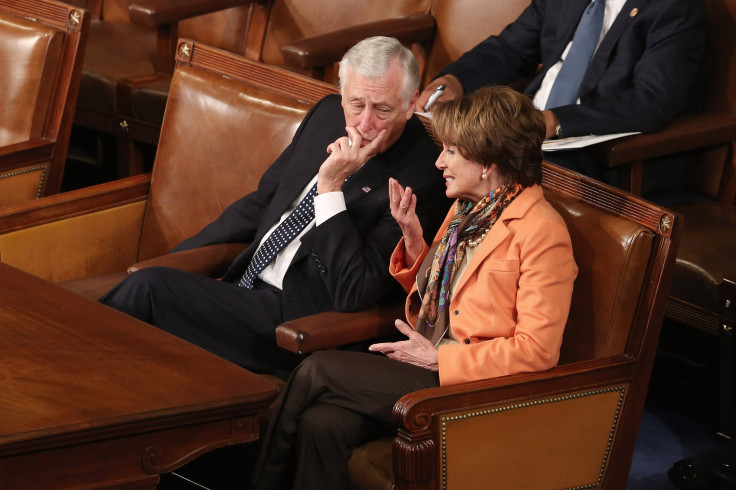 Despite the drubbing handed to the Democrats in the 2014 midterm elections, party leaders in congress have announced that they are seeking to retain their positions.
House Minority Leader Nancy Pelosi and House Minority Whip Steny Hoyer both sent letters to their Democratic colleagues Wednesday, announcing their respective bids to retain their posts.
Pelosi's letter announced the launch of a new program designed to get more voters to the polls on election days, according to a report from The Hill.
"Only by changing our political environment and broadening the universe of the electorate can we build a strong sense of community and an economy that works for everyone," she wrote.
"This basic and even non-partisan challenge, which many of you told me you share, has convinced me to place my name in nomination for leader when our Caucus meets."
In Hoyer's letter, he stressed his role during the 113th Congress in keeping the Democratic caucus united in its quest to defeat key Republican initiatives in the House.
"Democrats unanimously opposed the draconian Ryan budget that would have harmed the most vulnerable Americans. We were unanimous in our opposition to the partisan resolution by Republicans to sue the President. We voted unanimously against the severe cuts to the SNAP program that provides critical nutrition to families. And we were united against Republican attempts to repeal the Affordable Care Act," Hoyer wrote.
Pelosi and Hoyer have held their House Democratic leadership roles since 2003, and are expected to be re-elected.
In the Senate, Republican Mitch McConnell and Democrat Harry Reid are expected to swap roles, after McConnell announced his bid to be elected senate majority leader, and Reid to be elected Minority Leader, according to the Wall Street Journal. Speaker of the House John Boehner is also expected to retain his position.
Internal party leadership posts will be decided later this year.
© Copyright IBTimes 2023. All rights reserved.
FOLLOW MORE IBT NEWS ON THE BELOW CHANNELS