NASA's Hubble Snaps Photo Of Jellyfish Star In Space
NASA and the European Space Agency's Hubble Space Telescope recently spotted a star that looked like a giant jellyfish floating in space. According to the agencies, the star's stunning appearance is the result of its old age.
The cosmic object spotted by Hubble is known as NGC 2022. It is located within the Orion constellation, which is about 1,344 light-years from Earth.
In the latest image taken by the space telescope, the glowing red star can be seen in the middle of an orb-like cloud made of gas. The overall shape and colors displayed by the cosmic body make it look like a jellyfish viewed from the top.
Officials from Hubble explained that NGC 2022's stunning display was caused by its aging.
"Although it looks more like an entity seen through a microscope than a telescope, this rounded object, named NGC 2022, is certainly no alga or tiny, blobby jellyfish," they said in a statement. "Instead, it is a vast orb of gas in space, cast off by an aging star."
"The star is visible in the orb's center, shining through the gases it formerly held onto for most of its stellar life," they added.
According to the space agencies, NGC 2022 is a red giant star. Massive stars or those that are like the Sun enter this stage when they can no longer convert hydrogen into helium inside their cores.
Eventually, the hydrogen in the core of a red giant star will run out. Once this happens, the star will get hotter and cause its helium to mix with carbon. This will then cause the star to expand and emit layers of gas into space.
"When stars like the Sun grow advanced in age, they expand and glow red," the Hubble officials said. "These so-called red giants then begin to lose their outer layers of material into space."
"More than half of such a star's mass can be shed in this manner, forming a shell of surrounding gas," they added. "At the same time, the star's core shrinks and grows hotter, emitting ultraviolet light that causes the expelled gases to glow."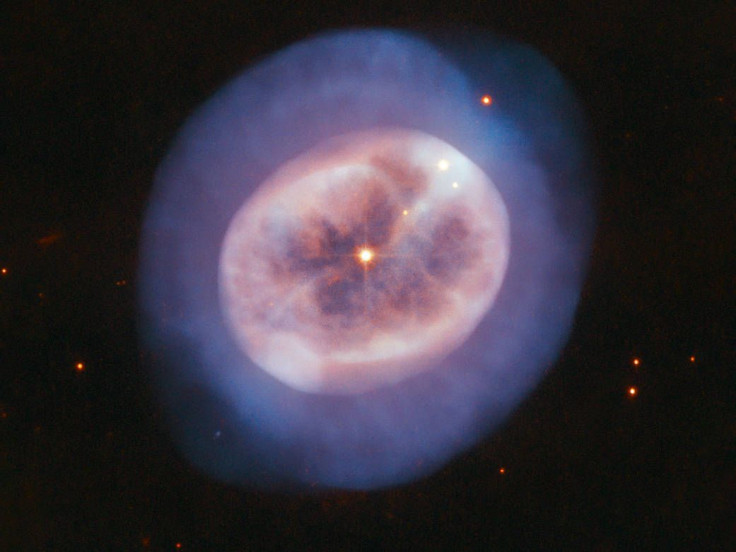 © Copyright IBTimes 2023. All rights reserved.
FOLLOW MORE IBT NEWS ON THE BELOW CHANNELS