NBA China Mobile App Launches: Here's Why Chinese Fans Wanted Basketball On Phones
David Shoemaker had a difficult choice to make Wednesday night: watch Kobe Bryant's final game or see the Golden State Warriors secure a record number of wins in NBA history. He decided to watch both — not so interesting. What is interesting is that Shoemaker, the CEO of NBA China, is based in Beijing. And he, along with 11 million live viewers, set the record for viewership of an NBA game in regular season and playoffs for Tencent's digital streams.
But those numbers are no surprise to Shoemaker. He's been working for nearly five years to improve the access of live game broadcasts to China. "Our Greater China business, outside the United States, is the most important business. Period. We have an incredibly broad, diverse and hungry fan base in China for all things NBA," he told International Business Times.
NBA China, a separate entity from NBA Asia, opened in 1992. Over the years, the league has worked to expand access to games, first on television, then PCs and, most recently, mobile. Last January, the NBA and Tencent announced a five-year deal to exclusively stream the games. Average viewership is up by 66 percent to 1.6 million, and mobile viewership accounts for 65 percent of viewership, compared to 32 percent last season, according to the NBA.
On Thursday, NBA China released the league's first mobile app in China to the Apple China App Store and Android. The app will include game highlights, recaps and behind-the-scenes footage. Users can also see news updates, scores, game statistics and schedules. The content will be written and curated by members of NBA China.
A few hours after its launch, the app had more than 105,000 downloads. IBT spoke with David Shoemaker on what he wants the app to provide to fans in China and what else the NBA is working on in the country. The interview has been condensed and edited for clarity.
International Business Times: You've been in China for decades now. Why wait until 2016 to release an app?
David Shoemaker: I've been here since 2011. We've made it a practice to do everything possible to satisfy the appetite of our fan base. So when I first came, it was the consumption of the TV and then PCs. Since our partnership with Tencent, the focus has been on mobile.
Sixty percent of our fans on Tencent are watching it on mobile, not just PCs. I thought it was important to launch an app in conjunction with our work with Tencent. Our new app is very much customized with the China audience.
IBT: What are those specific features in the app? How would you say the Chinese fan base is different from fans in the U.S.?
Shoemaker: The fans in China are remarkably sophisticated fans. I don't think that's something that we fully appreciated until [former Boston Celtics player] Bill Russell appeared at a game. Chinese fans gave him a standing ovation for two minutes.
As a result of that, there's a fair bit of customization to the stats bit, historical stuff and where you can attend events.
IBT: Take me back to getting the games on TV. Was that difficult for you to accomplish in China?
Shoemaker: Back when I joined, there was a point when we realized that our fans were very much being able to access our games more and more through streaming, [so we] really focused effort on delivering that.
One difficulty is that they're on in the morning as opposed to prime time. We had to make it available to students at their desks, people at their offices. Maybe it was a productivity hit of many companies.
With the migration to mobile consumption, that's been the importance of creating all types of content, not just when they sit at their desk at work but on their commutes in the morning. It's important to get all kinds of content out, sometimes just scores and statistics. Ultimately the plan is to have the app sync up with our international League Pass project, and that's how Tencent syncs up to the whole mix here.
IBT: Do you run into piracy problems in China, and how do you overcome them?
Shoemaker: Piracy's been a challenge and probably will be a challenge for some time, globally and of course in China. We've had people who take the TV signal. We've had people who take our digital steam and rebroadcast that.
We have incredible partnerships across government. It's been really important to our mission for the general counsel to have the right relationship and the right commitment to intellectual property. This is very new territory for China, and in many ways we're leading it.
IBT: You have close relationships with Facebook and Twitter in the U.S. Are you working with these networks as they try to push into China?
Shoemaker: It's something we pay very close attention [to]. As you know, we have great relationships with social media companies in China and YouTube and Facebook. Those are relationships that will extend globally to the extent that Facebook and Twitter can find their way into China.
But our focus is on our relationship with Tencent, which offers many of the same features and in many ways is the innovator in that space. For now, that means we're pretty darned delighted to be in partnership with them.
IBT: What else do you have coming up in the pipeline this year?
Shoemaker: For now, we're focused on the playoffs. We're looking into the summer to work with Tencent on some things we haven't done before like the draft. We're very much looking forward to innovating here.
Emoji are huge and really popular so we're going to continue to offer that. We have two sets of those with Tencent, and they appear to be pretty popular.
Our focus here is really developing the game. We're spending millions on investing in the game on the youth level and working with the government to bring it to more schools.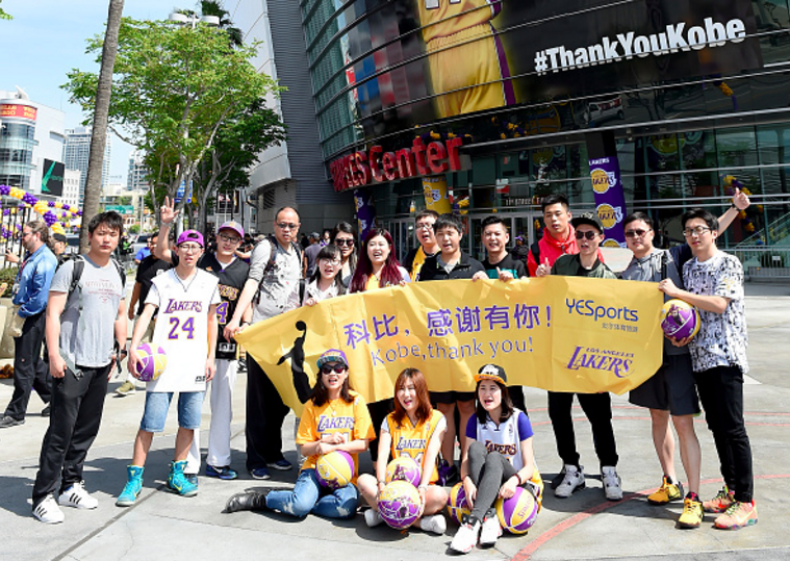 © Copyright IBTimes 2022. All rights reserved.