NBA MVP Award: Stephen Curry's Brand, Marketing Worth Could Rise With Award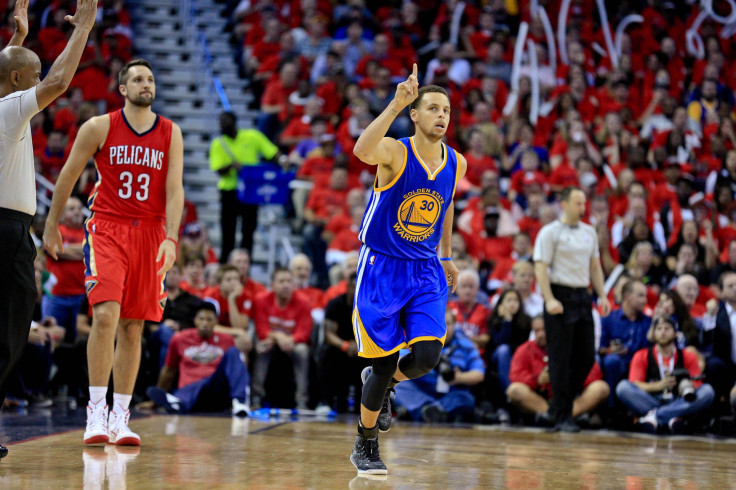 Golden State Warriors point guard Stephen Curry does not look like an NBA MVP, at least not a lot like the two previous winners. Kevin Durant, winner in 2013-14, is 6 feet 9 inches tall, with bungee-cord limbs that spring effortlessly across the court. LeBron James, winner in 2012-13, is 6 feet 8 inches tall, a chiseled statue of the perfect athlete. In contrast, Curry is listed at 6 feet 3 inches tall and a weight of 190 pounds -- and that appears generous. But that might be the precise reason his likely 2014-15 MVP award could be a major boon to his public image and marketing ability.
Curry looks like an average, somewhat gangly guy, yet he dropped an average of 23.8 points per game this season, while being credited with 7.7 assists on the same basis. Any player would get a boost from an MVP win, but Curry is in a position to receive an especially large increase in marketability for a number of reasons. The greatest of them might be his diminutive stature (by NBA standards) and relatability for fans.
"[Curry] almost appeals to me or you who play basketball," said Jimmy Lynn, a sports-marketing maven at Georgetown University. "We don't dunk ... out there he's one of the smaller guys. He's an undersize guy out there dominating."
Most experts believe Curry will win the award, which will likely be announced during the second round of the NBA playoffs. The exposure associated with an MVP award certainly boosts a player's profile. By how much, exactly, is uncertain. Michael Lewis, an associate professor of marketing with sports expertise at Emory University's business school, said that oftentimes an athlete's jump in marketability is largely decided by factors outside his or her control.
"To get to that next level, the shoe company has to push, the NBA has to push, the team has to do well," Lewis said.
A big award, especially for a first-time winner like Curry, puts the player in the conversation to ascend to the top echelon of branding. "In so many ways, what that does, it gives the guy a chance," Lewis said. "It doesn't necessarily make him a star."
Curry does have the backing of Under Armour Inc., serving as the face of its basketball business. Georgetown's Lynn called that marketing relationship a "complete home run." Under Armour is a huge sports-apparel company in the early stages of its basketball endeavors. It caught Curry at the perfect time, signing him before he ascended to the top of the game. Curry also caught Under Armour at the ideal moment, before it had brought on a different star. The Baltimore-based company almost signed 2013-14 NBA MVP Durant, but he eventually elected to stay with Nike Inc. That allowed Curry and Under Armour to grow symbiotically.
"I think it was almost fortuitous [for Under Armour] that [Durant] stayed with Nike," Lynn said, adding that Durant suffered from injuries most of the year. "Right now Curry is MVP and lighting up the playoffs."
Curry could help push Under Armour forward in basketball the way his PGA Tour colleague Jordan Spieth is doing for the company's golf brand. But Curry's everyman image is perhaps more important to his marketing prowess than is Under Armour. It separates him from the usual award-winning athletes whose stature seems unattainable. Any fan can shoot a basketball and imagine making wild shots like Curry. Not many fans can throw down a tomahawk dunk like James. That helps set Curry apart.
Combine Curry's image and partnership with Under Armour with an MVP title and you've got a solid recipe for marketing success. "For the player, it gives them great exposure," Lynn said of the award. "Every time he's at a home game, the fans are chanting, 'MVP.'"
There's still a ways to go before Curry is one of the top-tier players -- in marketing terms -- in the NBA. Emory's Lewis noted that Curry has about 2.1 million followers on Twitter while James has about 20.8 million, which is a quick popularity barometer. It doesn't hurt that Curry plays in the San Francisco Bay Area, which is a decent market for a launch, Lewis pointed out. If Golden State, with the best regular-season record in 2014-15, can put together a solid playoff run, it would certainly help, as well. Upon winning the MVP award (assuming he does), Curry should have his choice of brands with which to associate, Lynn said. If he chooses wisely, that will increase his exposure, too.
Should things continue to break his way, Curry has a clear path for ascension. Winning the MVP could be a springboard to one of the prized top spots in the NBA, which means exposure outside the game and becoming a ubiquitous public figure. It's definitely not preordained, but, with all the factors working for Curry, he could attempt to push to that top brand-level that houses guys such as James, Durant, Kobe Bryant and Michael Jordan.
"To get in that level, everything has to go right," Lewis said. "This trick of moving beyond the NBA, like Kobe, LeBron, Michael, it really is a trick."
© Copyright IBTimes 2023. All rights reserved.
FOLLOW MORE IBT NEWS ON THE BELOW CHANNELS