Nearly Every Major Bank Has Ditched Mountaintop Coal Mining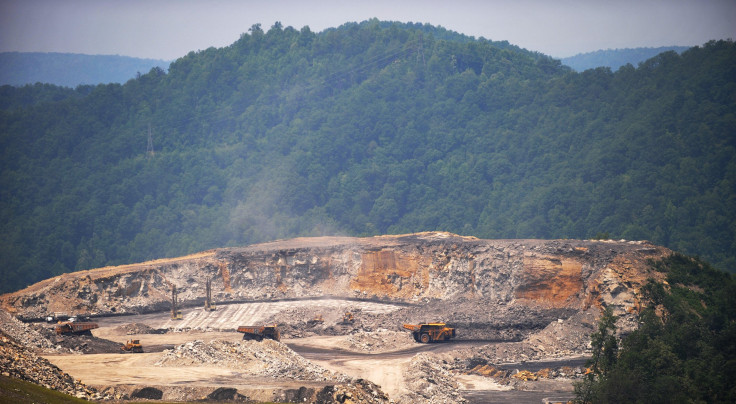 PNC Financial, the seventh-largest bank in the United States, has joined some of its biggest competitors in refusing to finance mountaintop-removal coal mining. With firms like JPMorgan Chase, Wells Fargo and Citigroup already lined up in opposition, the move leaves few major financiers willing to lend to Appalachian mountaintop mining operations.
Mountaintop removal, in which mining companies blow off the peaks of mountains to expose the coal below, has long drawn concerted ire from environmental groups. The practice has left areas the combined size of Delaware barren and destroyed, while polluting thousands of rivers and streams beyond the point of viability.
Though PNC announced in 2010 that it had severed ties with mountaintop-removal companies, it continued lending to coal companies that accounted for a large share of mountaintop mining. An activist effort led by the Earth Quaker Action Team spent the next five years cajoling the bank to drop the investments. PNC's recent announcement came in an annual corporate responsibility report. GE Capital remains the only major U.S. lender to apparently finance the practice.
The campaign to push banks away from financing particularly egregious extractive industries represents an escalation of the divestment campaign, which lobbies big investors like pension funds and university endowments to pull out of fossil fuel investments. By targeting the banks directly, environmental activists hope to hit ecologically harmful industries in their most vulnerable spot: the wallet.
The efforts also highlight what role the financial industry has to play in addressing climate change. Investments totaling nearly $700 billion a year flow to projects that would need to be abandoned if the world community kept its vows on climate change, the Carbon Tracker Initiative estimates. How much financial institutions can be prodded into ending this funding remains an open question.
CORRECTION: An earlier version of this article stated that the bank UBS continued to finance mountaintop removal coal mining. The bank pulled out of such investments in 2014.
© Copyright IBTimes 2023. All rights reserved.
FOLLOW MORE IBT NEWS ON THE BELOW CHANNELS