US Coal Power Ticks Up In 2014 As Natural Gas Prices Climb, Boosting America's Carbon Emissions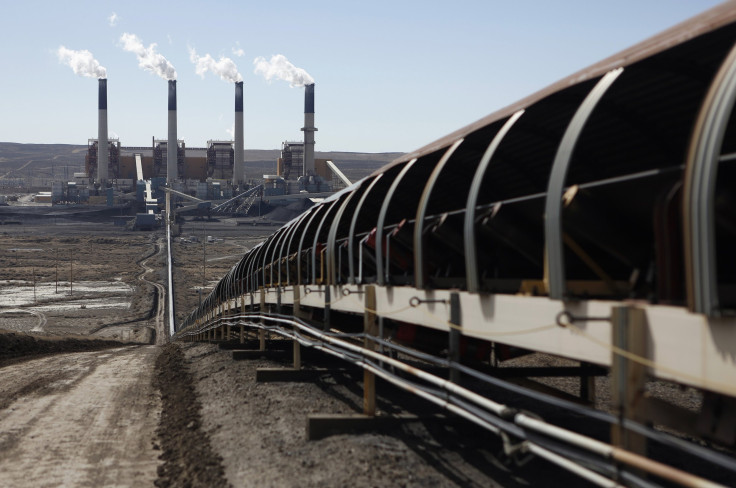 Cleaner energy sources are surging in the United States, but high-carbon coal power isn't on the outs just yet. Coal-fired electricity production actually grew last year as natural gas prices climbed, resulting in higher greenhouse gas emissions from America's energy sector, a new sustainability report said Wednesday.
Coal generation rose to 39 percent of total U.S. electricity output in 2013 and 2014 after dropping to 37 percent in 2012, according to federal energy data cited by the report. In turn, coal-related carbon emissions rose to 1.7 billion metric tons last year, up about 0.3 percent from 2013 and even higher compared with two years earlier. Petroleum and natural gas emissions also ticked up in 2014, bringing the sector total to 5.4 billion metric tons of carbon.
For coal, however, the emissions rebound may be short-lived. President Barack Obama is increasingly pushing to fight climate change pollution at home and abroad, and his administration's proposed Clean Power Plan will force some states to ditch coal-burning power plants in favor of lower-carbon natural gas or emissions-free solar and wind energy.
"As enacted and proposed policies ... begin to bite, emissions are projected to go on a downward trajectory," according to a 2015 clean energy "factbook" by Bloomberg New Energy Finance, a London-based researcher, and the Business Council for Sustainable Energy, a coalition of renewable energy, efficiency and natural gas companies.
Coal's resurgence last year isn't enough to make up for losses in market share over the past decade. In 2007, coal generation was 49 percent of the total U.S. electricity mix, and energy-related carbon emissions were 9 percent higher compared with 2014.
"Our power fleet is very clearly decarbonizing, and even bigger changes are coming in 2015," Ethan Zindler, BNEF's Americas chief, said on a Wednesday press call.
Renewable energy projects -- including large hydroelectric plants, solar power systems and wind farms -- made up about 13 percent of America's electricity mix last year, compared with just 8 percent in 2007, the report found. Since 2000, around 93 percent of new U.S. power capacity has come from renewables, biomass, natural gas and other low-carbon projects.
At the same time, the nation's oil dependence is steadily declining. Gasoline consumption dropped by 8.6 percent last year compared with 2005 as vehicles become more fuel efficient and Americans drive fewer miles.
© Copyright IBTimes 2023. All rights reserved.
FOLLOW MORE IBT NEWS ON THE BELOW CHANNELS