New Book Slams Yahoo CEO Marissa Mayer, Says She Is No Steve Jobs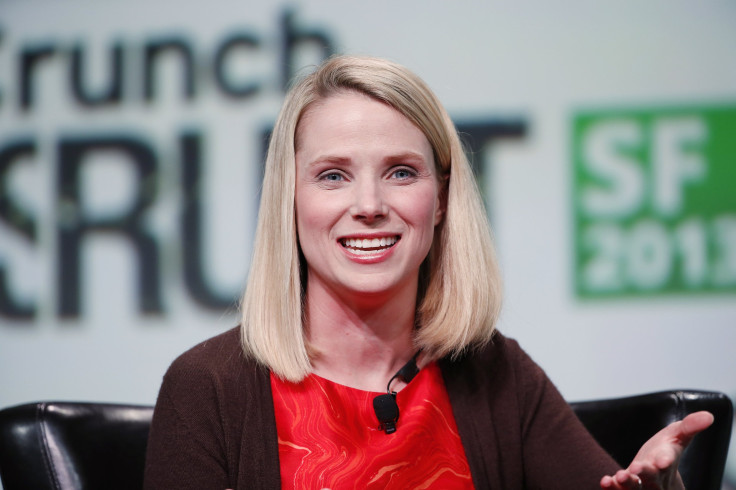 The tides have turned for Yahoo Chief Executive Marissa Mayer. When she took the reins of the struggling company in July 2012, employees' spirits were high. The tech industry stalwart seemed destined for a return to, if not greatness, then at least relevance. The walls at Yahoo's Sunnyvale, California, headquarters even bore posters of Mayer's face done up like Shepard Fairey's famous Obama image bearing the word "HOPE." But that was more than two years ago, and new questions are being raised about Mayer's ability to lead in light of an in-depth, and highly critical, look at the CEO published by the New York Times.
Author Nicholas Carlson, who also writes for Business Insider, said practices either implemented or endorsed by Mayer, like barring telecommutes and ranking employees on a bell curve, have alienated much of the company's talent. "One of the Yahoo board's hesitations upon hiring Mayer was her relative lack of experience as a manager," Carlson wrote. "In her haste to turn around Yahoo, some of this experience began to surface."
Indeed, she hired Henrique de Castro to a $10 million salary, making him one of the highest-paid COOs in modern business. But he left after barely two years.
The Times Sunday magazine report is based on an excerpt from Carlson's forthcoming book, "Marissa Mayer and the Fight to Save Yahoo." Carlson cited insiders who complained that Mayer was constantly late for meetings, and knew little about the media business when she decided to invest millions of dollars in an effort to turn the erstwhile search leader into a content company.
"Reared in Google's data-obsessed culture, Mayer tended to require countless tests about user preferences before making an important product decision. But when it came to media strategy, she seemed perfectly comfortable going with her gut," wrote Carlson, noting Mayer's plan to hire former "CBS Evening News" anchor Katie Couric for a reported $6 million annual salary.
To her credit, Mayer has certainly changed the direction of the company, perhaps most notably by acquiring Tumblr for $1.1 billion in 2013 (and 40 other startups in her tenure to date). But most of these deals have yet to bear fruit. Yahoo's revenue grew just 1 percent in its most recent quarter.
Turning around a big tech company is uncommonly hard. Steve Jobs is one of the most notable exceptions, taking over Apple for the second time in 1996 and restoring it to greatness. Mayer has not mimicked that success, despite having an advantage that Jobs didn't — Yahoo's 40 percent stake in Alibaba it bought for $1 billion in 2005. That stake was worth more than $30 billion after the Chinese e-commerce giant went public earlier this year.
Yahoo now presents itself as something of an updated artifact from an Internet that no longer exists. When launched in 1994, it was called "Jerry and David's Guide to the World Wide Web." In a cheekily titled Forbes post, "How Do You Solve a Problem Like Marissa?," hedge fund manager Eric Jackson posits that Yahoo no longer makes sense as an independent company. He suggests the time is right for a much larger tech firm to acquire it, perhaps Apple, Amazon, Facebook or old rival Google.
© Copyright IBTimes 2022. All rights reserved.
FOLLOW MORE IBT NEWS ON THE BELOW CHANNELS