New Russia Sanctions Will Have Little Impact, Experts Say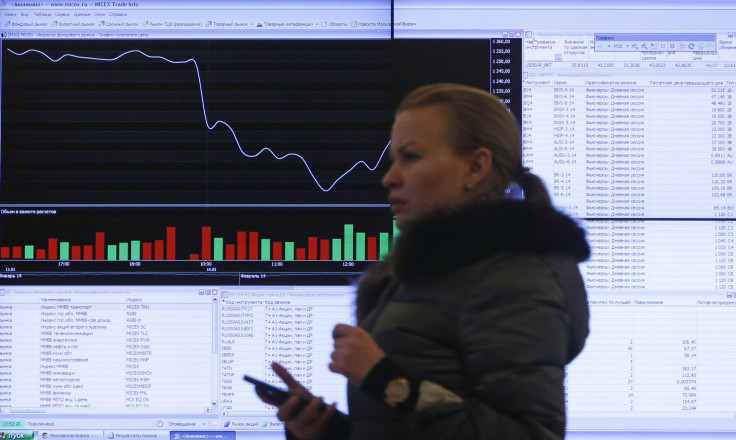 By the official reckoning of the Obama administration, the latest sanctions it unleashed on Russia on Monday will add considerably to the uncomfortable squeeze on its economy, ultimately forcing President Putin to reconsider his aggressive adventures in Ukraine.
"Russian economic growth forecasts have dropped sharply, capital flight has accelerated, and higher borrowing costs reflect declining confidence in the market outlook," said U.S. Treasury Secretary Jacob Lew in a written statement. "We are resolved to continue to work with our international partners and take the steps required, including action against individuals and entities in specific sectors, if Russia continues to press forward."
But analysts are far less impressed, seeing minimal disruption to the Russian economy and little reason to assume the latest batch of sanctions will change the equation.
The new sanctions should have "almost no immediate impact on the economy," said Chris Weafer, an analyst with Macro Advisory, a consulting agency in Russia. "The latest sanctions were not as bad as had been rumored or feared. The sanctions are focused on restricting individuals' travel and economic activities in the West and on a smaller number of banks and companies associated with those individuals."
Broader sanctions of the sort that could alter Russian public opinion by inflicting real economic pain remain unlikely given political realities: While Washington is keen to tighten the pressure on Russia, European nations are resistant, given their dependence on Russian energy stocks and in light of commercial ties between European and Russian firms.
"Russia is a big economy. It is the sixth-largest in the world," said Timothy Frye, a political scientist at Columbia University in New York. "For sanctions to be effective, they really need to be coordinated and far-reaching, and it is not clear what set of sanctions would be able to do that."
The sanctions are a response to what the White House calls Russia's "illegal and illegitimate" intervention in Ukraine. At the contact group meeting in Geneva April 17, Russia, Ukraine, the U.S. and the EU reached an agreement that included steps to de-escalate the situation in eastern Ukraine. The agreement required all parties to refrain from violence, return illegally seized buildings to their legitimate owners, grant amnesty to protesters, disarm illegally armed groups, and vacate all illegally occupied public spaces in Ukraine.
The U.S. claims Russia has done nothing to meet its Geneva commitments. According to a statement issued by the White House, Russia has "further escalated the crisis."
More than 20 Russian officials have been sanctioned in the last month. This is the second round of sanctions imposed on Russia by the U.S. The first round, announced March 20, targeted politicians thought to be responsible for funding or promoting unrest in Ukraine. The sanctions announced Monday target 7 government officials in President Vladimir Putin's inner circle and 17 companies tied to those individuals.
The Department of Commerce imposed additional restrictions on 13 of the 17 companies by imposing license requirement with a presumption of denial for the export, re-export or other foreign transfer of U.S.-origin items to the companies.
The EU added 15 more officials to its Russian sanctions list Monday, bringing the total number of Russians or pro-Russian individuals in Ukraine targeted by the EU to 48. The sanctions include asset freezes and travel bans.
The U.S. and EU are divided over the use and extent of sanctions. The EU is more reluctant to press harder with sanctions because Russia is its biggest oil and gas supplier, and in fact is not expected to impose sanctions on officials in Putin's inner circle. The division between the U.S. and the EU could limit the impact of the sanctions.
Kori Schake, a fellow at Hoover Institution at Stanford University, is more optimistic about the impact the new U.S. sanctions could have on the Russian economy in the future.
"I do think it is significant they were willing to sanction three banks. Going after finance or real estate or energy companies will start to hurt Russia," she said.
There are four energy companies that could be affected by the new sanctions. The companies include London-based BP PLC (LON:BP); Exxon Mobil (NYSE:XOM); the Norwegian Statoil (NYSE:STO); and Eni (BIT:ENI), Italy's national oil company. All have large research deals with Rosneft (MCX:ROSN), one of the Russian companies targeted by the sanctions. Shares of BP, which has a stake of about 20 percent in Rosneft, fell 0.98 percent Monday in London. Rosneft shares also fell, by 1.7 percent.
"The measure of whether markets or investors start to get worried is to watch those four stocks," Schake said.
The U.S. has imposed sanctions in the past, in places such as Iran and Cuba, that had severe economic consequences.
"Typically sanctions are more effective in smaller countries and if coordinated," said Frye, the Columbia political scientist. "They are more effective if they can specific elements in the economy. Sanctions signal that there are costs associated with actions and that can sometimes deter a country from escalating a crisis."
The new round of sanctions will most likely have no effect on the average person living in Russia because they do not target small and midsize businesses, Frye said. However, banks could begin to look at companies related to those included in the sanctions list that could serve as conduits for lending money and refrain from lending money for fear of being seen as complicit.
"Russia's economy is pretty concentrated in the energy sector and banking sector. Russia is dominated by two large state banks, so actions that hit one of those two banks could have bigger effects, but they are not the people you really want to target," Frye said.
Russia's economy has slowed every quarter since May 2012, indicating that there are deeper structural problems occurring within the economy that could be exacerbated by the new sanctions. Planned trade deals and investment into Russia have slowed sharply in recent months, and unless the situation is rectified soon, the current low rate of economic expansion may go on for several years
"Oil price risk will also increase and leave companies and investors worried that an oil revenue collapse may badly damage the economy," Weafer said.
Analysts said more individuals could be added to the sanctions list in the following months, but it is unclear whether the EU will impose sanctions that target Russia's energy sector. According to Schake, Joe Kaeser, the CEO of German engineering giant Siemens AG (FRA:SIE), traveled to Moscow last monthand assured the company's Russian counterparts that the sanctions would not be significant. Siemens' Russia branch announced Monday that it would continue to fulfill all project and contract obligations to Russian customers.
If both the U.S. and EU were to impose sanctions on businesses that deal with the energy sector, Frye said, it could create uncertainty in the global economy.
"That is a very heavy hammer and people are really reluctant to use that sanction," Frye said. "But we could see efforts to try to reduce the profit margins of some of these well-connected companies, which wouldn't involve getting all of Europe on board in the same public way."
© Copyright IBTimes 2023. All rights reserved.