New York Islanders: Errors Doom Islanders In Lone Regulation Loss At Barclays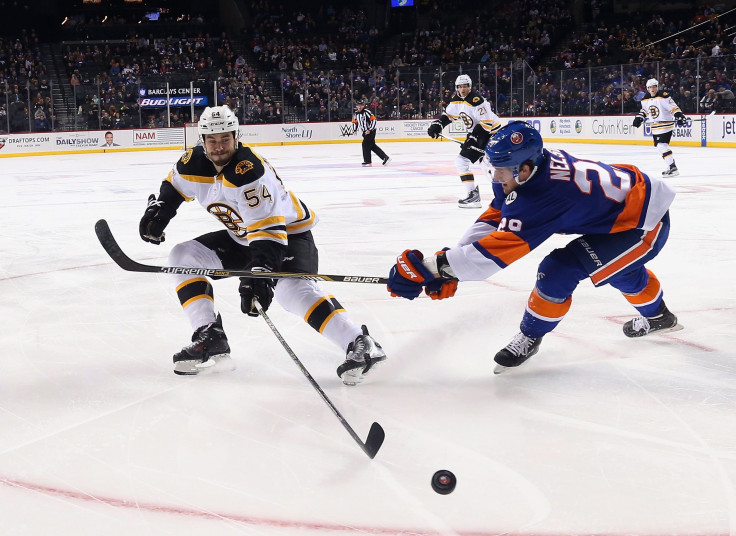 NEW YORK - A 5-3 defeat to the Boston Bruins on Friday night was particularly noteworthy for the New York Islanders. The Isles were looking to extend their four-game winning streak and avoid their first regulation home loss of the season at Barclays Center, but some costly turnovers may mean the Isles place extra emphasis on playing disciplined hockey.
Fortunately for the Islanders, their head coach is aware of the poor execution, and had no problem voicing his displeasure. After the error-prone loss, Jack Capuano was quick to address the concerns of not playing "Islander hockey."
"When you don't manage the puck, you're not going to have success. That's not our style of hockey. We had too many turnovers, too many giveaways. That's going to tilt the ice. It's going to lead to more zone time for the opposition. And in the second period, you got the long changes, as well," Capuano said after the game.
"You don't manage the puck, it's not going to work for you."
Capuano seemed to vent to reporters about the abundance of miscues against Boston.
"There's a few lines, for whatever reason tonight... the puck's in the middle of the ice, really just no discipline in our decision-making tonight with the puck. And that's really what it came down to. For parts of the second period, we were playing pond hockey. We didn't manage the puck. We didn't do anything. It doesn't surprise me that eventually [the Bruins] were going to get [a goal].
"You can't turn the puck over in this league. There are too many skilled guys, and they're going to take advantage of it."
For all the discussion about the Islanders move to Barclays, it was the team's lone poor showing after leaving the Nassau Coliseum. New York is 3-1-1 in their new arena and has generally played smart hockey in their new home. After opening the season with an overtime loss to the Stanley Cup champion Chicago Blackhawks, the Islanders have earned wins over the Winnipeg Jets, Nashville Predators, San Jose Sharks by a combined score of 16-8.
On Saturday, the Islanders face the St. Louis Blues at Scottrade Center.
© Copyright IBTimes 2023. All rights reserved.