New York Republican Elise Stefanik Defeats Democrat Aaron Woolf In 2014 Midterm Election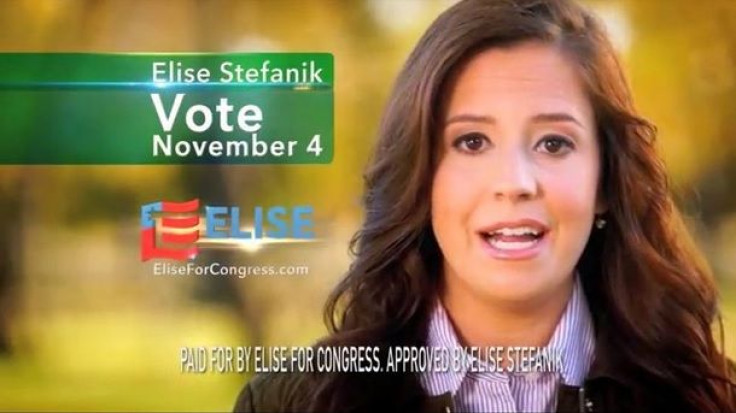 Republican Elise Stefanik defeated Democrat Aaron Woolf Tuesday in upstate New York's 21st Congressional District where U.S. Rep. Bill Owens did not seek re-election. She broke a 40-year record and became the youngest-ever woman to win a seat in the House of Representatives.
Stefanik, 30, is a Harvard graduate who was honored with the Women's Leadership award. She also served as an aide to President George W. Bush, the New York Post reported. Even though Stefanik was not a typical candidate, she saw it as an advantage. "We need new, fresh candidates. We need candidates who are able to reach out to young voters, women voters. I don't look like a normal congressional candidate," she told Business Insider. "Part of the reason I'm running is I think there's an opportunity to work more effectively on a bipartisan basis on the big issues," Stefanik told CBS.
Even though New York is largely a Democratic state, she was predicted to win the seat. A Siena College poll showed her leading Woolf by 18 points on Oct. 27, the Heavy wrote. Closer to the vote, a Washington Post poll showed her having a 99 percent chance of winning against Woolf.
Woolf, 50, is a filmmaker who was raised in Elizabethtown. He has made documentaries like "King Corn," "Dying to Leave: The Global Face of Human Trafficking and Smuggling," and "Beyond the Motor City." On his website he wrote the documentaries "highlight the human consequences of government policy."
In fact, it was being a filmmaker that got him involved in politics. "I was always trying to tease out a human story that illuminated what happens to real people when we make public policy," he said during an interview with WRVO, New York, which is affiliated with NPR. "It can be incredibly abstract, but it has an incredible impact on our world," he said.
It was predicted all along that Republicans would hold their majority in the House, but now the question is just how far their dominance will expand. Analysts expected Republicans to pick up five and 12 additional seats, which could be the party's highest level in decades, the Wall Street Journal wrote.
Follow me on Twitter @mariamzzarella
© Copyright IBTimes 2023. All rights reserved.