NFL Predictions 2021: Division Odds, Playoff Standings, Wild-Card Picks
Half of the NFL's divisions have an overwhelming favorite, while the other half is essentially up for grabs heading into the 2021 season. The reigning champions in the AFC North, NFC East, NFC South and NFC West are not favored to repeat. Three teams have won back-to-back division titles.
Here are NFL division predictions and playoff picks for the upcoming season. Betting odds are from FanDuel Sportsbook.
AFC East: Buffalo Bills -150, Miami Dolphins +330, New England Patriots +360, New York Jets +1600
Following Josh Allen's breakout season and a trip to the AFC Championship Game, Buffalo is the clear favorite to repeat as division champions. The Bills could be challenged by either the Dolphins or Patriots, both of whom are led by young, first-round quarterbacks. Between New England's free-agent spending spree and all of the players they're getting back who opted out in 2020, Bill Belichick should have his team back in the playoff hunt. The Jets are rebuilding with a rookie head coach and quarterback.
Prediction: Buffalo
AFC North: Baltimore Ravens +115, Cleveland Browns +155, Pittsburgh Steelers +440, Cincinnati Bengals +1600
One season after Pittsburgh won the division, Baltimore and Cleveland are given a much better chance to finish in first place. The Steelers benefited from an easy 2020 schedule, and things get much harder in 2021. Still, their top defense and playmakers around Ben Roethlisberger could help Pittsburgh extend its streak of 18 straight seasons without a losing record. Lamar Jackson is 30-7 as a starter, though preseason injuries give him questionable weapons. Cleveland might actually have the division's most talented roster with key additions on defense and Odell Beckham Jr. returning from an ACL tear. The Browns nearly beat the Chiefs in the divisional playoffs.
Prediction: Cleveland
AFC South: Tennessee Titans -110, Indianapolis Colts +140, Jacksonville Jaguars +600, Houston Texans +2300
The AFC South is Tennessee's to lose. The Titans followed up four straight 9-7 seasons with an 11-5 record in 2021 for a division title. Ryan Tannehill has been a top-10 quarterback for two years. The addition of Julio Jones to an offense that already included A.J. Brown and Derrick Henry will make up for the Titans' poor defense. Indianapolis needs Carson Wentz to bounce back in a major way for the Colts to finish in first place. Jacksonville isn't winning the division after going 1-15 last season. It seems unlikely that Deshaun Watson will take a snap for the Texans, making Houston destined to tank for a top pick in the 2022 NFL Draft.
Prediction: Tennessee
AFC West: Kansas City Chiefs -290, Los Angeles Chargers +490, Denver Broncos +700, Las Vegas Raiders +1700
As long as Patrick Mahomes and Andy Reid are with the Chiefs, you can pencil in Kansas City for the AFC West title. The NFL's best player, Mahomes has never lost more than four games in a season. Reid has led the Chiefs to five straight division championships, averaging 12 wins a year during that stretch. The Broncos might actually be a bigger threat to the Chiefs than the Chargers, given the talent Denver has on defense and at wide receiver. Not much has changed for the Raiders, who last won a playoff game in 2002.
Prediction: Kansas City
Final 2021 AFC Standings
1) Kansas City
2) Tennessee
3) Cleveland
4) Buffalo
5) New England (wild-card)
6) Denver (wild-card)
7) Baltimore (wild-card)
NFC East: Dallas Cowboys +130, Washington Football Team +260, New York Giants +400, Philadelphia Eagles +450
The NFC East was a historically weak division in 2020 as a 7-9 record was good enough for Washington to finish in first place. Washington plays a much tougher schedule in 2021. Dallas is the obvious favorite with by far the best quarterback in Dak Prescott and a potentially explosive offense. Concerns about Prescott's health and the Cowboys' defense, however, make a division title far from a certainty. There's a world in which the Giants' defense and an improved season from Daniel Jones is enough for New York to win the division, though a poor offensive line will likely hold the team back. The Eagles are simply not very good.
Prediction: Dallas
NFC North: Green Bay Packers -145, Minnesota Vikings +250, Chicago Bears +500, Detroit Lions +1900
The NFC North is a two-team race between the Packers and Vikings. After a pair of 13-3 seasons and with Aaron Rodgers coming off his third MVP award, Green Bay remains one of the league's top Super Bowl contenders. The Vikings have what it takes to challenge the Packers. Kirk Cousins led the team to the No. 4 offense in football last year. Minnesota's defense should be much improved because of a more experienced secondary and Danielle Hunter's return from neck surgery. Chicago would need Justin Fields to start right away and be great in order for the Bears to win the NFC North. The Lions might be the NFC's worst team.
Prediction: Green Bay
NFC South: Tampa Bay Buccaneers -240, New Orleans Saints +440, Atlanta Falcons +850, Carolina Panthers +1200
The Bucs are the class of this division. The Super Bowl champs bring back every starter on both sides of the ball. That's not close to being the case for the defending NFC South champion Saints. Not only will an injury keep Michael Thomas sidelined for an extensive period of time, but the Saints lost several defensive starters and the now-retired Drew Brees. Tom Brady is easily the best quarterback in the division, and he could be even better now that he has a year of being in Bruce Arians' offense under his belt. If Jameis Winston continues to be interception-prone, the Falcons or Panthers could jump ahead of the Saints for second place.
Prediction: Tampa Bay
NFC West: San Francisco 49ers +190, Los Angeles Rams +200, Seattle Seahawks +280, Arizona Cardinals +600
The NFC West is the NFL's best division. Arizona is a playoff contender, and the top three teams all have legitimate Super Bowl aspirations. So why do the Seahawks have notably worse odds than both the 49ers and Rams? Russell Wilson has been the league's most automatic player for the last decade. The quarterback has played every game and finished with a winning record in all nine of his NFL seasons. Even with Seattle's shaky defense and a rough November, Wilson led the Seahawks to 12 wins and a division title in 2020. Matthew Stafford gives Los Angeles very high expectations. San Francisco might be the NFC West's top team if Jimmy Garoppolo or Trey Lance can be above-average for the length of the season.
Prediction: Seattle
Final 2021 NFC Standings
1) Tampa Bay
2) Green Bay
3) Seattle
4) Dallas
5) Los Angeles (wild-card)
6) Minnesota (wild-card)
7) San Francisco (wild-card)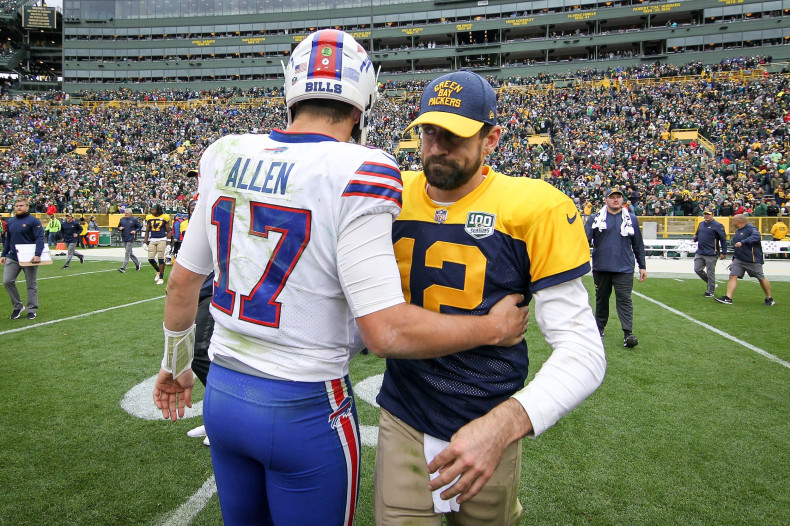 © Copyright IBTimes 2022. All rights reserved.