NFL Quarterback Trevor Lawrence, YouTubers Kevin Paffrath And Tom Nash Settle Lawsuit Over FTX Endorsements: Report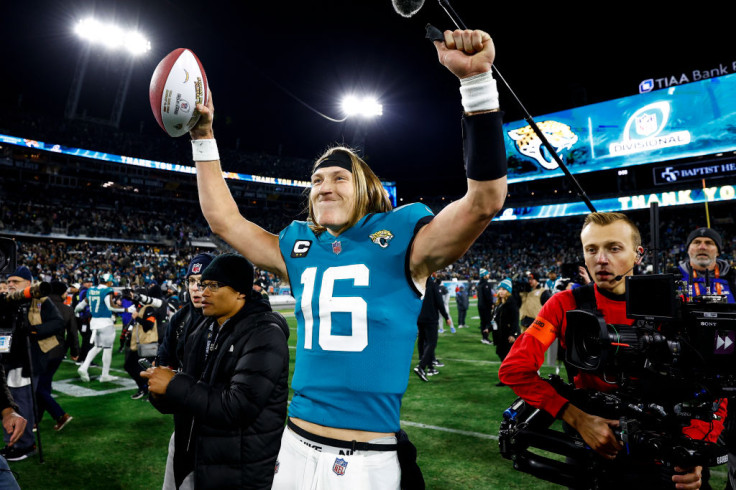 KEY POINTS
Lawrence signed an endorsement deal with an FTX subsidiary before he was drafted
Paffrath has criticized the argument that endorsers played a role in FTX's collapse
Nash was served on X after he reportedly did not respond to the lawsuit at first
Jacksonville Jaguars quarterback Trevor Lawrence and YouTube influencers Kevin Paffrath and Tom Nash have reportedly settled a lawsuit over their alleged failure to disclose appropriate compensation in their endorsements for the collapsed crypto giant FTX.
The personalities have reached a settlement in a lawsuit that named multiple celebrities and influencers over their alleged failure to disclose compensation in endorsements related to FTX, Bloomberg reported. Details of the settlement terms have not been shared.
Lawrence was signed by FTX subsidiary Blockfolio for a sponsorship deal in 2021, prior to his signing with the Jaguars as the No. 1 pick for the 2021 draft. At the time, then-FTX COO Sina Nader said getting Lawrence to endorse FTX "speaks to increasing awareness and mindshare when it comes to what people are aware of in finance."
A filing with the U.S. Bankruptcy Court last month stated that Lawrence received more than $205,000 from FTX.
Meanwhile, the lawsuit that named Paffrath and Nash as defendants, among others, alleged that even as FTX paid the defendants "handsomely to push its brand and encourage their followers to invest, Defendants did not disclose the nature and scope of their sponsorships and/or endorsement deals, payments and compensation, nor conduct adequate (if any) due diligence."
The class-action complaint further alleged that "evidence has now been uncovered that reveals Influencers played a major role in the FTX disaster."
Paffrath, who has more than 1.8 million followers on YouTube, said in a mid-March video that the argument claiming the promoters or influencers who endorsed FTX played a role in FTX's collapse was "ludicrous." He said it was former FTX CEO Sam Bankman-Fried and his "associates" who were "frauds and criminals."
Nash, who cleaned his YouTube channel from any content regarding FTX after the crypto giant's collapse, was reported to have not initially responded to the lawsuit filed against him and other influencers.
The Moskowitz Law Firm informed Nash through X, formerly Twitter, that he had "been served" with the lawsuit after the Florida District Court allowed the law firm to serve Nash by publishing the complaint and other relevant filings on the law firm's service website, by posting the link to the firm's service website on X and then tagging the influencer and by sending the complaint and link to the firm's service website to the influencer's acknowledged email address.
Lawyers on the case said they were engaging with other defendants in "ongoing confidential, settlement discussions," according to Bloomberg. They added that there was a "likelihood" that other FTX-related settlements would also be reached in due time.
Other celebrities and sports personalities who have been named in lawsuits related to their FTX endorsement deals include 15-time National Basketball League (NBA) All-Star Shaquille O'Neal, who allegedly received around $750,000 from FTX, and four-time NBA champion Stephen Curry.
Also included on the list of defendants are "Shark Tank" star and investor Kevin O'Leary, five-time Super Bowl MVP awardee Tom Brady, comedian Larry David and tennis player Naomi Osaka.
© Copyright IBTimes 2023. All rights reserved.