Nigeria Election Commissioner Death: Kano State Voting Official Dies In House Fire With Wife And Children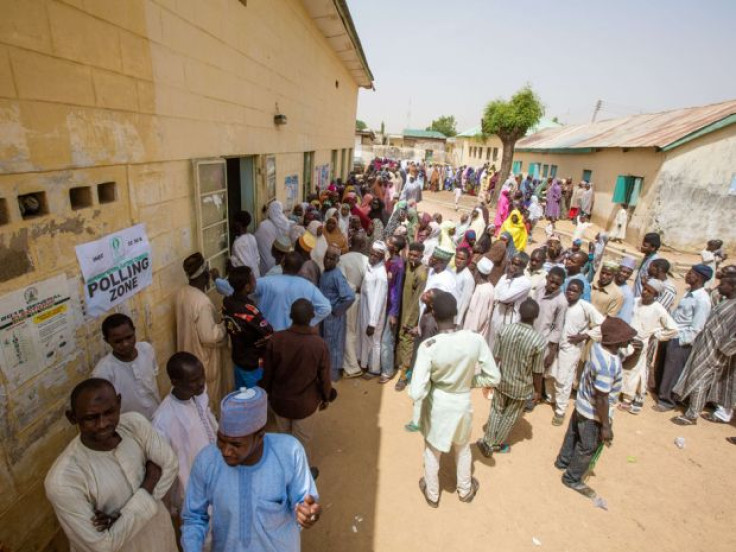 An Independent National Electoral Commission official in Nigeria was killed in a house fire along with his wife and two children, Agence France-Presse reported Friday. Mukaila Abdullah, the resident electoral commissioner, supervised polls in Kano state last weekend, when President-elect Muhammadu Buhari and his All Progressives Congress (APC) opposition party won an overwhelming majority of votes compared with defeated incumbent President Goodluck Jonathan of the People's Democratic Party (PDP). The PDP objected to the results in Kano state.
"It is true we lost our commissioner to a fire outbreak in his house," Lawan Garba, spokesman for the Independent National Electoral Commission (INEC) in Kano, told AFP Friday. "He died along with his wife and two children. We have conveyed the bodies to his hometown, Dutse [the capital of neighboring Jigawa state], where he will be buried after Friday prayers."
Authorities are investigating the house fire, which broke out in an air-conditioning unit in the living room around 4:30 a.m. local time Friday, AFP reported. By the time police and security guards were able to break in, Abdullah and his family were found unconscious on the bathroom floor of the house, which is located in the upmarket Nassarawa area of Kano.
The family was immediately transported to nearby Murtala Mohammed Specialist Hospital, where a doctor confirmed their deaths "from inhalation of hot and black smoke," Kano police spokesman Musa Magaji Majia told AFP Friday.
Kano state was a crucial win for Buhari, the opposition presidential candidate. The newly elected president won more than 1.9 million votes in Kano state, while Jonathan, who was seeking re-election, took 215,779 in the second-most-populous state in Nigeria and one of the areas hit hardest by Boko Haram insurgents. Buhari's APC also took all available seats with the parliamentary vote in the northern state over the weekend, edging out the PDP's legislative majority power.
The PDP has complained about the results in Kano and other northern states, accusing INEC officials of bias. Peter Godsday Orubebe, a PDP official, interrupted a vote-counting meeting at the International Conference Center in Nigeria's capital city of Abuja Tuesday to object to the incoming results of the bitterly contested presidential election. Orubebe seized the microphone at the podium and accused INEC chairman Attahiru Jega and other election officials of bias for 30 minutes, refusing to allow the tallying of results to continue, the Daily Post reported at the time.
"We have raised issues about results in Kano, in Kaduna, Jigawa and Katsina, and yet you have done nothing about it. You are biased. You are partial. You are tribalistic," Orubebe told Jega at the collation center Tuesday. "We don't believe in you anymore. You are compromised. And we won't take it from you."
Jega, who has served as INEC chairman for five years, dismissed the allegations but announced Thursday he will give up his position when his current term expires in June. Jega was appointed to the post in 2010 by Jonathan.
Jonathan has received international praise for defusing postelection tensions by conceding to Buhari, even before the INEC announced the complete results. Buhari, a 72-year-old southern Muslim, won 15.4 million votes, while Jonathan, a 57-year-old northern Christian, won 13.3 million. Buhari's ACP also had a sweeping victory in the parliamentary elections, and Jonathan's PDP lost majority power in Nigeria's two houses of parliament for the first time in 16 years.
Police have reportedly arrested 67 people for election-related offenses this week following the 2015 general elections, which were held on March 28 and 29. Still, the elections remained largely peaceful compared with the last election in 2011, when more than 800 people were killed in ensuing violence that broke out in northern states. Some 75,000 Nigerians were also forced to flee their homes due to the violence.
© Copyright IBTimes 2023. All rights reserved.
FOLLOW MORE IBT NEWS ON THE BELOW CHANNELS