Nigeria Elections Pushed Back Six Weeks To Fight Boko Haram: Report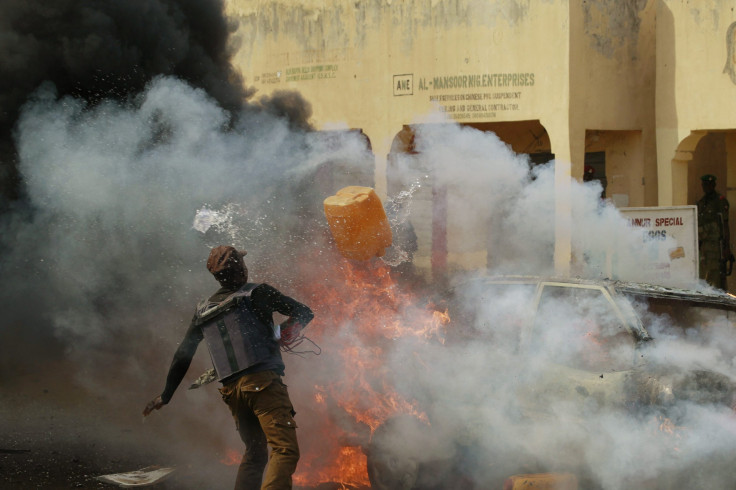 Nigeria will postpone its presidential and legislative elections, previously scheduled for Feb. 14, its electoral commission announced Saturday, according to the Associated Press. The elections will be moved back six weeks to give a newly authorized multinational coalition time to fight the Boko Haram militants who have taken control of much of the country's northeastern region.
The decision was made after a meeting of the Council of the State, which was called by sitting President Goodluck Jonathan Thursday. The council cited the possible disenfranchisement of millions who have been displaced by Boko Haram attacks in calling for the delay of the elections. The poll is seen as one of Nigeria's most hotly contested in decades.
Meanwhile, the AP reported a small demonstration was launched Saturday by civil-rights groups opposed to the decision to push back the election date by almost two months. The protesters attempted to enter electoral commission headquarters in Abuja, Nigeria's capital, but were stopped by armed police, who established roadblocks leading to the building.
Earlier in the week, about 100 young people surrounded the electoral commission HQ on multiple days demanding the elections be delayed to allow voter cards to be distributed, according to the Nigerian Daily Trust. Those demonstrators accused Jonathan's government of failing to distribute as many as 40 percent of the permanent voter cards required to participate in the elections. Protesters also claimed the electoral commission had not recruited the 960,000 ad hoc staff necessary to conduct the elections, one of many factors they argued could disenfranchise additional voters in the country.
Nigerian armed forces had also advocated postponing the elections, arguing it would give the military more time to fight Boko Haram. The Islamist terrorist group has established strongholds in Adamawa, Yobe and Borno states, killing thousands and displacing more than 1 million people who have fled their homes to escape its attacks. Nigerian electoral law requires citizens to vote in their home constituencies, which would make it nearly impossible for refugees who have been pushed into neighboring countries such as Cameroon, Chad and Niger to participate in the election.
Jonathan's administration has been accused of not doing enough to fight back attacks by Boko Haram in the northeast, which is largely home to supporters of the opposition party. The African Union announced support last week for a plan that would send 7,500 allied troops to battle Boko Haram in Nigeria, with Chad and Cameroon each pledging military support for the operation. Nigerian and Chadian forces stepped up bombings of Boko Haram positions, while thousands of Chadian soldiers backed by armored vehicles directly engaged the militants on the ground. So far, hundreds have died in the conflict.
© Copyright IBTimes 2023. All rights reserved.
FOLLOW MORE IBT NEWS ON THE BELOW CHANNELS