Nina Pham, Dallas Nurse Treated For Ebola, Will Sue Texas Health Presbyterian Hospital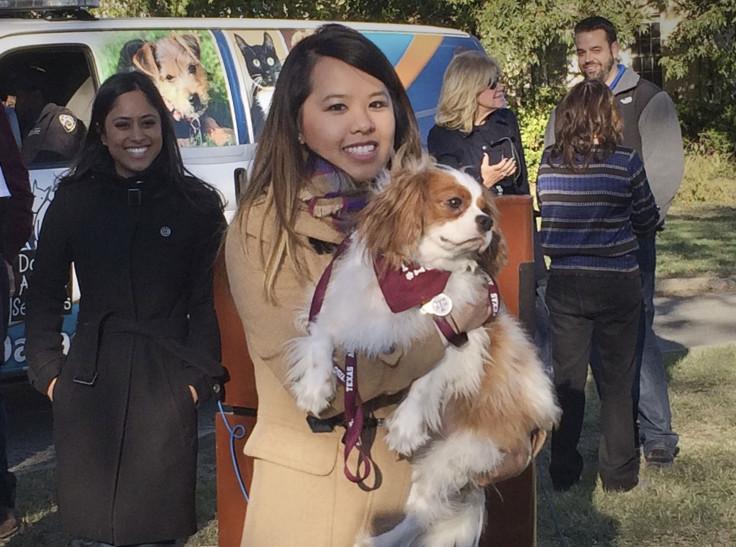 Nina Pham, 26, who survived Ebola after receiving treatment at the Texas Health Presbyterian Hospital in Dallas last fall, said that she will file a lawsuit against the hospital Monday, alleging that the facility's staff lacked proper training and violated her privacy. Pham also claimed that the hospital was negligent in developing policies and training staff to treat Ebola patients.
Pham said, in an interview to the Dallas Morning News, that the hospital had failed her and her colleagues, who treated Thomas Eric Duncan, the first person in the U.S. to be diagnosed with the virus. She claimed that the hospital did not have proper protective gear for the medical personnel who treated Duncan. Pham, who contracted Ebola while treating Duncan, also alleged that a doctor made a video recording of her in a hospital room and released it to the public without her permission, despite her request that "no information" be released about her condition. Pham claimed that the hospital had used her "as a PR pawn."
"I wanted to believe that they would have my back and take care of me, but they just haven't risen to the occasion," Pham said, according to the Dallas Morning News, adding that the hospital's violation of her privacy made her a "symbol of corporate neglect- a casualty of a hospital system's failure to prepare for a known and impending medical crisis."
Wendell Watson, a spokesman for the hospital, responded to Pham's accusations, saying: "Nina Pham bravely served Texas Health Dallas during a most difficult time. We continue to support and wish the best for her, and we remain optimistic that constructive dialogue can resolve this matter," the Dallas Morning News reported.
Pham alleged that the nurses did not wear hazmat suits while treating Duncan initially and that the suits only came after a few days. She also reportedly claimed that medical waste was piled up in a hospital room because the maintenance staff refused to collect it. The nurses treating Duncan wore two of everything -- from gloves to gowns to booties -- as well as a face shield before the hazmat suits arrived, Pham told the Dallas Morning News.
After Duncan died on Oct. 8, the hospital reached a settlement with his family for failing to accurately diagnose him with Ebola until he returned to the hospital for a second time. Pham admitted herself into the hospital when she developed a fever after Duncan's death.
"I wanted to protect my privacy, and I asked several times ... to put be as 'no info' or at least change my name to Jane Doe," Pham said, according to the Dallas Morning News, adding: "I don't think that ever happened."
"It was very scary," Pham said, adding: "My time at Presbyterian is a bit blurry just because I was in and out of having to take pain medications and just being very, very, very fatigued the whole time. One of the hardest things about having Ebola was the extreme amount of fatigue."
Dr. Daniel Varga, chief clinical officer for Texas Health Resources, said at a Congressional hearing in October, that an advisory from the Centers for Disease Control and Prevention to treat Ebola, which is now slowing in its spread, was shared with the staff before Duncan arrived at the facility.
"A lot is being said about what may or may not have occurred to cause Ms. Pham to contract Ebola. She is known as an extremely skilled nurse, and she was using full protective measures under the CDC protocols, so we don't yet know precisely how or when she was infected," Varga said in a written testimony, according to the Dallas Morning News, adding: "But it's clear there was an exposure somewhere, sometime. We are poring over records and observations, and doing all we can to find the answers."
© Copyright IBTimes 2023. All rights reserved.