Nintendo SNES Classic Release Date, Games, Price Announced: Where Can You Get The Mini Console This Fall?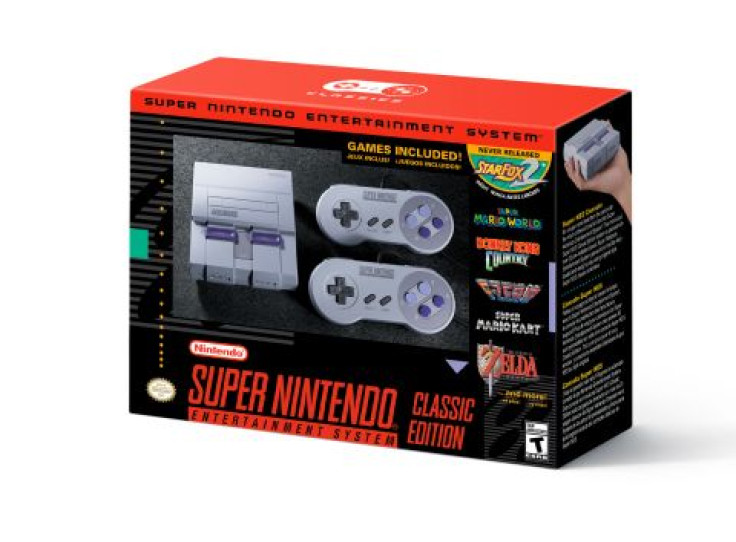 Nintendo announced Monday the release date, games list and price for the SNES Classic, a follow-up to the hit NES Classic, later this year.
SNES Classic Games List
The Nintendo SNES Classic, which will release Sept. 29, will be priced at $79.99 and come with the following titles:
Contra III: The Alien Wars
Donkey Kong Country
EarthBound
Final Fantasy III
F-ZERO
Kirby Super Star
Kirby's Dream Course
The Legend of Zelda: A Link to the Past
Mega Man X
Secret of Mana
Star Fox
Star Fox 2
Street Fighter II Turbo: Hyper Fighting
Super Castlevania IV
Super Ghouls 'n Ghosts
Super Mario Kart
Super Mario RPG: Legend of the Seven Stars
Super Mario World
Super Metroid
Super Punch-Out!!
Yoshi's Island
Nintendo SNES Classic Pre-Orders
At the moment, Nintendo and major retailers haven't confirmed or announced any plans for pre-orders for the upcoming SNES Classic. For the NES Classic launch last year, national chains like Gamestop, Target and Best Buy didn't do traditional pre-orders for the compact mini-console. Instead, they frequently limited their sales to a first-come, first-served basis to in-store shoppers depending on inventory. On several occasions, retailers also provided news and updates about when shipments of the NES Classic would come in via social media.
For its second go-around on the vintage console market, though, Nintendo looks to not repeat the NES Classic's biggest mistakes. In a statement via Kotaku, Nintendo said that it would produce "significantly more" units compared to the NES Classic and confirmed that the SNES Classic would be a limited run item that would only ship through the end of 2017.
© Copyright IBTimes 2023. All rights reserved.
FOLLOW MORE IBT NEWS ON THE BELOW CHANNELS