No Keystone XL Pipeline? No Problem, Says Canadian Firm Planning To Send Crude East Instead Of South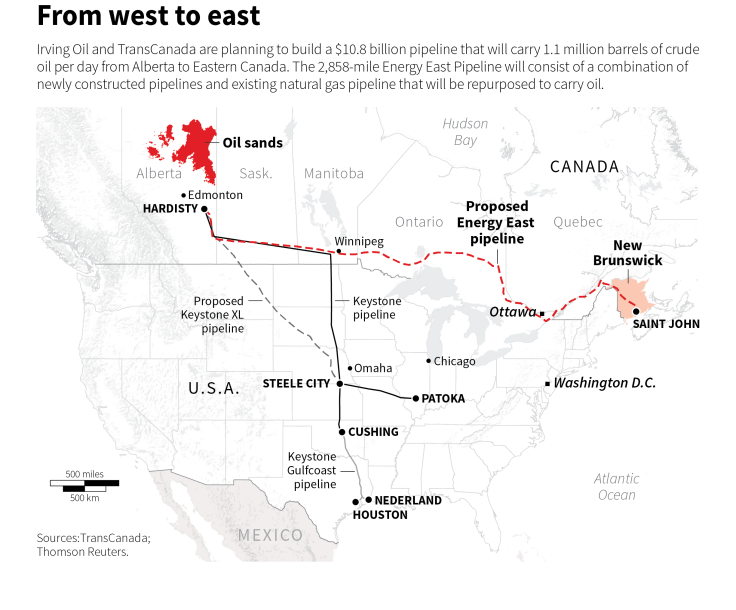 Momentum is building for an all-Canadian oil pipeline that would serve as an alternative to the proposed Keystone XL project, which is on indefinite hold. The proposed north-of-the-border pipeline would be North America's largest and comes as U.S. President Barack Obama and Canadian oil companies attempt to heed the concerns of farmers and environmentalists.
Nebraska farmers don't want Canadian heavy crude piped over their watersheds on its way to the Gulf Coast. Environmentalists are against the oil being taken out of the ground at all.
Facing U.S. pushback and internal opposition from Native American groups for the shorter Northern Gateway pipeline from Alberta to the Pacific Ocean, Canadian Prime Minister Stephen Harper and the country's largest energy concern, TransCanada Corporation, seem ready to develop the Energy East Project as an alternative.
"It's always been clear that denying it [the Keystone XL pipeline] or slowing Keystone wasn't going to stop the flow of Canadian oil," Michael Levi, senior fellow for energy and the environment at the Council on Foreign Relations, told Bloomberg News in a report published Tuesday.
The proposed $12 billion project would send 1.1 million barrels per day of western Canada's oil-sands crude 2,900 miles east to Saint John, New Brunswick, on the country's North Atlantic Coast. The project would convert a 1950s-era underutilized natural gas pipeline and add extensions to each end: one to a terminal south of Alberta's oil sands in the oil town of Hardisty and the other extending the reach of the pipeline from Montreal to a refinery in Saint John, which has supertanker access that would allow the crude to be transported globally, including to the refineries in Louisiana and Texas that the Keystone XL pipeline would be intended to serve.
From there, Canada can develop more lucrative export markets for its crude, including Europe, which might need more oil as its relationship with Russia, a major source of natural gas, sours. The U.S. consumes most of Canada's oil exports but does so at a price discount that costs Canada an estimated $20 billion a year, according to Bloomberg. Loosening Canada's dependence on the U.S. market by providing supertanker access to Alberta's heavy crude from the New Brunswick coast would allow Canada to wean itself off heavy dependence on U.S. consumption.
Similar to Keystone XL and Northern Gateway, the Energy East project faces considerable challenges, not just from environmentalists but also an unwillingness of New Brunswick's Irving Oil Limited, which would refine the heavy crude from Alberta, to make commitments on the amount of crude it would accept. Irving Oil wants to continue to be able to take crude from the most cost-efficient sources as they arise, while the Energy East project requires commitment of about 550,000 barrels a day. After threatening to build its own terminals, TransCanada and Irving Oil agreed to form a joint venture that ostensibly resolves concerns about how much the refiner will accept.
Quebec remains a sticking point, too. With a bounty of hydroelectric power, politicians from the eastern French-speaking province have embraced renewables and could face considerable opposition to a project that crosses the St. Lawrence River, a major source of drinking water for the local population.
© Copyright IBTimes 2023. All rights reserved.
FOLLOW MORE IBT NEWS ON THE BELOW CHANNELS