'No Man's Sky' Multiplayer Explained: A 2014 Hello Games Chat Solves Invisibility Fiasco?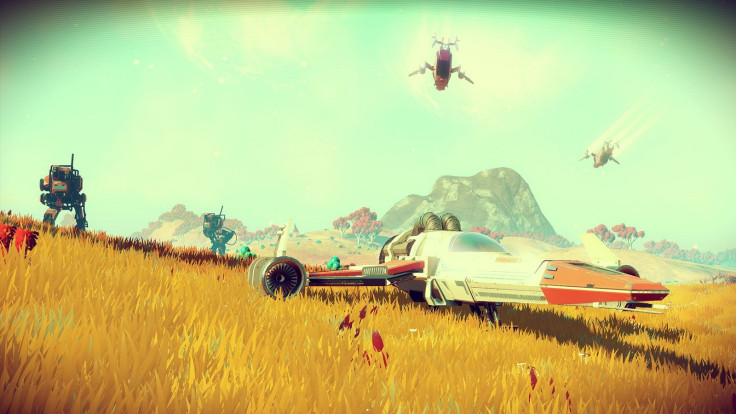 "No Man's Sky" multiplayer has been a hot topic since the game's release, and two players have already traveled the galaxy to meet up. After it was found that neither explorer could see that the other was there, Reddit exploded. Did Hello Games lie to us about player encounters, or are the servers just broken?
As seen in the video below, there were several times during various interviews where "No Man's Sky" programmer Sean Murray mentioned multiplayer encounters. "You could encounter other players," he once said, but "the likelihood of that is tiny." This sentiment was passed along to outlets like Game Informer and even "The Late Show With Stephen Colbert." These moments can all be witnessed in the clip.
Why is it, then, that the first coordinated gathering ended up being such a failure? Hello Games hasn't spoken directly on the matter since the game's release, but a 2014 interview with Game Informer seemingly reveals the secret.
"What we can do is, like many games that you have at the moment, where you are flying around with an open lobby. People are coming into that lobby and leaving it," Murray explained. "I guess the whole of the entire community could organize to go to one specific spot and then they would find that they weren't all there at the same time."
Especially with that last sentence, Murray essentially explains why multiplayer encounters will sometimes be invisible. Even though two players may be at the exact same spot in the galactic map, they may be in different lobbies. Each lobby holds a certain amount of players, and once that cap is reached a new one opens. In other words, while "No Man's Sky's" discovery system is totally open, the actual traversal is sectioned off into several small lobbies. To see another player, two people have to be in the same spot and in the same lobby. That's how the feature existed as of 2014.
It's certainly possible that changes have been made to "No Man's Sky's" lobby situation since then, but, based on the recent invisible meetup, the described system makes perfect sense. Without an official ruling, however, it's hard to say for sure. Murray did hint at server issues in tweets, so some feel that those are to blame.
"No Man's Sky" is available now on PS4 and comes to PC on Aug. 12.
Are you disappointed that "No Man's Sky" multiplayer doesn't work in the traditional sense? Is the above explanation correct? Tell us in the poll and comments section!
© Copyright IBTimes 2023. All rights reserved.
FOLLOW MORE IBT NEWS ON THE BELOW CHANNELS