No, Meerkat Isn't Dead. It's Actually Innovating Faster Than Periscope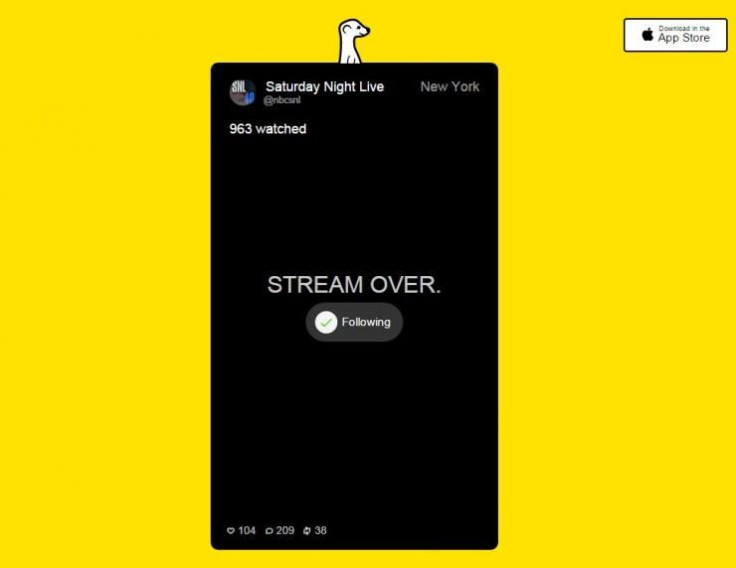 Traffic is flat, celebrities are moving on, and competition is hitting from all sides, including Facebook Live, which is luring celebrities like early Meerkat enthusiast Al Roker.
Proclaiming Meerkat dead is a tech industry pastime, with creators, analysts and journalists all dropping the 'kat to watch it bounce.
And with some reason: The most prolific Meerkat broadcasters have, for the most part, flocked elsewhere as they noticed their viewer counts dropping. Brands and media companies have gravitated to Twitter's Periscope, largely because they are already deeply in business with Twitter.
And yet five months after its proclaimed "death," Meerkat is still kicking, and innovating faster than others in live streaming. The team has grown from 11 employees in March to now just under 30 full-time staff members. Twitter's Periscope had 25 dedicated employees as of September. Meerkat's growth is in part supported by a $14 million funding round, led by Greylock Partners, that the team closed in March.
Meerkat released an Android app in April, tapping a new sector of smartphone users. Periscope put out its own a month later. But there are several features that keep the two apps separate. A September update of Meerkat allows streamers to start a live poll with their viewers, see trending hashtags and lets broadcasters display photos from their smartphone's camera roll midstream. A feature called Cameo allows other Meerkat users to stream from their smartphone on someone else's feed and then return it back to the original broadcaster.
Meerkat users can also publish links to their live streams directly to Facebook from the app. That component, as well as syncing contacts via phone number, allows Meerkat to diversify and expand without the previous tie to Twitter's social graph, now limited to Periscope. Meerkat also integrates with GoPro cameras, a setting not yet available on Periscope.
Move Fast, Build Things
Meerkat's investors think it's way too early to pack it in. "We're still in mode of discovery," said Josh Elman, a board member of Meerkat who works for Greylock Partners and previously worked on product development at Facebook and Twitter. "I think we're six months into the broad realization that our phones are great at live-streaming video."
Even some of Meerkat's early power-users still love the app.
"We don't think it's going to be a one-horse race at all. It's just October now. Imagine next October," said Ronald Pruett, chief adviser to Al Roker Entertainment and co-founder of Roker Labs, a team focused on branded entertainment on live streaming. "I really like Meerkat's look and feel. It's really catchy."
Meerkat has a powerful brand among its devotees, who still want to see it succeed, even as they use the competition. "I went back and forth between both of them," Lizza Monet Morales, an actress who streams almost daily on Periscope, said. "I never totally abandoned Meerkat … What I really love is seeing new features come out."
Its users say Meerkat remains a better product, even if it is getting blown away in the distribution department by Twitter's Periscope. "They stay true to being a grassroots type of community," said live-streaming personality Victoria Fratz, known as the "Meerkat Queen" for her Red Carpet celebrity interviews.
"Some companies just die. If you haven't built a huge engineering team, you're screwed," said Nick Cicero, CEO of influencer marketing agency Delmondo and a strategist at BRaVe Ventures, who has worked on campaigns with PlayStation, Universal Music Group and Univision. "Meerkat has shown the ability to constantly innovate."
Yet the headwinds are unavoidable. Meerkat streams have been steadily decreasing. Katch, a company that records Periscope and Meerkat streams if a user requests them, tracked the growth on the system over the past three months. The numbers are not in Meerkat's favor.
In the past month, more than 1.6 million tweets with "LIVE on #Periscope" have been sent in comparison to 120,000 tweets with "LIVE NOW #meerkat," according to data from social analytics company Topsy. There's a caveat that Meerkat streams can be shared on Facebook instead or simply not be shared via Twitter at all. When users click to broadcast on Meerkat, no "share to Twitter" button pops up. That is the opposite case on Periscope.
Periscope announced in August that the app has 10 million active accounts on iOS and Android. Meerkat has not disclosed a recent number of users. A chart from analytics firm Wefi that tracks Android users in the United States shows that Periscope is installed on 1 percent of all Android users' phones, while Meerkat is on about 0.07 percent.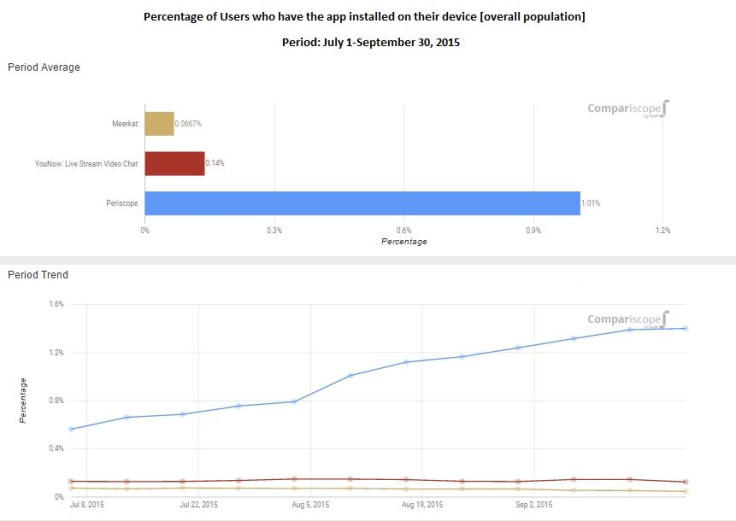 In July, Meerkat reported a consistent doubling of users every month. That statistic does not speak to retention, however, or frequency of content. The growth trend for number of users is positive, according to Meerkat's team.
"We are now streaming much less than before, mainly due to the drop in users over the last couple of months," The Funky Fairy's Vicki Stewart wrote in an email. Her online store helps create and sell Meerkat-affiliated merchandise with the startup's permission.
Advertisers have all but written off the live-streaming app. "I haven't had anybody ask for a Meerkat campaign recently," said Vincenzo Landino, a brand strategist who worked with chain restaurant Applebee's and Barilla pasta on Periscope campaigns. "People aren't using Twitter as it is. To say, 'Go download Periscope,' is already a lot to ask."
Will Facebook Be The Hammer?
And then there's Facebook, which released Facebook Live in August and could eventually roll it out to the rest of its 1.5 billion global users. "I think the most dramatic thing is the entry of Facebook, but I don't think it's necessarily a threat to the others because it's a different approach," said Oren Zeev, an investor in YouNow, which recently closed a $15 million investment round and offers a unique virtual tipping model.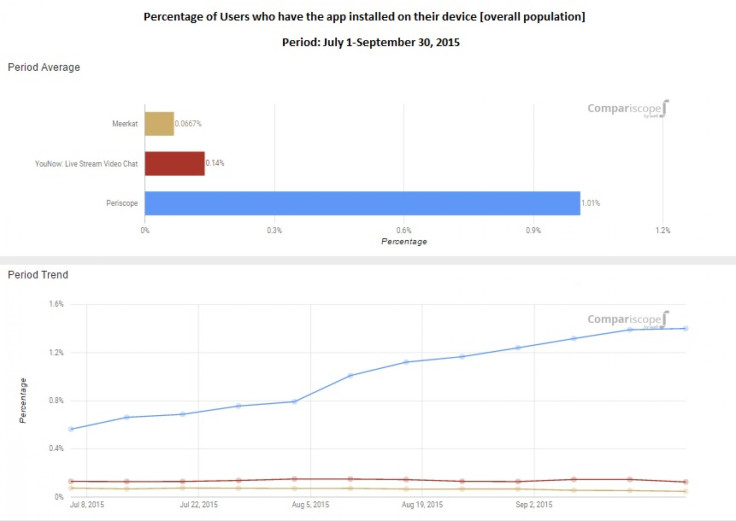 Even Meerkat investor Elman said, "Facebook's entrance is one to be watched."
As Meerkat hangs by a thread, the question is whether an unaffiliated startup with a great product can compete with the network effects and technology of a Facebook or Twitter.
Snapchat had only 8 million registered users when it turned down an acquisition by Facebook in 2013 -- now it seems poised to take over the world with more than 100 active million users. But then there's Foursquare, which wasn't killed by competing location services (including Facebook) but has struggled to find its way as an indie.
"It's the difference of going to Starbucks for your coffee or to your local store. Not everyone's going," Fratz said. "There's room for all of them."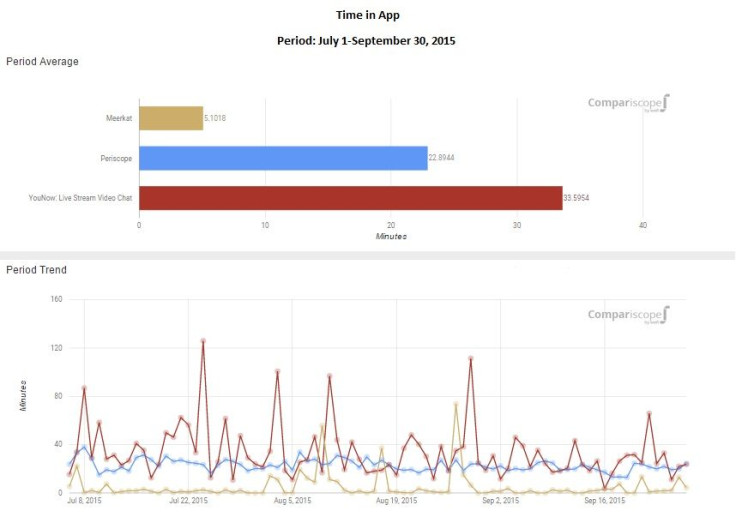 Correction, Tuesday, 5:30 p.m. EDT: A previous version of this article included a graph from Katch.me that captured how many streams of Periscope and Meerkat are saved if a user requests them. In July, Meerkat added a feature called Library that allows users to save livestreams without a third-party service. That feature could cause the data to be skewed lower for the app versus Periscope. A different chart and statistics have been added.
© Copyright IBTimes 2022. All rights reserved.
FOLLOW MORE IBT NEWS ON THE BELOW CHANNELS