Nokia Lumia 900 For Free? Yes, Says AT&T (But You Better Hurry)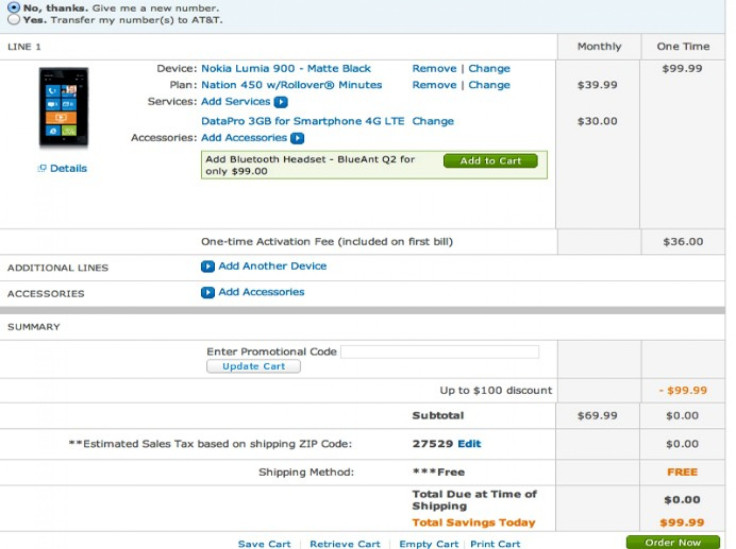 Anticipation is already building up ahead of the Nokia Lumia 900 launch, intended to be the breakout device for Windows Phone. Starting Friday, March 30, the phone went on sale for pre-orders, and there are some amazing deals available. In fact, if you hurry, you might just be able to grab Lumia 900 for free even!
First of all, the announced price of just $99 with a two-year contract is better than expected for many. The Nokia Lumia 900 is a 4G LTE compatible smartphone with a 4.3-inch AMOLED display and 8-megapixel auto-focus camera with dual LED flash, just to name a few of the top features. Getting all this for $99 is a pretty sweet deal.
On the other hand, you can get it even cheaper if you pre-order from Walmart. With a two-year contract, you can get the Nokia Lumia 900 for half the price - just $49.99. This offer is available only online.
And here's the best deal. New to AT&T? Get the Nokia Lumia 900 for free!
Courtesy of an eagle-eyed Neowin forum member, we have just found out that AT&T is currently offering the Nokia Lumia 900 for FREE, with a two-year contract, to new customers. We don't know for how long this offer will be available. So if you want a free brand new Windows phone that boasts of amazing specs and you are new to AT&T, hurry up and take advantage of this amazing deal.
Customers who pre-order the Nokia Lumia 900 will have their phones by April 6, two days before the new device hits store shelves. The offers are available for the black and cyan models, as the white version of the Nokia Lumia 900 launches on April 22.
Neowin forum readers have further reported that the Web site offer is real enough, and it does work with the pre-order of the Nokia Lumia 900. Whether AT&T meant for this to happen or not, the deal is out there - at least for now. Officially, the Nokia Lumia 900 goes on sale on April 8, but the free deal is only available for pre-orders. AT&T and Nokia might choose to end this offer anytime now, so time is of the essence.
(reported by Alexandra Burlacu, edited by Surojit Chatterjee)
© Copyright IBTimes 2023. All rights reserved.