Nokia, Wary Of Chinese Rivals, Agrees To Acquire Alcatel-Lucent For $16.6 Billion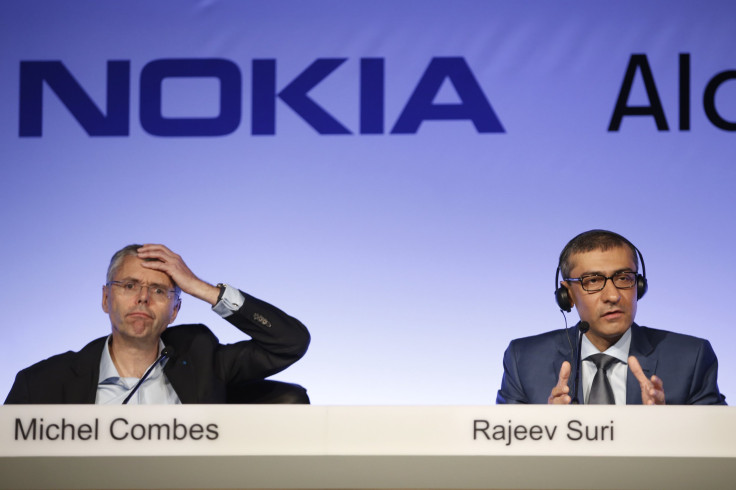 Having sold its smartphone business to Microsoft, Nokia is now looking to become a major player in the market for equipment and software that helps telecoms and companies in other industries run their networks and data centers. The Finnish icon took a big step in that direction with its announcement Wednesday that it has agreed to acquire hardware specialist Alcatel-Lucent for $16.6 billion.
The deal would give Nokia access to a number of key networking technologies and patents and, as importantly, the scale to fend off Chinese tech companies that, having quickly come to dominate the market for cell phones and gadgets, are now eyeing commercial systems. It also would create a player with the heft to take on Western market leaders like Cisco and Sweden's Ericsson.
The boards of both companies have approved the deal, which remains subject to regulatory approvals. Nokia said it expects to close the acquisition in the first half of 2016.
With Alcatel-Lucent in the fold, Nokia could become a formidable force in technologies for networking, corporate data centers and the so-called Internet of Things, which envisions a world full of smart devices and appliances that require little human intervention to operate. "Together, Alcatel-Lucent and Nokia intend to lead in next-generation network technology and services, with the scope to create seamless connectivity for people and things wherever they are," said Nokia CEO Rajeev Suri in a statement.
The combined companies, to be called Nokia Corp., would indeed be a force in telecom and enterprise tech, with 40,000 employees in research and development, and an annual R&D budget of about $5 billion. Nokia also would inherit Alcatel-Lucent's famed Bell Labs research unit. "Our innovation capability will be extraordinary," said Suri.
It may have to be. Western tech companies, and policymakers, are watching with concern as Chinese players like ZTE Corporation, Huawei and Lenovo, which came from nowhere to dominate the Asian market for smartphones and other gadgets, are now eyeing Westward expansion while moving into the enterprise market. "Global data center infrastructure vendors are losing their dominant position because of these pronounced changes in market climate," said Gartner analyst Jimmie Chang in a recent research report.
Chang noted that Chinese manufacturers of commercial IT gear are using home-field advantage in China, one of the world's biggest tech markets, to build scale and expertise -- at the expense of Western rivals like Cisco, EMC, IBM and Nokia and Alcatel-Lucent. The analyst estimates that, by 2019, two-thirds of IT infrastructure spending in China will be directed toward domestic players. It's a prescription that many Chinese companies have used to quickly vault themselves into the ranks of global leaders in smartphones and other consumer electronics.
Policy makers in Europe, where U.S. search giant Google on Tuesday was formally charged with operating an unfair monopoly, appear ready to use the growing threat from China to justify the combination of two of the continent's biggest hardware companies. "It's a big champion that could compete with Huawei and Chinese champions," said French Economy Minister Emmanuel Macron, according to the Wall Street Journal. Huawei has roughly tripled sales in its telecom hardware unit over the past decade, the newspaper reported.
Under the deal, Nokia would own Alcatel-Lucent's majority stake in Alcatel-Lucent Shanghai Bell. Nokia said it also plans to spend $106 million to open a cloud and IoT research center in Alcatel-Lucent's home country of France.
Nokia shares were down more than 3 percent in midday trading Wednesday.
© Copyright IBTimes 2023. All rights reserved.
FOLLOW MORE IBT NEWS ON THE BELOW CHANNELS