North Korea Boycotted UN Trump Speech Calling Kim Jong Un 'Rocket Man'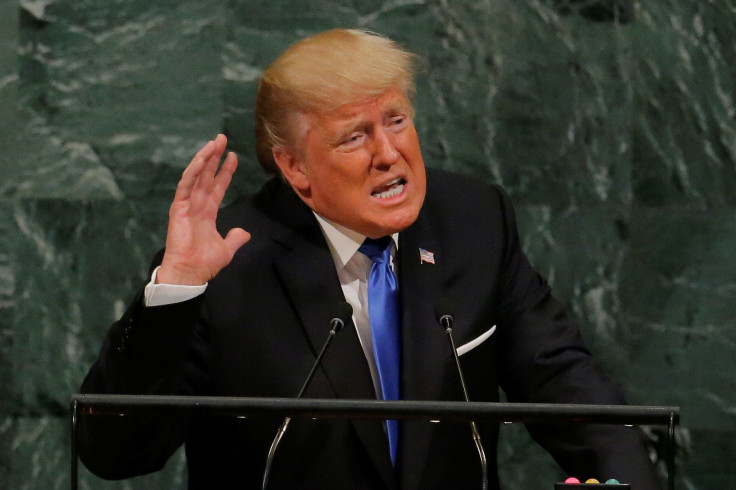 The North Korea's ambassador to the United Nations walked out in a boycott ahead of President Donald Trump's address to the General Assembly on Tuesday.
Ja Song Nam, who has been North Korea's ambassador since February 2014, exited just before Trump spoke, leaving only a junior representative as the county's delegation, according to NBC.
In his speech, Trump again derisively referred to North Korea's leader as "Rocket Man" after using the moniker in a Twitter posting on Sunday. Trump also issued his harshest warning to the authoritarian country.
"The United States has great strength and patience, but if it is forced to defend itself and its allies, we will have no choice but to totally destroy North Korea. 'Rocket Man' is on a suicide mission for himself and for his regime," said Trump.
The latest warning builds upon Trump's characteristically bellicose rhetoric toward North Korea. In an August press conference on opioids, Trump warned North Korea faced "fire and fury."
"They will be met with fire and fury like the world has never seen ... he has been very threatening beyond a normal state. They will be met with fire, fury and frankly power the likes of which this world has never seen before," said Trump.
Trump also thanked the U.N. Security Council for approving new sanctions on North Korea last week.
"I want to thank China and Russia for joining the vote to impose sanctions along with all of the other members of the Security Council. Thank you to all involved," said Trump. "But we must do much more. It is time for all nations to work together to isolate the Kim regime until it ceases its hostile behavior."
China and Russia are North Korea's biggest economic partners and have been resistant to sanctions in the past. Trump has leaned on China to help curtail North Korea's behavior.
The newest round of sanctions is aimed at hurting North Korea economically. They were passed in response to North Korea's sixth and largest nuclear test earlier this month. North Korea claimed the bomb they tested was a hydrogen, or thermonuclear bomb.
The sanctions upset North Korea who retaliated by launching a ballistic missile that flew over Japan on Thursday. North Korea also test-launched two intercontinental ballistic missiles in July, proving they theoretically could hit a city in the continental U.S.
U.S. armed forces may now consider shooting down North Korean missiles even when they are not threats to the U.S. or its allies, according to CNN Tuesday.
"[North Korea is] intentionally doing provocations that seem to press against the envelope for just how far can they push without going over some kind of a line in their minds that would make them vulnerable," Defense Secretary James Mattis told reporters Monday.​
© Copyright IBTimes 2023. All rights reserved.