North Korea Scraps All Talks, Meetings With South, After Exchange Of Gunfire And Leaflet Campaign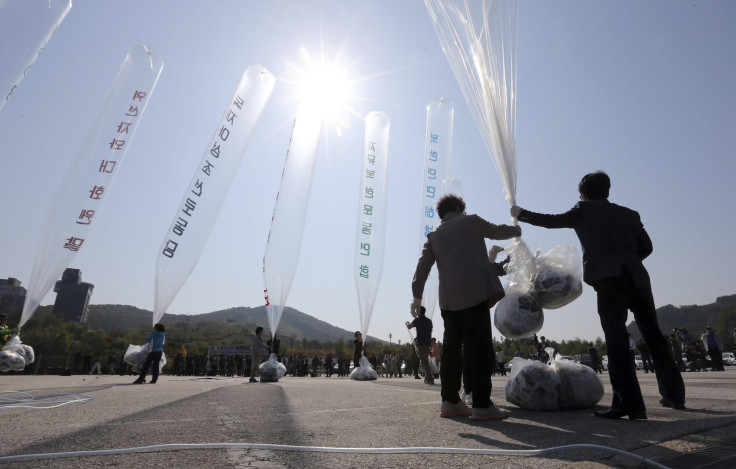 North Korea's state-run media said Saturday that high-level talks with the South have been scrapped, citing provocation from the South. Activists from South Korea had flown balloons containing anti-Pyongyang leaflets on Friday, which triggered machine-gun firing from both sides.
The leaflet campaign was begun by some South Korean activists, who released 200,000 balloons with propaganda leaflets against Pyongyang. The North Korean military had shot them down, while the South said that some of those shots had landed across the border. Following this, firing continued between both sides for nearly two hours, although no casualties were reported.
"Because of the irresponsible and provocative acts by the puppet regime... the planned high-level meeting is all but scrapped," the North Korean news website Uriminzokkiri said, according to Agence France-Presse, or AFP, adding: "It is totally up to the South Korean puppets' attitude what would happen to the North-South Korean relations in the future."
On Thursday, North Korea warned Seoul not to continue with the leaflet campaign or it would face "uncontrollable catastrophe," but the campaign continued anyway.
"The real culprits of this leaflet-launching commotion are the United States and the puppet regime," the website said, according to AFP, stating that the South should have taken the warnings seriously if it wanted dialogue.
The renewed agression follows a surprise visit from three North Korean officials to South Korea for the closing of the Asian Games last week. The visit had increased expectation of continuing high-level talks between the two sides.
© Copyright IBTimes 2023. All rights reserved.