North Korea Targets America Again: New Photos Reveal 'US Mainland Strike Plan' [PHOTOS]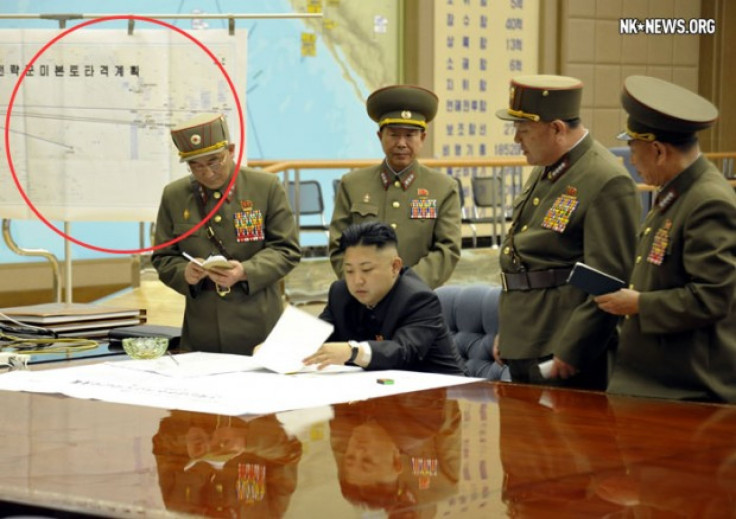 North Korea has threatened the United States, yet again, following yesterday's American led B-2 stealth bomber drills over South Korea. This time, Pyongyang claims to be targeting the U.S. mainland.
According to photographs taken of a recent meeting involving Kim Jong-un and military officials, North Korea may be preparing its nuclear forces to strike a number of U.S. targets, including Washington, D.C.; Los Angeles; Austin, Texas; and Hawaii.
"He has finally signed the plan [for] technical preparations of strategic rockets, ordering them to be on stand-by to fire so that they may strike any time the U.S. mainland," the state-controlled Korean Central News Agency reported.
The Korea Worker's Party's official newspaper, Rodong, published a photo of an emergency meeting that shows Kim signing papers with three other military officials. A map with bold-faced Korean characters and several lines marking different destinations are present in the background of the photo as well.
According to NKNews.org, a news agency that tracks activities in North Korea, the text on the map reads "U.S. Mainland Strike Plan". NKNews used a Google map overlay to determine that the map was actually of the western coast of the United States. The overlay shows areas of southern California; Washington, D.C.; Hawaii; and possibly Austin have been marked on the map as potential targets.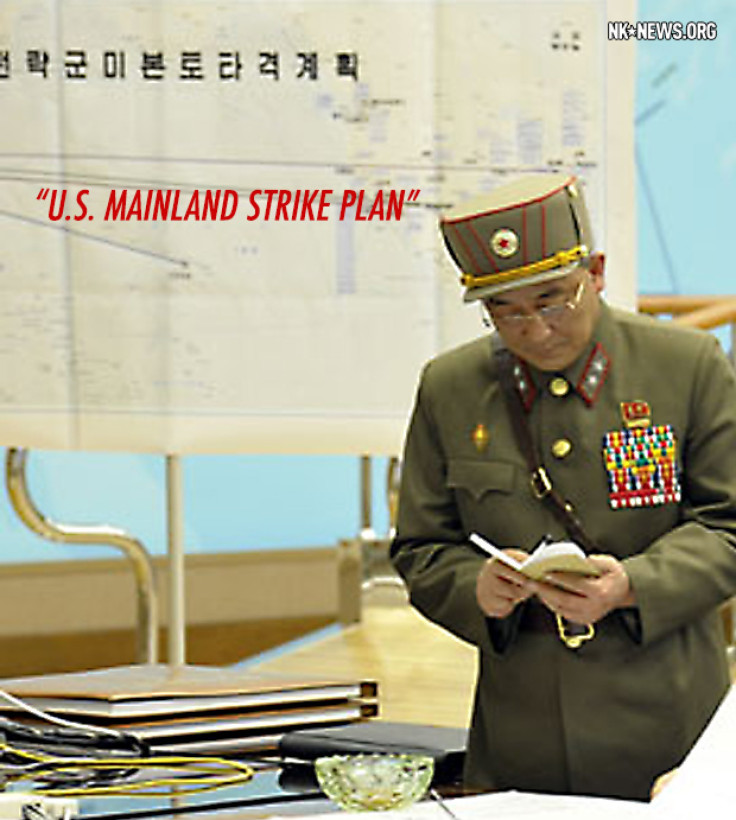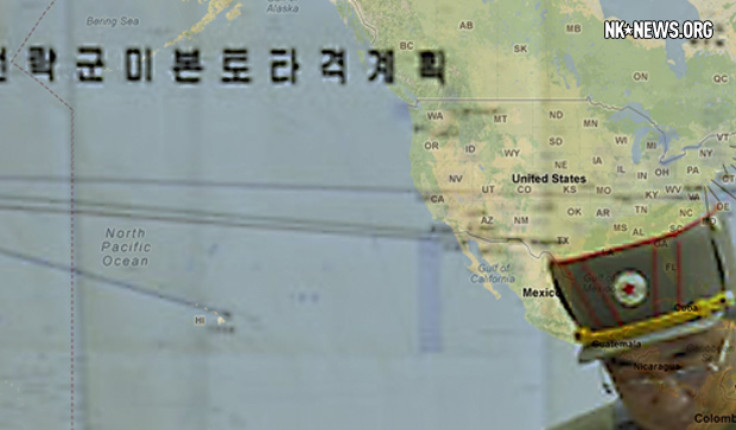 According to Fox News, tens of thousands North Koreans gathered at the main square in Pyongyang to rally support for Kim's call to arms.
"Men and women, many of them in olive drab uniforms, stood in arrow-straight lines, fists raised as they chanted, 'Death to the U.S. imperialists,'" the report said. The rally also targeted their South Korean neighbors, some signs claiming, "Let's rip the puppet traitors to death!"
While North Korea viewed the recent fleet of U.S. B-2 stealth bombers as a direct threat to Pyongyang, the U.S. says that the fleet was sent to show support for their South Korean allies.
"The United States is steadfast in its alliance commitment to the defense of [South] Korea, to deterring aggression, and to ensuring peace and stability in the region," a statement by U.S. Forces Korea said.
North Korea has threatened the U.S. on various occasions. Though Kim's rhetoric is serious, analysts speculate that the isolated nation's nuclear technology is not advanced enough to actually conduct an attack on U.S. territories in the Pacific, let alone the mainland.
Still, North Korean neighbors China and Russia have expressed their concerns over the continuous threats of nuclear strikes coming from Pyongyang.
According to the BBC, Russian Foreign Minister Sergei Lavrov warned that the rising tensions in North Korea could escalate, following the North's announcement of standby missiles. Lavrov called Pyongyang's action "unacceptable," adding that the situation will "slip out of our control and it will slide into a spiral of a vicious circle."
Russia also implicitly critiqued the U.S. presence of bomber flights over South Korea, citing that the "unilateral steps being taken around North Korea that manifest themselves in a build-up of military activity" also contributed to provoking the North.
After North Korea's most recent nuclear test in February, China released a statement condemning it and followed up by agreeing to U.N. sanctions brought forward by the U.S.
© Copyright IBTimes 2023. All rights reserved.