North Korea's Kim Jong-Un Spends Millions On Teenage Prostitutes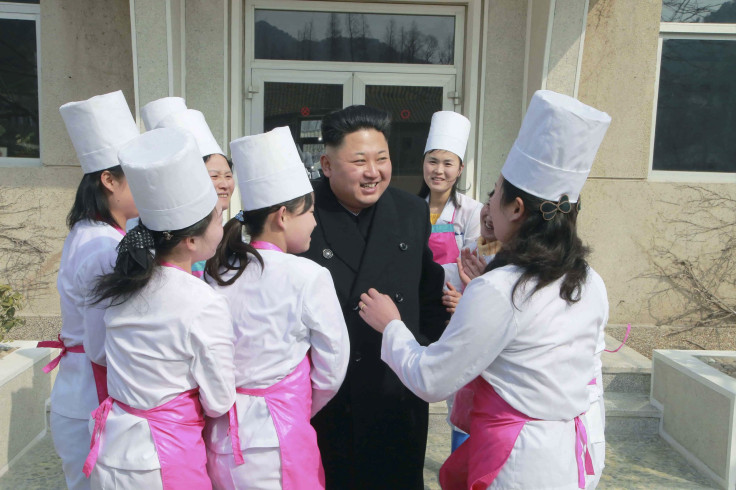 North Korean leader Kim Jong-Un reportedly spent approximately $3.4 million in lingerie last year for his harem of women — many of them young teenage girls — nicknamed the "Pleasure Squad." The women and girls in the harem were taken from their homes in North Korea and are forced to entertain Kim Jong-Un and his inner circle, according to media reports.
Kim Jong-Un sent officials throughout North Korea to choose girls for his harem in 2015, the Telegraph reported, reinstating the harem that his predecessors had run. Previously, the women were released after the death of former North Korean leader and Jong-Un's father Kim Jong-il in 2011. They were given the equivalent of $4,000 to keep silent.
Read: North Korea Nuclear Timeline: History Of Weapons Buildup From US Antagonist
"The women who entertained (Kim Jong-Un's) father knew many secrets and they have now been ordered to promise not to reveal any information before being sent back to their hometowns," Toshimitsu Shigemura, a professor at Waseda University in Tokyo who researches North Korea, told the Telegraph.
Read: Do Sanctions Work? North Korea Nuclear Threat Could Be Punished By Trump Administration
Kim Jong-Un's recruiters found women to work as dancers, singers, maids and concubines for senior officials in North Korea. The girls were often in their "early teens" when they were torn away from their family homes, and they'd then be "stationed at leaders' houses so that they could be available whenever they were called upon," Newsweek reported in 2015.
North Korea has been accused of human rights abuses by the Human Rights Watch, which cited instances of "extermination, murder, enslavement, torture, imprisonment, rape, forced abortion, and other sexual violence" in a 2014 report.
For women, life in North Korea means being subjected to patriarchal traditions and sometimes domestic violence, a North Korean woman wrote in the Guardian in 2015. The women forced into Kim Jong-Un's pleasure squad, freedom is more or less prohibited.
"This has been going on under three generations of the Kim family ruling North Korea and it has become a tradition that is also a demonstration of the leader's power over the people and his sexual power," Shigemura said.
© Copyright IBTimes 2023. All rights reserved.